'Nature's cereal': this dreamy breakfast is going viral thanks to TikTok
We can't wait to try it, too!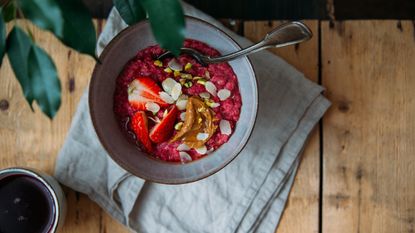 (Image credit: Getty/izhairguns)
When TikTok hacks aren't teaching us how to make an iconic hot chocolate bomb drink or pancake cereal, they're showing us how to get ahead in life with viral tips and tricks we never knew we needed, like cutting birthday cake with a wine glass or drawing out the bugs from fruit with saltwater.
Along with all of those handy hacks, TikTok has also introduced us to "nature's cereal," the latest viral sensation and a healthy breakfast alternative to try. Looks like our morning meals are about to get a whole lot more fun!
WHAT EXACTLY IS "NATURES CEREAL"?
TikTok user @natures_food has gone viral for the breakfast dish he calls "nature's cereal." It includes ingredients like pomegranate seeds, coconut water, and a handful of blackberries, blueberries, and strawberries.
He begins his day by combining the various fruits in a bowl and then pours some freshly opened coconut water over them. (If you're not a fan of coconut water, keep scrolling for alternative ideas!) As well as being delicious, the health benefits of the "cereal" are also mentioned in the video, which has nearly four million views.
When he eats his breakfast concoction, the TikTok user says he could run a race because of surplus energy: "The energy level is through the roof. I literally felt like I could run a marathon."
WHY HAS "NATURE'S CEREAL" GONE VIRAL?
The video gained a lot of interest when Lizzo, who leads a vegan lifestyle, wanted to make her own version of the viral bowl, posting a video of her own "coconut water berry breakfast cereal" to her 13.2 million Instagram followers. The Juice singer filmed her first bite of the cereal and it seemed to be a big hit, telling fans: "It's good, y'all."
She added: "I'm addicted, y'all. It's really so good. I don't know what it is about the coconut water, but it's like creamy. And the pomegranates give you that crunch… don't knock it 'til you try it."
Vita Coco coconut water also love the new trend, as sales have reportedly increased by 33-percent in the week after the craze went viral. And unlike many other viral dishes, this treat is actually good for you: 500 milliliters of coconut water supplies 100-percent of your daily vitamin C requirement.
WHAT ARE YOUR OPTIONS IF YOU DON'T LIKE COCONUT WATER?
While some people liked the cereal, others didn't like the coconut water, and some fans requested a different recipe. As one commenter observed: "Pineapple juice works just as well." Other commenters were here for it, with one adding: "This is genius because I was trying to figure out what else I could use because I'm allergic to coconut."
Since December 2020, Kudzai has worked as a trainee journalist at FUTURE, writing about fashion, entertainment and beauty content for My Imperfect Life.

Kudzai previously worked as a freelance fashion wardrobe stylist, directing magazine photoshoots and coordinating the fashion direction of recording artists.

A fully qualified Journalism and Media graduate from De Mont Fort University, Kudzai graduated in the summer of 2020.