Instagram's favorite Alo Yoga brand just launched skin care
Zen skin is just a step away with the Alo Yoga skin care line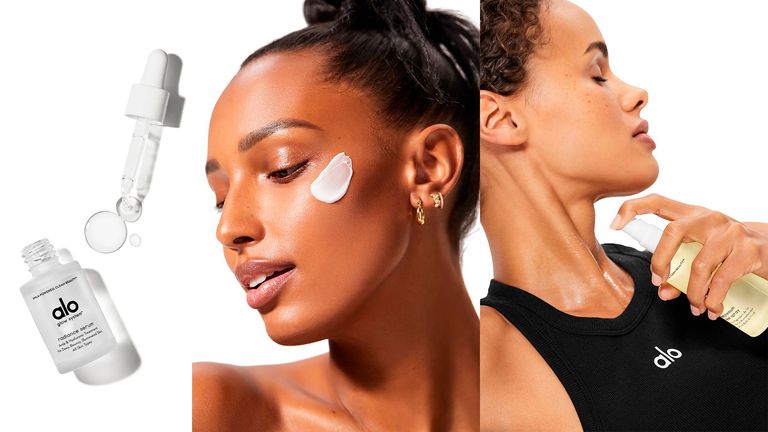 (Image credit: Alo Yoga)
Next time you attempt a Downward Dog pose while wearing your favorite sustainable activewear brand, you might like to do so slathered in Alo Yoga skin care. 
The California-based activewear brand has branched out from workout gear and some of the best yoga mats in the business into the beauty space with it's brand-new line: the Alo Glow System.
What is Alo Yoga skin care?
Comprising seven products for face and body, the line is inspired by Ayurveda, a holistic medicine system with historical roots in Indian culture. As such, its hero ingredient is the alma super berry, a potent source of vitamin C and antioxidants.
Right now you can shop the Enzyme Facial Cleanser, a two-in-one cleanser and exfoliator containing pineapple enzymes to nibble away at dead skin cells for a brighter finish. The Radiance Serum, does what it says on the tin and includes a hefty dose of hyaluronic acid, while the Luminizing Facial Moisturizer nourishes with aloe, avocado and marula oils.
Bodywise, the Mega-C Body Wash, cleanses and drenches skin in antioxidant vitamin C; the Superfruit Body Lotion soothes post-gym aching muscles with arnica; the Magnesium Reset Spray aids sleep and finally there's the Head-to-Toe Glow Oil. Like liquid gold, it contains anti-inflammatory turmeric and marula oil to blanket dry, sensitized skin.
Vegans will also be reassured by the fact that the range contains no animal by-products and is cruelty-free.
While those whose skin is easily riled can rejoice at the notable absence of potential irritants such as sulfates, artificial dyes and synthetic fragrances.
Prepare for skin so Zen it'll be saying 'namaste' after you moisturize.
Everything in the Alo Yoga Glow System skin care line