The meaning behind Amanda Gorman's inauguration look - including her caged bird ring
Amanda Gorman's inauguration look lit up social media.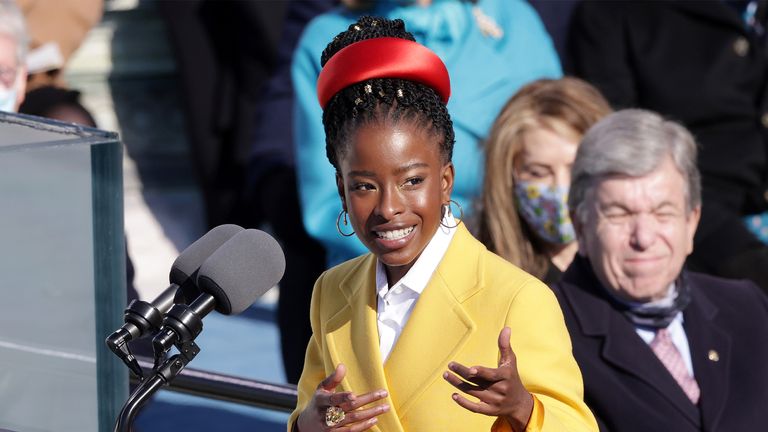 (Image credit: Alex Wong/Getty Images)
Amanda Gorman's inauguration look lit up social media as did her powerful words. 
Lady Gaga and Jennifer Lopez may have been the headline acts, but when Amanda Gorman took to the stage at the Washington Mall, she delivered the standout performance. 
In just six minutes the 23-year-old poet gave us a lesson in optimism and togetherness - as well has in how to celebrate black beauty and culture with on point highlighter and this gorgeous headband-and-twists combo. 
The words to Amanda's "The Hill We Climb" poem for Joe Biden and Kamala Harris' presidential inauguration moved a nation. But it was her fresh look that has inspired a whole generation of young black women.  
Twitter erupted with praise for Amanda's performance but also her glowing barely-there makeup. With the sunlight catching her skin, you could just make out the golden-hued highlighter on her cheekbones and in the inner corners of her eyes, offset with a simple cat eye flick. The finishing touch was a cool, oversized red Prada headband that sat on top of her twists, which were pulled into a topknot.
One Twitter user @loveg0dherself tweeted, "Ok, Amanda Gorman! Braids fresh, makeup glowing, poetry beautifully written. I can't help but stan." 
Amanda's jewelry has also caused a stir as it carried powerful significance. Oprah gifted the young Poet Laureate a pair of gold hoops from Nikos Koulis's Energy Collection, one the best sustainable jewellery brands, as well as a birdcage ring by Of Rare Origin to honor previous inauguration poet Maya Angelou, author of "I Know Why the Caged Bird Sings." 
This gesture continues Oprah's tradition of supporting poets ahead of their meaningful address. When Angelou was chosen to read a poem at Bill Clinton's 1993 inauguration, Oprah sent her a blue Chanel coat to wear for the occasion.
While this is Gorman's most high-profile appearance to date, she likely has many more to come as her star continues to rise.