Amanda Gorman's Super Bowl coat shows us yet again that she is the undisputed style queen
Amanda Gorman breaks Super Bowl History and gives us coat envy all at the same time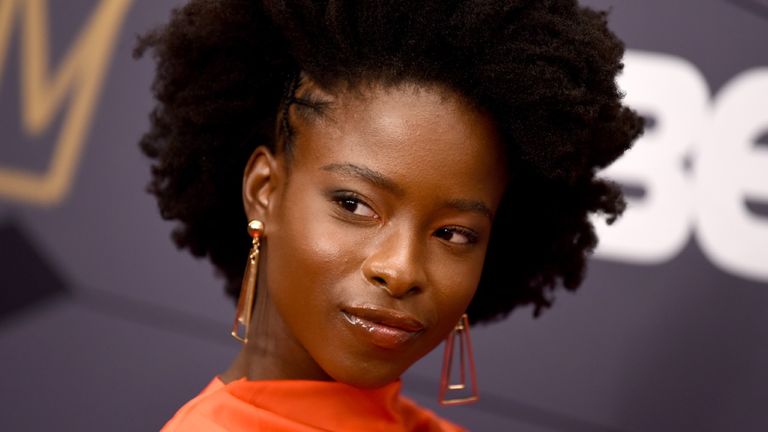 (Image credit: Getty Images / Dave Kotinsky / Stringer)
Amanda Gorman made history just weeks ago for being the youngest inaugural poet at Joe Biden's inauguration— alongside her caged bird ring. Not only did she wow us with her poignant and uplifting words but with her breath-taking yellow Prada coat. Now Amanda is at it again, this time at the Super Bowl.
Not only did The Weeknd's setlist mesmerize the nation at the Super Bowl halftime show (alongside our new favorite The Weeknd meme), but Amanda also made history as the first-ever poet to perform at the Super Bowl LV. The 22-year-old has been praised for her inspiring words and deliverance.
Amanda took to Instagram to say: "Wow, we're about to see poetry at the Super Bowl for the first time people. It's a turning page for poetry, for art, and for our country." In her poem, she honored healthcare workers and three pandemic heroes, Educator Trimaine Davis, Nurse Suzie Dorner and Marine Veteran James Martin, who were made honorary captains and took part in the game's coin toss.
Her poem however, much like in the inauguration, was not the only thing that captured the hearts of the nation. Appearing in her pre-recorded virtual performance, she treated fans to yet another beautiful coat.
Amanda Gorman's Super Bowl coat
Amanda wore a sky blue, crystal-embellished Moschino coat, paired with a pearl headband and silver hoops. Unsurprisingly, Twitter exploded with love for her outfit. One admirer wrote: "Amanda Gorman's coat/pearl combo is unREAL".
While another user said: "Amanda Gorman's poetry is phenomenal and her coat game is exceptional."
Others said her performance made the whole game worthwhile, one said: "We gather here as one nation on this Super Bowl Sunday performance to honor Amanda Gorman and her beautiful coat."
Amanda is already being called an icon, not only for poems but her style. It is an impressive feat to have one coat go viral, let alone two.
One fan said: "My only question is when Amanda Gorman is going to design a line of coordinating coats & tiara headbands." Now that's definitely a line we can all get behind.
It was an incredible moment for Amanda, she has now taken centre stage at two of the most important moments of 2021, and looked fabulous doing it.