The Weeknd halftime show setlist: what songs did The Weeknd sing at the Super Bowl halftime show?
The Weeknd's halftime show performance sure was epic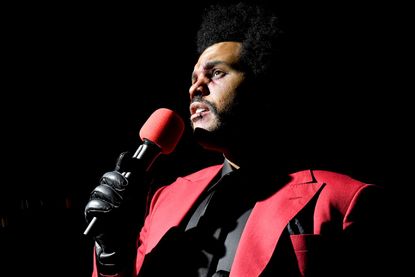 (Image credit: Photo by Kevin Mazur/MTV VMAs 2020/Getty Images for MTV)
The Weeknd headlined this year's Super Bowl halftime show at Raymond James Stadium in Tampa. The R&B 'starboy' performed a mix of his greatest hits on the halftime stage but which of The Weeknd's top songs made the cut?
The Weeknd halftime show setlist: what songs did The Weeknd sing?
Starboy
The Hills
Can't Feel My Face
I Feel It Coming
Save Your Tears
Earned It
House of Balloons/Glass Table Girls
Blinding Lights
The show began with a futuristic choir member descending from the ceiling before the stage erupted into fireworks revealing a massive lit-up cityscape.
He went on to perform Can't Feel My Face with numerous lookalikes, with The Weeknd wearing his signature bandaged face along with a slick red Givenchy suit jackets. The masked faced performers began to chase him around a hall of maze-like mirrors before he left the symbolic 'maze'—which originated The Weeknd Super Bowl meme— and moved into hit I Feel It Coming featuring Daft Punk.
The three-time Grammy award winner performed a dream list of hits including Blinding Lights which finished off his performance with a huge firework display in the background. It's rumored The Weeknd spent a massive $7 million of his own money to make the 'cinematic' performance perfect and it's safe to say he absolutely delivered.
Fans gushed over the phenomenal set as one commenter took to Twitter saying: "This might be the best halftime show of all time." Many others were in awe of the masked band that followed behind the star saying it's "gonna be the most iconic thing to come from this Super Bowl".
While others gave his performance a solid 10/10.
While we're still a bit sad he wasn't joined by any special guests—a rarity in Super Bowl history— it was still a memorable performance under highly unusual circumstances.
The Weeknd joins the list of the best Super Bowl halftime show performances of all time, alongside stars like J-lo and Shakira (who killed last year's show with their Latin-inspired set), as well as Maroon 5, Travis Scott, Big Boi, Justin Timberlake, Lady Gaga, Coldplay and Beyoncé. We're already thinking about next year's...
Since December 2020, Kudzai has worked as a trainee journalist at FUTURE, writing about fashion, entertainment and beauty content for My Imperfect Life.

Kudzai previously worked as a freelance fashion wardrobe stylist, directing magazine photoshoots and coordinating the fashion direction of recording artists.

A fully qualified Journalism and Media graduate from De Mont Fort University, Kudzai graduated in the summer of 2020.