How to read the Arsène Lupin books in order, in both French and English
Read Maurice Leblanc's Arsène Lupin books series while you wait for part three of the hit Netflix adaptation to drop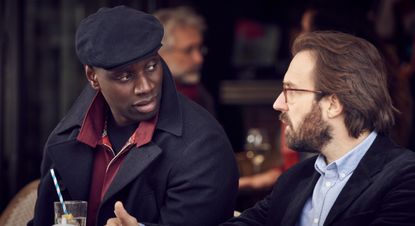 (Image credit: Emmanuel Guimier/Netflix)
If you've already finished Netflix's Lupin but looking to meet Lupin stars, don't fret—the Arsène Lupin books series has plenty of mystery to keep you occupied while you wait for the third part of the French-language series to hit the streaming platform. (And you know we'll give you the scoop on the next edition as soon as we can!)

Ranking as one of Netflix's most watched series, fans of the popular Netflix show have no doubt already binged Lupin part 2 to see what becomes of professional thief Assane Diop, played in the series by Omar Sy. But if you simply can't wait for Lupin season 3, then you might be even more intrigued by the novels that the hit series is based on.
The Lupin TV show takes its inspiration from a popular book series by French writer Maurice Leblanc, who penned a number of books and short stories following the exploits of the original gentleman thief. "Lupin is so French that you cannot grow up in France and not know who is Arsène Lupin," Sy said to Variety.
In the very first episode of Lupin, Sy's character Assane is given a copy of Leblanc's first collection of short stories, Arsène Lupin, Gentleman Burglar, by his father Babakar (Fargass Assandé). "He could have picked 'The Count of Monte Cristo,' he could have picked a lot of other French books, [but] that's the one he chose for his son in that moment and it becomes a guidebook for an attitude for life," creator George Kay told the outlet.
In adapting Leblanc's Arsène Lupin books for the screen, Kay revealed to Variety that he wanted to retain the novels' "mischievous, adventurous crooks and criminals intersecting establishment" while also flexing the freedom to "take everything we loved in the books, subvert it, update it and create a really modern story through the heart of it."
If you want to immerse yourself in the Arsène Lupin books—or even just brush up on your language skills (although many of the earlier works are available in English editions, some of the later ones can only be found in the original French, so break out the Google Translate!)—there's plenty of drama and scheming to enjoy until new episodes of the Netflix series hit the streamer.
Here's how to read all of the Arsène Lupin books in order, in both their native French or translated English.
How to read the Arsène Lupin books in English
1. Arsène Lupin, Gentleman Burglar
In the first of the Arsène Lupin books by Maurice Leblanc, readers are introduced to the gentlemen thief and master of disguise. The character was first unveiled in a series of short stories serialized in the magazine Je sais tout.
2. Arsène Lupin vs. Herlock Sholmes
Focusing on a battle of wits between the nimblest French thief and the shrewdest British detective, gentleman thief Arsène Lupin finds himself pitted against aging detective Herlock Sholmes.

Originally titled, Arsène Lupin vs. Sherlock Holmes, the name was changed after complaints from Sherlock Holmes author, Sir Arthur Conan Doyle.
3. The Hollow Needle
This famous novel sees Arsène Lupin looking into The Mystery of the Hollow Needle. After all, the needle hides a secret that the Kings of France have been handing down since the time of Julius Caesar—the most fabulous treasure you could ever imagine.
4. Arsène Lupin in 813
After being accused of murder, Arsène Lupin heads the police investigation, intending to clear himself by finding the true killer.
5. The Crystal Stopper
Arsène Lupin could have finally met his match in Deputy Daubrecq, a cunning detective who foils Lupin's most cunning robberies and thefts. Can the world's greatest thief get his act together?
6. The Confessions of Arsène Lupin
This thrilling book consists of ten adventures of the famous character, Arsène Lupin.
7. The Teeth of the Tiger
When wealthy Cosmo Mornington dies, he stipulates in his will that if no heirs can be found after three months, one hundred million francs will go to his executor and friend Don Luis Perenna—except that Perenna is none other than master thief Arsène Lupin.
8. The Golden Triangle: The Return of Arsène Lupin
Captain Belval, learning of a threat to his beloved nurse, rescues her from her would-be assailants, only to find himself involved in a plot involving her husband and millions of francs worth of gold. As layer upon layer of conspiracy emerges, there's only one man who can be counted on to uncover the truth.
9. Arsène Lupin: The Island of the Thirty Coffins
Arsène Lupin is summoned back to France by one of his friends and travels to the accursed island of Sarek off the coat of Brittany in order to save the beautiful Veronique d'Hergemont from the clutches of the murderous Vorski.
10. The Eight Strokes of the Clock
Featured here as part of a wider collection of Arsène Lupin stories, The Eight Strokes of the Clock is an ultimate mystery to be unraveled.
11. The Secret Tomb
The Secret Tomb is similarly part of a wider collection here, where the exploits of Arsène Lupin are sure to keep readers on the edge of their seats.
12. Arsène Lupin vs. Countess Cagliostro
Lupin is pitted against the beautiful but deadly Countess Cagliostro, in an attempt to find the treasure of the Candlestick with Seven Branches.
13. The Melamare Mystery
Arsène Lupin, under the pseudonym Jean d'Enneris, is hired by jewel magnate Van Houben after actress Régine Aubry is kidnapped and a diamond is stolen.
How to read the Arsène Lupin books in French
And the story doesn't end there! If you fancy delving into some more Lupin books, then why not give one of these French editions a go?
Happy reading!
Emma is a Senior Lifestyle Writer with five years experience working in digital publishing, ranging from book publishing to magazines. She currently looks after all things Lifestyle for Woman&Home, GoodToKnow and My Imperfect Life.
Before she joined Future Publishing, Emma graduated from the University of Warwick with a Bachelor of Arts degree in English and Comparative Literary Studies. After leaving education, she started out her publishing career in the world of books, working as a Publisher for an independent digital publisher specializing in back-list and debut commercial fiction novels. With a huge book list and a passion for bringing the best stories to the broadest audience possible, Emma filled her spare time with reading the latest best-sellers and catching up on hit adaptations.
In 2017 she joined TI Media as a fiction writing coordinator on Woman's Weekly and Woman's Weekly Fiction as part of the features team. From here, she used her love of books, working to bring short stories to our dedicated readers and began writing for the books pages of Woman, Woman's Own and Woman&Home, as well as online features ranging from genre round-ups to travel pieces for womanandhome.com.
After honing her skills, Emma branched out online in 2020 when Future gave her the opportunity to focus on digital-first. When she's not writing about the next big lifestyle trend, she enjoys cooking, long walks and watching as many crime dramas as she can!