This hair style got 1 million likes on Instagram in under 6 seconds - and it's so easy to recreate at home
Billie Eilish strikes again.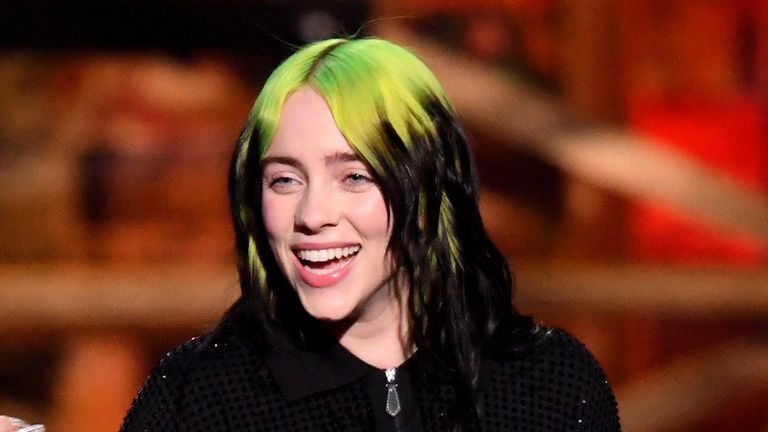 (Image credit: Karwai Tang /Getty Images)
First Billie Eilish revealed new bleach blonde hair and the world went wild for it. This week the Everything I Wanted singer (which incidentally won Best Record at the Grammys 2021) has only gone and broken an Instagram record for a second time. Yesterday, Billie Eilish's messy top knot racked up 1million likes on Instagram in under 6 seconds.
To put that into context, that's the same number of likes in such a short amount of time as the post unveiling her hair color transformation.
Both posts are breaking a record for the app.
Part of the obsession around Billie's hair is down to her spending the best part of two years sporting a fluorescent green mullet with black tips, which, despite becoming a signature look for the artist, is rumoured to be the result of a hairdresser mishap.
Finally Billie came clean about her hair color journey. To add fuel to the publicity fire, Billie confessed that her new platinum blonde hair was actually hidden underneath a wig for two months as she secretly visited a salon to create her new look.
'Did you guess correctly?' Billie asked her millions of social media followers before posting another photo with the caption: 'Pinch me.'
This was not the first time the Lovely singer has switched her hair color.
When she rose to fame in 2018, Billie sported a silver-purple shade, then moved to a deep blue color later that summer.
In April of 2019, she went darker, and in July of that year, she added the lime green to the top of her head.
In some ways Billie, who was born blonde, has come full circle with a fresh new look that makes her look like a young Debbie Harry.
To create Billie's messy topknot at home, Tyler Laswell, TRESemmé New York Fashion Week stylist, recommends: "Create a ponytail and position it high on your head. Once in place, add mousse to your lengths, avoiding the hair on your scalp. Rough dry the mousse into your pony with a blow dryer, using your fingers to create volume and texture. You can also use a comb to gently backcomb if needed. Take the ponytail and wrap it loosely around the base, pinning as you go. Tuck the end under the bun and tease out some extra hair to frame your face for a soft finish."