Cardi B responds to Fox News' Candace Owens comments about "WAP" Grammys performance
It's getting heated...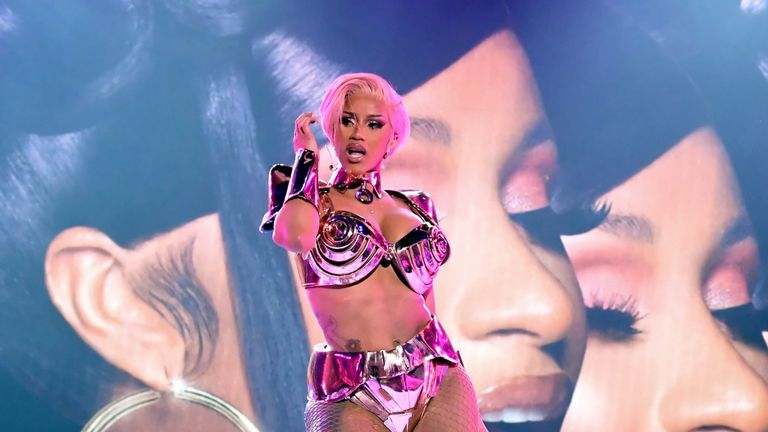 (Image credit: Getty Images / Kevin Winter / Staff)
The Grammys 2021 saw history being made by Beyoncé and Taylor Swift, who scooped numerous high-profile awards, and viewers were treated to live performances of all of the best songs of the year. But Cardi B's WAP was the performance that's has everyone talking since Sunday night. 
Undisputedly the banger of 2020, WAP has sparked its fair share of backlash for its sexually explicit language, and Cardi B and Megan Thee Stallion's incredible performance of the single at the Grammy Awards this weekend seems to have ruffled even more feathers.
Fox News anchor Tucker Carlson was joined by controversial commentator Candace Owens to discuss the performance. Owens felt that the risqué production is causing the "destruction of American values and American principles."
Cardi B couldn't help but respond to the news saying: "Yaaaayyyyyyy WE MADE FOX NEWS GUYS !!! Wap wap wap."
Owens even went on to say that WAP is causing "corrosion" and leading to the "end of an empire." The Bodak Yellow rapper responded: "Wow. Imagine if wap caused the downfall of the American empire and not North Korea bomb threats, terrorism, racism, or bad government? !! THAT WOULD BE SO ICONIC !!! STREAM UP / WAP"
Cardi B has previously expressed how strange she finds the anger over WAP. When accepting her Billboard Woman of the Year award she said WAP is "an amazing song that broke so many records, but it was a conversation that I never thought was going to be so big. It p*ssed off a whole bunch of Republicans for no reason. It was just weird."
The drama did not end on Fox News. Cardi B and Owens have been locked in a Twitter head-to-head battle. Owens continued to attack the musician over social, calling her performance disgusting and tweeting that she is a "cancer cell to culture" that is "poisoning" the minds of young black girls.
Their Twitter feud spans issues of women's roles and representation, and now, bizarrely, Owens is publicly accusing Cardi B and her team of Photoshopping tweets and news articles, and threatening to sue. 
Cardi B responded to the accusations, saying: "Candy girl now why you lying when you can simply Google your tweet. I should sue you for makin' it seem like I photoshop something when there's dozens of articles on it and you was trending on Twitter cause of it in November."
Fans have rallied behind Cardi, with one saying: "If Cardi B is so beneath Candace Owens, why does Candace continue to have Cardi's name in her mouth?" 
To which Cardi B said: "I'm not beneath, I'm on top."
Another fan said: "You can't drag Cardi B on Twitter. Her team gets receipts for everything. A queen I stan.'
And a third responding to the feud said: "Me watching Cardi B unleash hellfire on Candace Owens earlier today."