Former Cecil Hotel manager hits back at claims elevator footage was edited
Cecil Hotel manager Amy Price claims any footage editing is "absolutely false"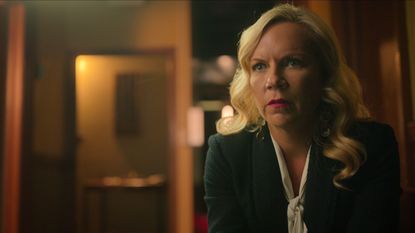 (Image credit: Netflix )
Netflix's latest thriller Crime Scene: The Vanishing at the Cecil Hotel follows the chilling 2013 disappearance of 21-year-old Elisa Lam. The unusual case left police perplexed for months, as the only substantial evidence they had to go on was a CCTV recording of Lam in one of the Cecil Hotel's elevators before she vanished.
In the span of 10 years, at least 80 people died at The Cecil Hotel.Missing persons, overdoses, and murders happened over and over — but why? Crime Scene: The Vanishing at the Cecil Hotel is now streaming pic.twitter.com/EDEBBXChbLFebruary 10, 2021
See more
Conspiracy theorists are now unpacking all the slight hiccups from the lift footage shown in the four-part documentary. Viewers were shown a recording that seemed slightly off—the video appeared to have been altered to fit the story's narrative, and fans are now questioning the time stamp that had been completely blurred out.
Netflix attempted to get ahead of any doubts with the "official footage," but it still wasn't enough for some fans. One commenter took to Twitter saying: "That 4-minute scene in the elevator—spooky...and how convenient no cameras on her floor."
One of the detectives working on the case in 2013 addressed the allegations that the video had been tampered with—he went on to categorically deny that any of the evidence had been altered in any way. It was suggested that video footage had to be slowed down so it's easier to analyze.
Former manager Amy Price denied the allegations, mentioning that any claims were "absolutely false." Price has now retired, but she did sit down with E! News in a tell-all interview. "I was a little surprised to hear that. I really hadn't heard that before the documentary. I'm not surprised people feel that way based on the momentum that a lot of the sleuths have."
Price added: "We cooperated with the police 100 percent... I mean, from the moment they arrived. There wasn't even a chance to even look at the tapes myself. I just handed them over. I provided a room for them to review them, and that's exactly what they did."
Just binged watched #CecilHotel and I'm 100% convinced the hotel manager has some form of involvement in the murder of #ElisaLam pic.twitter.com/F5G2j36d0PFebruary 13, 2021
See more
Twitter has erupted over Price's "suspicious" inclusion as fans hit back at her interview, saying: "Hotel Manager says 'I've never got used to that' and yet still she is working there, telling a story about all the crimes without any sign of guilt/shame. It's spooky tho".
While another said: "And she seems strange! Did you notice that she barely blinks in the interview? She is one creepy lady."
Since December 2020, Kudzai has worked as a trainee journalist at FUTURE, writing about fashion, entertainment and beauty content for My Imperfect Life.

Kudzai previously worked as a freelance fashion wardrobe stylist, directing magazine photoshoots and coordinating the fashion direction of recording artists.

A fully qualified Journalism and Media graduate from De Mont Fort University, Kudzai graduated in the summer of 2020.