Celebs on OnlyFans: the full list and the one celebrity making an obscene amount of cash
Who are the highest-paid celebs on OnlyFans—and how much money are they making?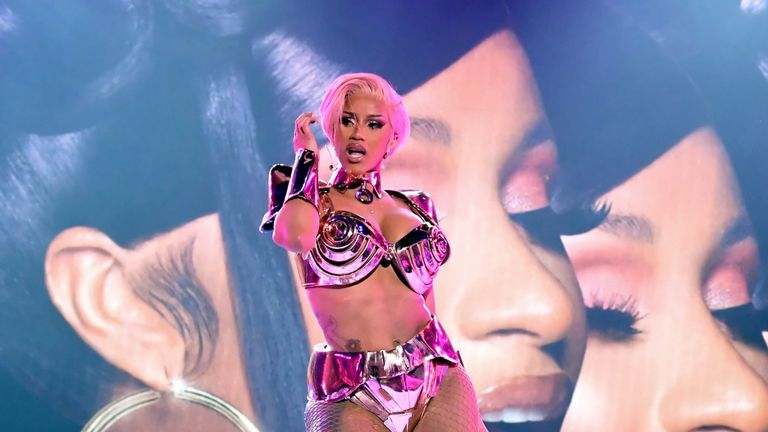 (Image credit: Getty Images / Kevin Winter / Staff)
We know we spend far too much time on social media platforms with TikTok and Instagram providing endless scrolling ops and taking over our lives, but there is a newcomer to the scene that has really blown up...OnlyFans.
The site, created in 2016, was originally seen as a way to get viewers to pay for exclusive content from celebrities and influencers alike. But since then, it has become a famous hub for adult entertainment, where sex workers and adults can sell photos and videos to their subscribers. Although a very recent announcement had fans thinking that OnlyFans were stopping sexually explicit content—something which has since been overturned.
The nightlife and events industry has been hit hard with the pandemic, so it was only a matter of time until many celebrities—including models, musicians, and reality TV stars—would join the platform to make up for all the lost cash from canceled club appearances and touring schedules, and for some, it's turned out to be incredibly lucrative.
In fact, some of our favorite stars are raking in serious cash from the site. From Cardi B who is earning a reported $10 million / £7.1 million per month (which might explain that crazy Las Vegas birthday party) to UK Love Island star Megan Barton-Hanson, who reportedly makes a monthly salary of £1.1 million / £807, 559, even DJ Khaled and Fat Joe have a joint account.
Which celebrity makes the most money on OnlyFans?
But the question on everyone's lips—and let's be honest it's what we all want to know—is, who is bringing home $21 million / £15 million a month? According to SlotsUp, the title of the highest-paid celebrity on OnlyFans goes to reality TV star and Rob Kardashian's ex, Blac Chyna.
So, how exactly does it all work? (asking for a friend...)
---
---
How does OnlyFans work?
Users charge their followers a monthly subscription fee to see their exclusive photos and videos. Subscription fees are set by each user and range from $5 upwards, but OnlyFans take a commission of around 20% from each one.
Before users get started, OnlyFans has its own clever (and rather handy) calculator that can work out how much celebrities and influencers could be earning based on their social media following. Essentially, the more followers you have on your social media platforms like Instagram and Twitter, the more money you can make on OnlyFans.
Contrary to popular belief, It's not all adult and explicit content. Whilst that content is undeniably some of the most popular on the platform, some stars (like Cardi B) are raking in the cash (we're talking millions) without ever posting a nude. Some even use the platform to tease new music or other exclusive footage, because ultimately, no one can see your content until they have already paid for their subscription.
But how much is everyone making?
Are OnlyFans stopping sexually explicit content?
Fans and subscribers of the site had a bit of a shock towards the end of last year when rumors of OnlyFans shutting down began circulating like wildfire. The brand announced a #pornban and it was reported by Bloomberg that OnlyFans were seeking to ban sexually explicit content from their platform.
According to the report, creators on the social platform would "still be allowed to put up nude photos and videos, provided they're consistent with OnlyFans' policy".
Thankfully, any initial pangs of worry—that were felt worldwide—subsided less than a week later as OnlyFans did a 180 on the supposed #pornbag. And just like that, a collective sigh of relief—from fans and creators alike—was heard across the world.
The top 10 highest paid celebs on OnlyFans
1. Blac Chyna - $21,791,195 / £15,418,259 per month
2. Bella Thorne - $12,738,587 / £9,013,128 per month
3. Cardi B - $10,117,354 / £7,158,487 per month
4. Tyga - $8,334,362 / £5,896,939 per month
5. Mia Khalifa - $6,953,664 / £4,920,033 per month
6. Erica Mena - $4,865,419 / £3,442,505 per month
7. Pia Mia - $2,404,142 / £1,701,040 per month
8. Safaree Samuels - $2,072,169 / £1,466,154 per month
9. Megan Barton-Hanson - $1,141,353 / £807,559 per month
10. Casanova - $1,139,078 / £805,950 per month
The latest celebrities to join OnlyFans
The interest in OnlyFans is going NOWHERE. So, it's only natural that more celebs flock over to the social media site to reap the many benefits—one of them being some serious cash.
The latest celebrity to join OnlyFans is Chris Salvatore of Eating Out fame. The star posted an Instagram which included an artful black and white nude image—well, we can only assume it is as the photo sadly ended at his waist—alongside the caption, "We all knew this would happen eventually 😉 … link in bio".
The best celebrities to follow on OnlyFans?
Aaron Carter
Austin Mahone
Bella Thorne
Blac Chyna
Bhad Bhabie
Chris Brown
Daniel Newman
Dorinda Medley
Harry Jowsey
Jordyn Woods
Lottie Moss
Milk
Shae Coulee
The Vixen
Trisha Paytas
Tyga
Tyler Posey
It's safe to say none of them will be short on cash any time soon. Good for them!
Sagal is a journalist, specialising in lifestyle, pop culture, fashion and beauty. She has written for a number of publications including Vogue, Glamour, Stylist, Evening Standard, Bustle, You Magazine, Dazed and Wonderland to name a few.