How to sell on Depop and make serious money
Got too many clothes? Learn how to sell on Depop and get cash for your old or unworn styles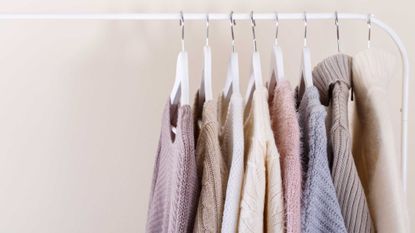 (Image credit: Getty Images/Camelia Ciocirlan)
Learn how to sell on Depop and not only clear your wardrobe but also make a bit of extra cash.
Depop is one of the most successful online marketplaces for reselling fashion, with a global community that buys, sells, and shares a range of items, from designer goods to streetwear styles. It offers customers great convenience and provides second-hand sellers with an additional channel to market and sell their products.
For those who love thrifting, want to make a nice little side hustle, or simply want to condense their clothing down into a capsule wardrobe, learning how to sell on Depop can be a great avenue for extra cash and affordable fashion. Follow these nine tips and you'll well be on your way to operating your own Depop page.
How to sell on Depop: the top tips
It's all about the photography
When it comes to selling online, you will want to make sure that the photographs you use are clear and appealing. With more than 20 million Depop users — and 90% of them under 26, according to Varsity — it's important to make your product stand out.
Ensure your clothing is freshly laundered and free from stains. And, you'll probably want to run an iron or steamer over it.
Depending on what you're selling, try either wearing the clothes and styling up an outfit or take a flat-lay image. Try to use pale or light-colored backgrounds where possible and it's advisable to use as much natural light as possible.
Include searchable descriptions
In addition to posting photographs of the items, one thing that will help shift your item is making sure that you include clear descriptions. It is also important to be specific to make it easier for potential customers to find your products. Provide details such as the brand, size, and color of the item in the listing. Using a hashtag can also help to have the item come up when people search for related terms. Lastly, consider adding a styling suggestion.
Create a social media following
Social media is a powerful marketing tool that you can use to reach a bigger audience — just think of how you personally consume social media! When selling clothing and fashion items on Depop, you should also build your social media following. This way you can post about the new items you have listed. Consider following other sellers, both to network and to see how other sellers are doing. When your followers can keep up-to-date with your store, you will have a better chance of attracting more customers and selling in larger volumes.
Build a rapport with your audience
Building and maintaining a good relationship with customers will go a long way in increasing your chances of making a sale. This adds a layer of authenticity for your buyers. Depop will usually notify you when someone likes or saves one of the items you have put up for sale on the platform. When you receive the notification, reach out to the customer to see if they have any questions or concerns. You should respond to your customers' messages promptly and in a friendly way.
Be clever with timing
It goes without saying that you should list products on Depop when you have the biggest audience possible. To do this successfully, you need to understand your audience and know the exact times when they are likely to be scrolling through Depop. For instance, posting items in the evening when people are back from work and school will increase your chances of reaching more customers. You should also upload items consistently, so people know when to wait for new listings from you.
Be straightforward
Being straightforward and honest in your business allows you to build a great reputation and attract customers. Most of the products you will be selling through the platform are second-hand. However, your customers will not want to spend their hard-earned money on items with holes, rips, or stains. If you do decide to sell defective items, remember to include specific details in your description and pictures to allow them to make an informed decision.
Make sure your pricing is competitive
Before posting your listing, do some research to find out how much similar items cost. To make more sales and sell your items quickly, you may need to be flexible and willing to negotiate. However, you should also take into account costs such as Depop charges and postage. Proper pricing will enable you to maximize your profits.
Offer excellent customer service
Anyone keen on selling products on and making money from Depop should focus on providing great customer service. The first thing you need to do is to package items well — take time when doing so. You can also add a personal touch to the package by including a little handwritten thank you note or a small gift. This gesture will make your customers smile and keep them coming back for more products. The little attention to detail really does go a long way.
Share your shop far and wide
Give the people what they want and get it in front of them! People are not going to buy from you if they aren't aware your business exists. If you are wondering how to sell on Depop successfully, you should start by sharing your shop widely. Post on social media often and reach out to IRL friends to see if they'd be willing to share your shop, or even buy something from you. This adds another layer on authenticity too as they can put a face to a name.
Considering that buyers have numerous options on Depop's online marketplace, success is found when you stand out. These steps include bumping your items often, offering prompt service, and getting reviews to help you build trust. These tips, with a bit of hard work and persistence, might just make your Depop page a successful one.
The My Imperfect Life team is all about helping you navigate your world. We bring you the latest on fashion, beauty, travel and wellness so you can live life on your terms.