The unlikely everyday essential that this health editor is buying on Amazon Prime Day
The trendy Chilly's water bottle has proved an Amazon Prime Day bestseller—this is why I love it...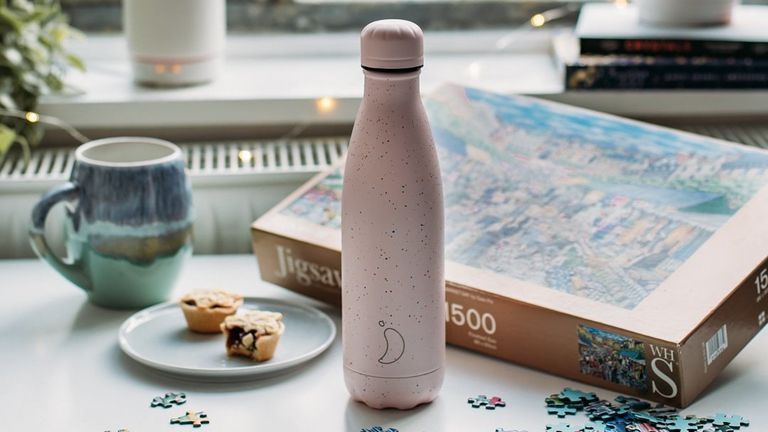 (Image credit: Chilly's)
Like pretty much everyone, I spend most of my days—even the sunniest ones—always accidentally a little on the parched side. Remembering to drink enough water is as tricky for me as spending only a few minutes on Instagram—essentially, it just doesn't happen. Even with the nourished body and mind that, as a health editor, I know full well sipping on H20 can bring.
As such, I've known for a while that I need to turn staying hydrated into a habit, and to do that I need to make it as enjoyable and easy as possible. I'm a sucker for shiny things, so I've been in the market for a beautifully designed (and, obviously, functional) water bottle for a while. This Amazon Prime Day might have just come out tops.
Hello, Chilly water bottle—currently one of the site's overall best-selling products. That's in part because of the neat discount: it's been reduced by 40% from £20 to £12, leaving you enough leftover for some beauty treats.
Chilly's Bottle | was £20, now £12 (you save £8) | Available now on  Amazon
Chilly's Bottle | was £20, now £12 (you save £8) | Available now on Amazon
The vacuum-insulated, stainless steel water bottle keeps cold beverages cold for 24 hours, and hot ones hot for 12 hours. It is also lightweight, leakproof, and comes in a range of sizes and styles.
But its popularity is also unsurprising given that, of its 22,000 reviews, a whopping 87-percent are five-star. "Great bottle, it doesn't leak, looks stylish and I can confirm that the water stays freezing cold all day/night," reads one piece of feedback.

Another notes: "Overall it does what it says on the tin and does it really rather well," while a third reviewer shares: "I am very very happy with it and it's even helping me drink more as I've never been very good at hydrating myself properly." Many also praised the "slick" and "pretty" design, plus its sustainable living vibes.
So why exactly has this vacuum-insulated, stainless steel bottle got everyone losing their cool? Well, it comes in three handy sizes—260ml, 500ml, 750ml, 1800ml—and a gazillion different colors, finishes, and patterns. I'm opting for the 750ml, to encourage myself to drink a decent amount while WFH, in the super-gorgeous "Chrome Rose Gold" style.
Then there's the fact it keeps drinks cold for up to 24 hours, and beverages hot for up to 12 hours—ideal for those days when you're on the go. And on those same occasions, you'll likewise be glad that it is lightweight and leakproof.
I'm sold—are you?
Lauren is a freelance writer and editor with more than six years of digital and magazine experience. Most recently, she has been the Acting Commissioning Editor of Women's Health—where she co-produced the Going For Goal podcast—and has previously also written news and features for titles including The Telegraph, Grazia, Stylist, Dazed, The Sun's Fabulous, Yahoo Style UK and Get The Gloss. She covers all aspects of lifestyle, specializing in health, beauty, and travel. Can't live without: oat milk lattes, new podcast episodes, long walks, and great skincare.