Chilly water bottle review: the only reusable water bottle you'll ever need
This Chilly water bottle is a must-have fitness accessory—the only hard part is choosing just one design!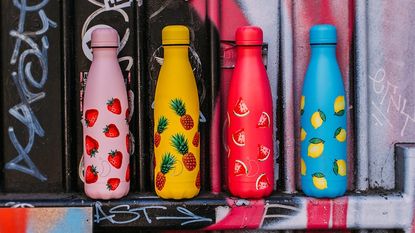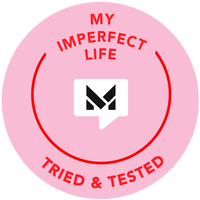 (Image credit: Chilly's)
My Imperfect Life Verdict
The reusable Chilly water bottle is the best you can buy—we just wish it was dishwasher-safe.
Reasons to buy
+

Dozens of color and pattern options

+

Available in a range of sizes

+

Vacuum insulated

+

Fresh-tasting water
Reasons to avoid
-

Not dishwasher safe

-

The lid squeaks when you fasten it
Meet your new favorite water bottle: the durable Chilly water bottle is guaranteed to never spill or leak. It's also sleek, stylish, and well-designed, with an ever-expanding range of colors and patterns.

You can buy a traditional Chilly's bottle in one of four sizes. The smallest will fit into any bag or even a coat pocket, with a capacity of 260ml. The standard 500ml size is the most popular in the range, with the largest range of colors and patterns available. And for those who want something a little larger, the 750ml capacity will make sure you always have a water supply on hand, while the 1.8lh is great for days out and picnics.
Chilly's reusable water bottles have vacuum insulation designed to keep cool drinks cold and hot drinks hot—that's why we think it's one of the best reusable water bottles you can buy. You're guaranteed a cold drink for 24 hours, and it will keep hot drinks toasty for 12 hours. Of course, it won't take the place of a flask because of its distinctly water bottle-style design, but if you do want to keep some hot tea or coffee on hand for journeys or spill-free trips, it will do the job.
---
---
Chilly water bottle: what to know before you buy
Price of the Chilly water bottle
The Chilly water bottle rarely goes on sale, so if you do happen to see one at a reduced price, you're better to snap it up quickly. The pricing depends on the design you buy, and the size of the bottle. A regular, single-color bottle in a 260ml size costs $20. That price increases incrementally at $5 for every size up you go, so it's $25 for a 500ml bottle and $30 for a 750ml.
Patterned bottles typically only come in 500ml, and will cost $30. That's $5 more than if you bought a monotone bottle, but given the high quality of these prints (they definitely won't flake or come off) we do think it's worth the difference to opt for a bottle design that you really like. After all, they're meant to be somewhat of a style piece, and they're something you'll likely only buy once.
Design of the Chilly water bottle
Chilly's bottles come in an immense range of colors and patterns. By that, we really do mean immense. Every month, the brand releases one or two new bottle designs in its artist series, featuring unique and quirky designs from worldwide artists and creators. You can also opt for some classic colors such as Chrome Silver, Pastel Purple, or Black Gradient.
The specs
260ml, 500ml, 750ml, 1.8l
100% stainless steel
Vacuum insulation keeps drinks cool for 24 hours, and drinks hot for 12 hours
No spills
Countless colors
A lot of the designs dip into a traditionally feminine territory, featuring fruits and florals or polka-dot designs. That's not so much a critique as an observation, though. If you're shopping for a man who's not deterred by a good pastel or a femme print on their activewear accessories, you'll have absolutely no trouble. If you want to steer clear of all that though, there are a few line drawings and bold colors that are sure to suit every preference.

Another small complaint we'd make is that not all designs are available on the 260ml and 750ml bottles, so if you see a stylish and bespoke bottle you like the look of, you may be stuck with the 500ml size.
Sustainability of the Chilly water bottle
Chilly's bottles are designed to only be bought once, making them the perfect fitness accessories to pair with your sustainable activewear clothes. They're long-lasting and made of stainless steel that won't rust. Even if you lose your bottle lid, you can buy a replacement without having to buy a brand new bottle.
That's bittersweet because while the sustainability element of the brand is a money-saver (and something you can feel good about supporting financially), you can't add to your collection as the company rolls out new and exciting designs.
Ease of use of the Chilly water bottle
The Chilly water bottle has double-wall vacuum insulation, and perhaps because it was the first reusable water bottle of this type, it has a very distinct yet classic design. The base is heavier, and it tapers in towards the top of the bottle as a classic single-use water bottle would. The screw-top lid is definitely leak-proof, and you can store this bottle sideways, upright, or even upside down in any bag without worrying about spills.

Because the lid is so secure and airtight, we've noticed that the Chilly water bottle can be a bit squeaky to use. It's not too bad, but if you're in a quiet classroom or an office, people will be able to hear when you use your bottle.
Because you need to unscrew the lid each time you drink, this water bottle isn't ideal for use when you're on the elliptical or in the middle of your workout. You're probably better off with a water bottle that's designed to be sipped, so you won't end up with water all over yourself (and your exercise machine) when working out. That said, the water inside this bottle really does stay very cold, so it's great for a refreshing drink post-gym or in between reps.
Cleaning your Chilly water bottle
Let's talk cleaning because that's a major hang-up we have. When you're using a bottle every day, you want to make sure it's as clean as can be, but for those with dishwashers available, you can't use them to clean your Chilly's bottle. All you can use is some good old-fashioned dish soap and a reasonably sized scrubby brush. You'll want one that's small enough to fit inside the neck of the bottle, and long enough to reach down into the bottle.

Realistically it's no harder than hand-washing a champagne flute, but unlike a water bottle, most of us don't use those on a daily basis. You can buy some of these scrubby brushes on Amazon or directly on the Chilly's site, but they're not your standard cleaning brush and they will cost you extra.
Millie is a staff writer for RealHomes.com—joining in 2021, after working at TopTenReviews as a Staff Writer. She is constantly on the hunt for the latest (and best) kitchen appliances, and reviewing these products hands-on. As a baking enthusiast, Millie's job at Real Homes is the perfect excuse to cook up an endless supply of snacks. When she's not in the kitchen though, she loves knitting and exploring the country with her black Labrador.