Chrissy Teigen's life hack for preventing maskne is low-key genius
Chrissy Teigen's life hack takes your face covering to new beauty heights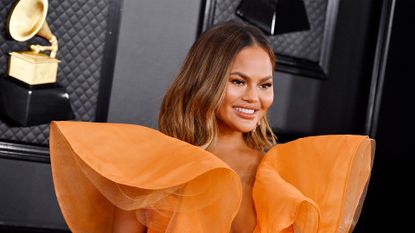 (Image credit: Getty Images/Frazer Harrison)
Suffering from breakouts? Chrissy Teigen's life hack may just be the answer if you suffer from mask-induced pimples.
While face coverings are undoubtedly a must in the frontline response to preventing the spread of Covid-19, even the best sustainable face masks can cause some less-than-stellar skin issues.
Acne and irritation are the main bugbears thanks to the humidity underneath your mask because you're breathing into a closed off space. Sweat clogs pores and friction from the masks further rubs oil and dirt into the skin.
But Teigen has revealed that, on the flipside, a face mask can hide a multitude of ongoing beauty treatments.
In an Instagram post with John Legend and their kids, Luna and Miles, during a recent trip to St. Barts, Teigen used her face covering to hide a pore strip, which could itself help to alleviate the effects of mask-wearing on the skin.
"Life hack: nose strip under your mask," she captioned the photo.
"Keep safe AND get those rent free blackheads out."
The strip in question appears to be the Bioré Deep Cleansing Pore Strip, an affordable drugstore favourite. Also known simply as 'nose strips', they feel just as strangely satisfying to use as acne patches.
Much like a Band Aid, nose strips sit on the skin thanks to an adhesive. They then whip away all the pore-clogging dirt, grime and the top layer of dead skin cells when ripped off.
Simply apply to freshly cleansed, damp skin (check out our 60-second skin rule) and wait 10-15 minutes before peeling the strip at the edges.
Thanks to special bonding ingredients, Bioré Deep Cleansing Pore Strips, work like a magnet by instantly locking onto, and removing, deep-down dirt that can cause blackheads. Plus astringent witch hazel helps to minimise the look of enlarged pores by temporarily constricting the skin.
Another mask acne hack that has gone viral is courtesy of Dr. Pimple Popper star Dr Sandra Lee, who recommends using a salicylic acid body spray.
"Spray it on inside the mask," Lee wrote in her TikTok video. "Fan your mask to dry it a little."
"Salicylic acid cleans out the oil and debris within your pores preventing acne," she further explains.
There's no denying that face coverings have become a part of everyday life, but hacks for swerving breakouts or using them to actually up the ante of our beauty routines will pay dividends in the long run.
Fiona Embleton is a multi-award-winning beauty editor who has tested over 10,000 products in her 10 years + of writing and shooting beauty stories. For the past four years, she was the Senior Beauty Editor at Marie Claire, having previously worked in the role of Beauty Editor at both Stylist and Cosmopolitan. She has recently gone freelance and alongside My Imperfect Life, she has written for titles including ELLE UK, ELLE Canada, Buro 247, Harper's Bazaar Arabia, Vogue Scandinavia, and ES Magazine. Beauty journalism allowed her to marry up her first-class degree in English Literature and Language (she's a stickler for grammar and a self-confessed ingredients geek) with a passion for make-up and skincare, photography, and catwalk trends. She loves jumping on the latest internet-breaking beauty news, dissecting the best red carpet looks, and having the crème de la crème of dermatologists, make-up artists, and hairstylists on speed dial so she can tap them for the best advice. She's a discerning beauty shopper and knows it can be confusing trying to navigate what's hype and what really works. So if she really likes something, you can trust that she has reached that opinion by vetting it against everything else she's ever tried. Her career highs? Interviewing Cate Blanchett and winning a Jasmine Award for the deeply personal feature Cancer Stole My Mother's Scent.