Chrissy Teigen's life hack for preventing maskne is low-key genius
Chrissy Teigen's life hack takes your face covering to new beauty heights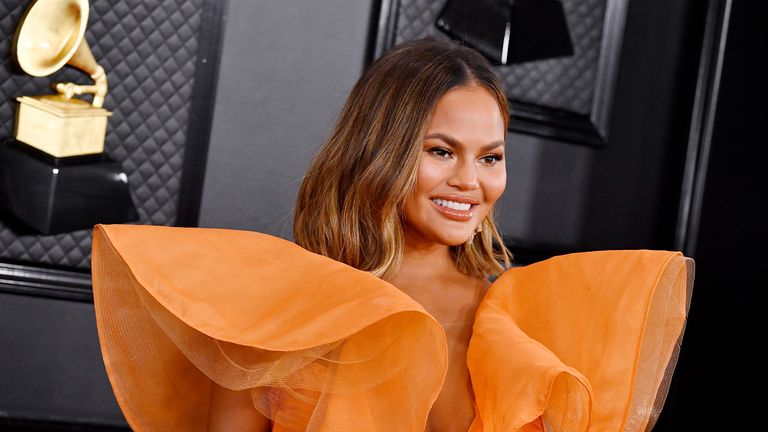 (Image credit: Getty Images/Frazer Harrison)
Suffering from breakouts? Chrissy Teigen's life hack may just be the answer if you suffer from mask-induced pimples. 
While face coverings are undoubtedly a must in the frontline response to preventing the spread of Covid-19, even the best sustainable face masks can cause some less-than-stellar skin issues. 
Acne and irritation are the main bugbears thanks to the humidity underneath your mask because you're breathing into a closed off space. Sweat clogs pores and friction from the masks further rubs oil and dirt into the skin.
But Teigen has revealed that, on the flipside, a face mask can hide a multitude of ongoing beauty treatments.
In an Instagram post with John Legend and their kids, Luna and Miles, during a recent trip to St. Barts, Teigen used her face covering to hide a pore strip, which could itself help to alleviate the effects of mask-wearing on the skin.
"Life hack: nose strip under your mask," she captioned the photo.
"Keep safe AND get those rent free blackheads out."
The strip in question appears to be the Bioré Deep Cleansing Pore Strip, an affordable drugstore favourite. Also known simply as 'nose strips', they feel just as strangely satisfying to use as acne patches.
Much like a Band Aid, nose strips sit on the skin thanks to an adhesive. They then whip away all the pore-clogging dirt, grime and the top layer of dead skin cells when ripped off.
Simply apply to freshly cleansed, damp skin (check out our 60-second skin rule) and wait 10-15 minutes before peeling the strip at the edges. 
Thanks to special bonding ingredients, Bioré Deep Cleansing Pore Strips, work like a magnet by instantly locking onto, and removing, deep-down dirt that can cause blackheads. Plus astringent witch hazel helps to minimise the look of enlarged pores by temporarily constricting the skin.
Another mask acne hack that has gone viral is courtesy of Dr. Pimple Popper star Dr Sandra Lee, who recommends using a salicylic acid body spray.
"Spray it on inside the mask," Lee wrote in her TikTok video. "Fan your mask to dry it a little."
"Salicylic acid cleans out the oil and debris within your pores preventing acne," she further explains.
There's no denying that face coverings have become a part of everyday life, but hacks for swerving breakouts or using them to actually up the ante of our beauty routines will pay dividends in the long run.