Christmas nails don't get more festive than the snowflake manicure
Christmas nails = holiday ready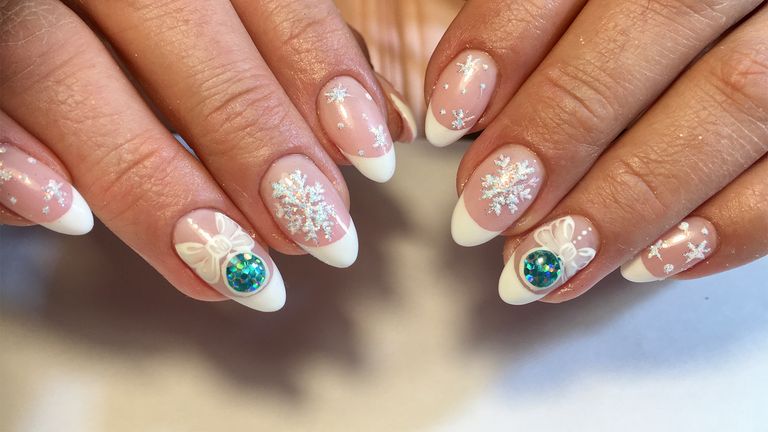 (Image credit: GettyImages-1190888029/Olganogti5)
When it comes to Christmas nails there's only one trend you'll be screenshotting and taking to your manicurist.
If you dream of a white Christmas every year, you can at least make it happen on your nails with the snowflake manicure. We're talking snowflakes on nails that are nude or perhaps you prefer simply a hint of glitter or strategically placed pearl for a less literal interpretation. 
Either way, these snowflake nail designs will put you in the festive spirit faster than a Christmas sweater. 
The glitterati
A smattering of glitter and teeny stars create the ultimate in Ice Queen nails.
Accent snowflakes
These nails deserve their own filter - we're utterly mesmerised. What's not to love about nails loaded with gold glitter polish, silver dots of polish and accent-nail snowflakes?
Pearly Queen
Instead of going for a true snowflake design, think abstract but always white and wintery vibes. This nude coloured nail adorned with pearls is delicate, chic and will have people stopping you in the street to ask for a second look.
Holograph nails
Not everyone's a fan of cutesy snowflakes so for an edgier vibe, try this ice crystal holographic nail design instead.
Nude snowflake nails
Nude nails with just one accented snowflake and one clear nail embedded with glitter make a statement without being overpowering. 
So there you have it, manicures but make it festive.