Christmas nails don't get more festive than the snowflake manicure—7 designs to inspire you
Christmas nails give us free reign to go all out with nail art; but this year snowflake nails specifically are setting our pulses racing. Here's your inspo board...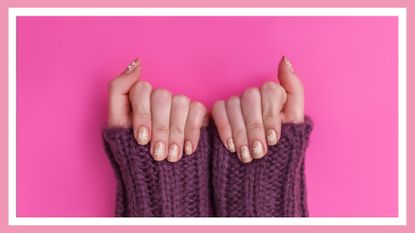 (Image credit: Getty Images)
When it comes to Christmas nails, there's only one trend you should be screenshotting and taking to your manicurist—a snowflake manicure.
If you dream of a white Christmas every year, you can at least make it happen on your nails with the snowflake manicure. And if you're cautious about too much nail art, snowflakes on nails can be both subtle and more bold, depending on your style. Some designs are more nude and simple, with strategically placed pearl for a less literal interpretation—or perhaps you'd prefer a serious hit of glitter to elevate your Christmas-time outfits.
Either way, these snowflake nail designs will put you in the festive spirit faster than a Christmas sweater. So pop on your favorite Christmas movie, get your manicure kit out, and get to work...
Snowflake Christmas nails to inspire your next manicure
1. The glitterati
A smattering of glitter and teeny stars create the ultimate in Ice Queen nails. These Christmas nails are ideal for all your upcoming festive parties, be it the office 'do or a get-together of your closest friends. Super glam and sparkly, they'll be the most eye-catching thing about your outfit; so keep the rest of your outfit muted and neutral if you can!
2. Accent snowflakes
These nails deserve their own filter—we're utterly mesmerised. What's not to love about them? Loaded with gold glitter polish, silver dots of polish and accent-nail snowflakes, they're totally magical and look a little bit like a work of art. While these are perfect for Christmas, we'd also suggest wearing them over the entire winter season, as they're not overly festive.
3. Pearly Queen
Instead of going for a specifically snowflake-inspired design, think more abstract with these pearl nails. Full of white and wintery vibes, this nude coloured nail is a bit more subtle (very clean girl manicure vibes)—but adorned with pearls, it's still delicate, chic and will have people stopping you in the street to ask for a second look.
4. Holograph nails
Not everyone's a fan of cutesy snowflakes, so for an edgier vibe for your Christmas nails, try this ice crystal holographic nail design instead. It's fun, funky and eye-catching, but still simple and a lot less intense than the first few designs on our list. With these nails, you could also go a bit more extravagant with your outfit, if you want.
5. Nude snowflake nails
Nude nails with just one accented snowflake and one clear nail embedded with glitter make a statement without being overpowering. They're a fun festive twist if you're a gal who loves a nude manicure throughout the rest of the year! Especially if you're hesitant to be full-on with your Christmas nails.
---
6. Oversized metallic nails
We LOVE an oversized nail, and these metallic Christmas nails are stunning—modern, stylish and festive? Count us in! The subtle snowflake design is incorporated into the manicure on just the one nail making it a good option for those who don't want to go overboard, and the mix of nude velvet nails and metallic silver mesh oh-so-perfectly.
7. Red and white snowflake
For the traditionalists among us, these Christmas nails are a fantastic option, with classic white and red colors that'll pair perfectly with your festive decor, if that's your thing. The snowflakes are intricately pasted on here too against the red and white color, which you won't be able to stop staring at. Colorful french tips are one of the biggest nail trends of 2022, also!
---
So there you have it—manicures but make it festive!
Fiona Embleton is a multi-award-winning beauty editor who has tested over 10,000 products in her 10 years + of writing and shooting beauty stories. For the past four years, she was the Senior Beauty Editor at Marie Claire, having previously worked in the role of Beauty Editor at both Stylist and Cosmopolitan. She has recently gone freelance and alongside My Imperfect Life, she has written for titles including ELLE UK, ELLE Canada, Buro 247, Harper's Bazaar Arabia, Vogue Scandinavia, and ES Magazine. Beauty journalism allowed her to marry up her first-class degree in English Literature and Language (she's a stickler for grammar and a self-confessed ingredients geek) with a passion for make-up and skincare, photography, and catwalk trends. She loves jumping on the latest internet-breaking beauty news, dissecting the best red carpet looks, and having the crème de la crème of dermatologists, make-up artists, and hairstylists on speed dial so she can tap them for the best advice. She's a discerning beauty shopper and knows it can be confusing trying to navigate what's hype and what really works. So if she really likes something, you can trust that she has reached that opinion by vetting it against everything else she's ever tried. Her career highs? Interviewing Cate Blanchett and winning a Jasmine Award for the deeply personal feature Cancer Stole My Mother's Scent.