These two festive products are set to sell out this year due to the pandemic
These two products are set to fly off the shelves because of the pandemic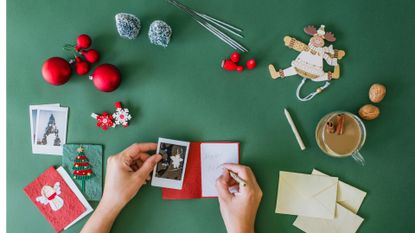 (Image credit: Getty Images)
A lot has changed this year due to the coronavirus pandemic, but one thing that remains the same is our undying love for the festive season. If anything, it's the one thing that can cheer us all up and hopefully end the year on a high - from making a delicious (and TikTok trendy) hot chocolate bomb drink to watching the new Netflix cheesy film, Holidate—cozy season is looking good.
That's why it won't come as a surprise when we say that sales of Christmas trees and cards are set to skyrocket this year according to experts, especially as most of us will be spending the holidays at home.
A new report in The Sunday Times has revealed that an estimated five million people in the UK who usually travel for Christmas will be spending it at home this year due to COVID-19 restrictions, which means they'll be turning their attention to decorating their homes to get in the festive spirit.
While a similar situation will be taking place in the US, and elsewhere this year, the British Christmas Tree Growers Association—whose 320 members across the UK sell around eight million trees every Christmas—has predicted that 2020 will be its busiest year in history.
Plus, as the pandemic restrictions mean we won't get to see all of our loved ones for Christmas this year, cards sales are also expected to increase significantly as we find alternative ways to spread the love.
Amanda Fergusson, chief executive of the Greeting Card Association, told the publication: "Retailers are reporting card sales above last year already."
Similarly, Helen Dickinson, chief executive of the British Retail Consortium, said: "Whilst celebrations will no doubt be a little different this year, we know customers want to keep Christmas special.
"That's why we're encouraging people to shop early and prevent the last-minute rush so their fellow customers and all the store colleagues, warehouse workers and delivery drivers working behind the scenes, have the space they need to stay safe and well."
If you've started your Christmas shopping a little early this year, which we wouldn't blame you for considering the ongoing rumors of a second lockdown, then you're not alone. Many others have been doing the same, to ensure they get their essentials before it's too late.
"BRC's September sales figures show signs some customers have already started a little earlier than usual, as spreading your Christmas shopping has many benefits in today's climate – from safety to managing finances," explained Dickinson. "However, we want more people to embrace the true Christmas spirit, think of others, to 'Shop Early, Start Wrapping' and, most of all, to enjoy Christmas—however they are celebrating."
You heard the lady, happy shopping!
Sagal is a journalist, specialising in lifestyle, pop culture, fashion and beauty. She has written for a number of publications including Vogue, Glamour, Stylist, Evening Standard, Bustle, You Magazine, Dazed and Wonderland to name a few.