This is the dangerous and very common activity behind the rising coronavirus numbers
Avoiding this will be hard over the holiday season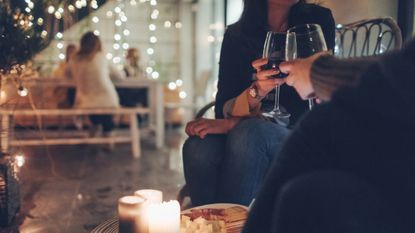 (Image credit: Getty Images)
Coronavirus has changed the world this year. It's made us leave many of our favourite activities behind, stopped us from hugging our families and changed the way we work - potentially forever.
We already know which Halloween activities to avoid due to the pandemic, but the consequences of this virus are far from over and scientists have warned that people must limit indoor household gatherings this winter.
Coronavirus cases are still steadily rising across the globe, with over 38 million confirmed cases and over 1 million deaths.
Virologist and Centres for Disease Control and Prevention (CDC) director Robert Redfield has said indoor household gatherings are partially to blame and are an "increasing threat".
With the holiday season fast approaching, which is a hot bed for intimate indoor gatherings, Redfield stressed that "vigilance" was important in preventing the spread of the virus.
"In the public square, we're seeing a higher degree of vigilance and mitigation steps in many jurisdictions," Redfield said in a call with US governors on 13 October, obtained by CNN.
"But what we're seeing as the increasing threat right now is actually acquisition of infection through small household gatherings."
The US is currently seeing a rise of over 50,000 new cases per day, while the UK saw almost 20,000 new cases on 14 October and has unveiled a new three-tier lockdown system this week to try and curb the spread of the virus.
How to minimise risk before and during a gathering
If a gathering is allowed by the local authorities where you are, there are a few things the CDC has suggested people can do to minimize risk:
Avoid indoor gatherings by hosting activities outdoors
Open windows to improve ventilation if outdoor gatherings aren't an option
Maintain six foot between those you don't live with
Only have people over from your local area
Limit the number of attendees
Encourage masks and the use of hand sanitiser
And even ask guests to avoid contact with other people for two weeks before the event
Though it's hard to imagine Thanksgiving and Christmas without family in our homes, especially when we've already spent so long without them this year, it's critical to slow the spread of this deadly virus.
If you're unable to see your loved ones during the holiday season this year, you could always use this downtime to pamper yourself and relieve stress, reap the benefits of sleep by catching a few extra zzz's, or challenge yourself with a new exercise routine - even if it's just with beginner's workouts.
With any luck, Christmas celebrations will be wild come 2021.
Beth Gault is a freelance journalist and editor. She is the former news editor at fashion magazine Drapers and has written for multiple titles across lifestyle and business media, including GoodtoKnow and Woman's Own. She loves chatting about ending period poverty, is a self-confessed coffee snob, and is never one to turn down a good book.