Courteney Cox spills deets on the Friends reunion and the show's iconic opening credits
Apparently, dancing in the fountain wasn't quite as fun as it looked...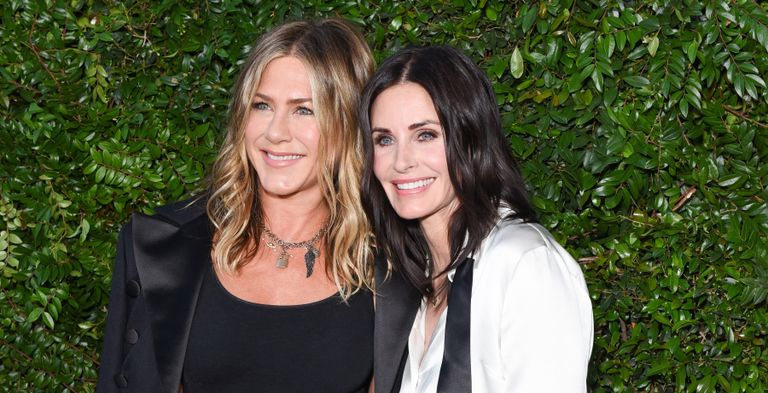 (Image credit: Presley Ann/Getty)
Real talk: the upcoming Friends reunion between Courteney Cox and co is all we can think about right now—with all our favorite Friends characters reuniting on camera, we really can't wait. 
We've been searching for any tiny bit of info we can get on the historic reunion. We know that Justin Bieber might be making an appearance, and we even know the exact shade of lipstick Rachel Green wears on the show to tide us over in the meantime. Sadly, though, the reunion is being kept very secret—but thankfully Monica Geller herself has given us a few details.
Appearing on the Ellen DeGeneres Show, Courteney Cox said that the reunion between the six main cast members was "unbelievable". She said: "It was so emotional. It's an unscripted reunion, but we got to be on Stage 24 for the first time, all of us in, like, I forgot how many years. 15 years? 17 years?"
When quizzed by DeGeneres about what she remembers from the filming of the iconic 90s series, Cox said: "Oh god, I have the worst memory. Everything came up that I forgot about."
She did tease however that there would be "lots of surprises" (you're killing us here, Courteney!) and gave an insight into the famous fountain scene from the show's opening credits. We know that the fountain will be making an appearance in the reunion, but Cox admitted that the original scene was not as fun to film as it looked.
She said: "We were in that fountain for a long time, I don't know who... somebody thought that would be really fun, and let me tell you what happens, it's not fun to be dancing in a fountain for hours and hours."
Cox remembered while filming the credits, Matthew Perry said: "Can't remember a time that I wasn't in this fountain." Classic Chandler.
The news of the long-awaited reunion was announced on the official Friends Instagram in April. The post was captioned with: "That's a wrap! Could we BE any more excited? Friends: The Reunion is coming to @hbomax."
So hopefully, now that the reunion has wrapped and more details are being publicized, we won't have to wait too much longer for the official release date!
Naomi is trainee news writer who writes for My Imperfect life, Woman & Home and Goodto. Naomi writes articles from fashion trends and skincare to entertainment news.