Did Harry Styles spit on Chris Pine? What the pop star had to say about 'Spitgate'
Did Harry Styles spit on co-star Chris Pine at the Venice Film Festival in September? Here's what Harry had to say about the scandal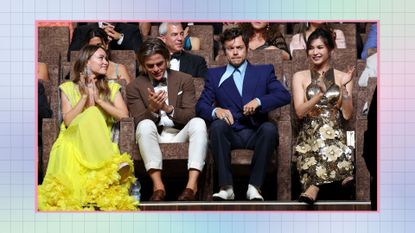 (Image credit: Getty Images/Vittorio Zunino Celotto)
Eyes were glued to the red carpet of the Venice Film Festival a few weeks back, when the cast of Don't Worry Darling finally convened for the much-talked-about film's world premiere. Yes, Miss Flo a.k.a. Florence Pugh showed up on the red carpet (looking fittingly starry in Valentino) but noticeably skipped the press conference. And power-couple Harry Styles and Olivia Wilde—the movie's leading man and director, respectively— did not interact at all.
And yes, the #Spitgate controversy totally took over social media. So what was it all about? The Don't Worry Darling drama continued online when social-media sleuths noticed in a clip of the actors' entrances to the theater for the premiere that it appeared as though Styles leant down and spat in the direction of co-star Chris Pine before taking a seat. Pine, who had been otherwise enjoying some chewing gum and casually clapping, pointedly stops mid-clap, looks down at his leg and begins to laugh awkwardly, looking taken aback.
But did Harry Styles actually spit on Chris Pine, or was it all a bunch of Twitter tattle? We investigated the supposed scandal...
Did Harry Styles spit on Chris Pine?
Here is the much-retweeted first video of the incident, most clearly showing Pine's reaction when Harry Styles made his way over to him. Now, did Styles actually spit, or was he just puffing out some air, maybe trying to calm himself in front of the theater throngs and snapping cameras? Was Pine's awkward chuckle just an attempt to acknowledge the couple's tension? Let's explore deeper.
So what's the verdict here? Did Harry spit on Chris Pine? What happened on that movie set bro 💀 pic.twitter.com/aOmAr0mAfYSeptember 6, 2022
See more
Now let's take a look at the alleged spit in slow motion. Now, DNA experts, do you see evidence of Styles spitting? Our untrained eyes can't detect any, but we'll need to examine further.
Here's a side view of the alleged encounter. Again, no spittle is detected from the naked eye, and the longer clip does show Styles and Pine seemingly chatting amicably, which would take some serious acting chops from both parties if there really was a spit scandal.
Harry takes his seat. #DontWorryDarling #venezia79 pic.twitter.com/by6DmYxvRSSeptember 5, 2022
See more
So did it happen or not? Since then, both Chris, Harry, and his beau Olivia have denied it happening—and we must admit, we're inclined to believe them.
The pop star himself commented on the Spitgate scandal during his September 7 concert at New York City's Madison Square Garden, joking to the crowd: "It's wonderful to be back in New York. I just popped very quickly to Venice to spit on Chris Pine...but f*ck that, we're back!"
Olivia also denied the rumor on The Late Show with James Corden. When asked whether Harry spit on Chris, she answered, "He did not, but I think it's a perfect example of people will look for drama anywhere they can."
A representative for Chris Pine officially entered the chat on Tuesday, September 6, giving a statement to People about the alleged altercation: "This is a ridiculous story—a complete fabrication and the result of an odd online illusion that is clearly deceiving and allows for foolish speculation."
"Just to be clear, Harry Styles did not spit on Chris Pine," the statement continues. "There is nothing but respect between these two men and any suggestion otherwise is a blatant attempt to create drama that simply does not exist."
HARRY STYLES ADDRESSED SPITGATE #harrystyles #dontworrydarling #chrispine @harrystyles #msg pic.twitter.com/xCvtqOIAaESeptember 8, 2022
See more
Christina Izzo is the Deputy Editor of My Imperfect Life.
More generally, she is a writer-editor covering food and drink, travel, lifestyle and culture in New York City. She was previously the Features Editor at Rachael Ray In Season and Reveal, as well as the Food & Drink Editor and chief restaurant critic at Time Out New York.
When she's not doing all that, she can probably be found eating cheese somewhere.