All of the 'Don't Worry Darling' drama, explained
Yes, the 'Don't Worry Darling' drama continues as Olivia Wilde finally addresses all the speculation—even 'spitgate'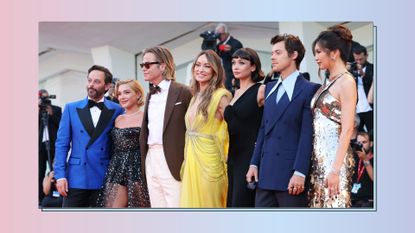 (Image credit: Getty Images / Stefania D'Alessandro/WireImage)
Not since the days of Mr. and Mrs. Smith has a movie's offscreen plotlines captivated more than the film itself, but Don't Worry Darling has done just that. You've got behind-the-scenes romance, a he-said-she-said casting controversy, a supposed feud between the movie's director and leading lady—the tea is scalding hot, people.
The sophomore directorial effort from Olivia Wilde stars Florence Pugh and Harry Styles as a young 1950s couple living in Victory, Company, an experimental, utopian community with a disturbing underside beneath its glam, gleaming surface. On paper, with supporting work from stars like Chris Pine and Gemma Chan, it's one of the fall's highest-profile premieres, but one plagued by promo-tour awkwardness and social-media speculation.
Now, Olivia Wide has publically addressed a number of the wildest rumors, from 'spitgate'—where fans thought Harry had spat on Chris—to what went down with Shia LeBouff. Here's a primer on all of that Don't Worry Darling drama, ahead of its September 23 release...
The 'Don't Worry Darling' drama, explained:
1. Olivia Wilde and Harry Styles
First thing's first: director Olivia Wilde and her second choice for lead actor (more on that later) Harry Styles met on the set of Don't Worry Darling when production kicked off in September 2020.
By January 2021, things had apparently heated up enough between the burgeoning couple that they made a heavily-papped appearance hand-in-hand at the wedding of Styles' manager, Jeffrey Azoff, in California.
Though the May-December couple boasts a decade between them—Wilde is 38 years old, Styles aged 28—it actually wasn't their age difference that had eyebrows raised initially. It was the fact that Wilde had only publicly split from her partner of 10 years and the father of her two children, Ted Lasso star Jason Sudekis, in November 2020 and, well, you can do math.
Despite engagement rumors and Wilde frequently being spotted cheering on her pop-star boyfriend backstage throughout his Love on Tour performances, the twosome kept a fair bit of distance between them during their public appearances at the Venice Film Festival in September 2022, arriving separately at a press panel and not interacting at all on the red carpet.
2. Olivia Wilde and Jason Sudeikis
Speaking of the Sudeikis drama, the break-up got infinitely messier between the exes when custody papers came into the mix. In April 2022, Wilde was onstage promoting Don't Worry Darling at CinemaCon in Las Vegas when she was handed a mysterious manila envelope in the middle of her presentation. It turned out that Wilde was being served custody papers on behalf of her former partner.
"In any other workplace, it would be seen as an attack," Wilde told Variety in a cover story. "It was really upsetting. It shouldn't have been able to happen. There was a huge breach in security, which is really scary."
"I hated that this nastiness distracted from the work of so many different people and the studio that I was up there representing," she told the outlet. "To try to sabotage that was really vicious."
Wilde added: "But, you know, sadly, it was not something that was entirely surprising to me. I mean, there's a reason I left that relationship."
3. Olivia Wilde and Shia LaBeouf
Back to that leading-man business. Before Harry Styles joined the Don't Worry Darling cast, Shia LaBeouf was hired for the role of Jack Chambers opposite Florence Pugh's Alice. However, he was supposedly let go by Wilde, who told Variety: "His process was not conducive to the ethos that I demand in my productions. He has a process that, in some ways, seems to require a combative energy, and I don't personally believe that is conducive to the best performances. I believe that creating a safe, trusting environment is the best way to get people to do their best work. Ultimately, my responsibility is to the production and to the cast to protect them. That was my job."
"A lot came to light after this happened that really troubled me, in terms of his behavior," Wilde says, referring to allegations of sexual battery, assault and infliction of emotional distress made against LaBeouf by ex-girlfriend FKA twigs. "I find myself just really wishing him health and evolution because I believe in restorative justice. But for our film, what we really needed was an energy that was incredibly supportive. Particularly with a movie like this, I knew that I was going to be asking Florence to be in very vulnerable situations, and my priority was making her feel safe and making her feel supported."
However, shortly after the Variety story hit newsstands in August 2022, LaBeouf pulled out the metaphorical receipts, saying that he was "confused about the narrative that I was fired." Text messages and video clips from Wilde seemed to refute the director's claims that she gave the actor the axe. "You and I both know the reasons for my exit," LaBeouf said in a letter to Wilde, which he provided to the publication. "I quit your film because your actors and I couldn't find time to rehearse."
In a video message from Wilde to LaBeouf, she can be seen seemingly begging the actor to not part with the production: "I feel like I'm not ready to give up on this yet, and I, too, am heartbroken and I want to figure this out. You know, I think this might be a bit of a wake-up call for Miss Flo, and I want to know if you're open to giving this a shot with me, with us."
She continued, "If she really commits, if she really puts her mind and heart into it at this point and if you guys can make peace—and I respect your point of view, I respect hers—but if you guys can do it, what do you think? Is there hope? Will you let me know?"
At the Venice press panel on Monday, September 5, Wilde dodged a question about the actor. "Can I ask a question about Shia LaBeouf?" a journalist asked, with Wilde replying: "As for all the endless tabloid gossip and all the noise out there, I mean, the internet feeds itself...I don't feel the need to contribute. I think it's sufficiently well nourished."
4. Olivia Wilde and Florence Pugh
The juiciest drama seems to be between Wilde and Don't Worry Darling's lead, Florence Pugh.
The fiery feud rumors have been stoked throughout the press tour for the film, so much so that a reporter explicitly brought up the tension during the Venice press conference on September 5, which Pugh noticeably skipped, though it was announced that she would be walking the red carpet with Wilde and the rest of the cast at the film's world premiere that evening. (PR reasoning was that Pugh's flight got in too late for the panel, though she was publicly seen in Venice around the same time enjoying a spritz.)
"Can you just clear the air and address whether there has been a falling-out there and if so why, because it's something that people are discussing?" the journalist asked. "Florence is a force, and we are so grateful that she is able to make it tonight, despite being in production on Dune," Wilde replied. "I know as a director how disruptive it is to lose an actor even for a day, so I'm very grateful to her and Denis Villeneuve for helping us. We're really thrilled we'll get to celebrate her work tonight."
Pugh did, in fact, walk the red carpet on Monday evening, but did not have any public interaction with Wilde.
A source told Us Weekly in late August that "Florence and Olivia have had several disagreements personally and professionally, [and] that's why Florence isn't doing any press for the movie," with eagle-eyed fans noting that Pugh made little effort to promote the film on social media, despite Wilde's effusive posts about her performance and the actress regularly marketing her other upcoming films.
Several rumors for the cause of the fall-out include that Pugh had been paid significantly less than Harry Styles, despite the fact that she's the film's lead. (Wilde responded in Variety, saying "I'm a woman who has been in this business for over 20 years, and [pay parity is] something that I have fought for myself and others, especially being a director. There is absolutely no validity to those claims.")
It was also said that Pugh was uncomfortable with Wilde and Styles' offset relationship, as the director was reportedly still romantically involved with Sudeikis at the time. "I can tell you for a fact that Flo seeing Olivia and Harry all over each other on set did not go down well as Olivia was still with Jason when she first hooked up with Harry," a source told Page Six. "Jason and the kids visited Olivia on set at the beginning a few times, so I think this all made people feel a little uncomfortable."
The Oscar-nominated actress also reportedly disagreed with the director's stance on Don't Worry Darling's sex scenes, with Wilde calling such racy scenes "integral to the story" in Variety and telling Vogue that she wanted the audience to "realize how rarely they see female hunger, and specifically this type of female pleasure."
"Female pleasure, the best versions of it that you see nowadays, are in queer films," she told the outlet. "Why are we more comfortable with female pleasure when it's two women on film? In hetero sex scenes in film, the focus on men as the recipients of pleasure is almost ubiquitous."
Pugh contrasted that sentiment in Harper's Bazaar in August: "When it's reduced to your sex scenes, or to watch the most famous man in the world go down on someone, it's not why we do it. It's not why I'm in this industry."
"Obviously, the nature of hiring the most famous pop star in the world, you're going to have conversations like that. That's just not what I'm going to be discussing because [Don't Worry Darling] bigger and better than that," she added.
And don't expect Pugh and Wilde to cross paths in public appearances anytime soon. Per Rolling Stone, Pugh is also skipping the movie's New York red carpet premiere on September 19, with her busy filming schedule for Dune: Part Two in Budapest being cited as the on-record reason for her absence. (Pine also will not be in attendance.)
A source from the Don't Worry Darling set told Rolling Stone: "From what I understand, there is friction [between Pugh and Wilde], but I don't know why...It's pretty clear she's choosing not to be a part of the PR. It's clearly not beneficial to Olivia to not have her be a part of the PR. It has to be a Florence decision."
Though everyone had prepared for the missing parts come the 19th, it was still a bit of a shock to learn that Pugh and Pine were not in attendance with the rest of the cast at the Lincoln Square Theater. The two shared a pre-recorded message to the audience explaining their absence. We know Pugh is in Budapest for Dune, but it's unclear what production Pine is tending to in Los Angeles.
Before all the drama escalated, Pugh revealed on Instagram in early 2020 that she was ecstatic to be part of the film, particularly because of Wilde's direction. The actor wrote:
"@oliviawilde just tagged me in a picture *gasp no.1* @oliviawilde casted me in a film *gasp no.2* @oliviawilde is my idol and allowed me to be a part of this fecking incredible cast. Shia?!? Chris?!? *gasp no.3* I can't wait to join this project when all of this is over. Until then, masks up. Gloves on. Stay home. Read script 17,000 because.. you know.."
As for that "Miss Flo" slight, it looks like the actress and her team are at least having fun with it: Pugh's stylist Rebecca Corbin-Murray cheekily captioned a photo of the starlet with the nickname, and her hair and makeup team could be seen donning black T-shirts printed with "Miss Flo" while getting the actress ready for the premiere. Needless to say, we want one for ourselves ASAP.
What has Olivia Wilde said about the 'Don't Worry Darling' drama?
The director has now addressed two of the charges laid at her door, namely whether she really is feuding with leading-lady Florence and whether she did in fact 'fire' Shia.
Appearing on The Late Show with Stephen Colbert, Oliva said she has 'nothing by respect' for Florence. When pressed for answers on their rumored rift, she simply said: "She's fantastic. She's on the set of her movie Dune right now. There's nothing cooler than a busy actress. I have nothing against her for any reason."
Before adding: "I think what's funny is like, I don't feel like my male director colleagues are answering questions about their cast."—A very good point.
Then came the real zinger, as Olivia was asked to clear up, from her perspective, what went on with Shia LeBouff—who publicly rebuffed claims that Olivia had fired him from the project.
She dubbed their differing accounts on what went down as 'semantics', before explaining: "We had to replace Shia. He is a fantastic actor, but it wasn't gonna work. When he gave me the ultimatum of, you know, him or Florence, I chose Florence.
"That was him feeling he was stepping away and me feeling like we were moving on without him."
Olivia also took the opportunity to talk about whether Harry actually spat on Chris and the whole 'spitgate' frenzy, saying: "He did not, but I think it's a perfect example of people will look for drama anywhere they can."
Christina Izzo is the Deputy Editor of My Imperfect Life.
More generally, she is a writer-editor covering food and drink, travel, lifestyle and culture in New York City. She was previously the Features Editor at Rachael Ray In Season and Reveal, as well as the Food & Drink Editor and chief restaurant critic at Time Out New York.
When she's not doing all that, she can probably be found eating cheese somewhere.