Hold on, did Kourtney Kardashian and Travis Barker get married?
Why fans think Kourtney Kardashian and Travis Barker got married in Las Vegas...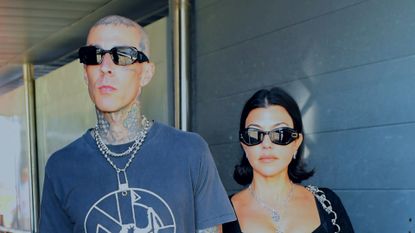 (Image credit: Photopix/GC Images)
Did Kourtney Kardashian and Travis Barker get married? Fans are convinced the couple tied the knot during a recent trip to Vegas after some very suggestive hints were dropped on social media.
As we all know, the two have been inseparable since they went public with their relationship earlier this year, quickly becoming our favorite couple EVER. Seriously, these two are the most unexpected yet incredibly well-suited celebrity match we've had in a while, and we love that they're unafraid to be out and open with their love and sexual chemistry because let us tell you—there's a lot of that between them judging by their Instagram posts!
Why do fans think Kourtney Kardashian and Travis Barker got married?
The two went to Vegas over the weekend with a group of friends for a UFC match and as well as being caught sowing all the PDA, some fans are convinced that they paid a visit to the city's famous Little White Chapel. Why?
Well, it's all down to Kourtney's stylist @glencocoforhair, who fuelled rumors by revealing on Instagram that he styled two hair looks for Kourtney over the weekend, in a post sharing pictures of the reality TV star and her boyfriend (or husband?). But that's not all—in the caption, he used the chapel emoji and wrote some interesting words that instantly had fans assuming that the couple got married.
The full caption reads: "…NOWWW I understand why ppl tie the knot in Vegas 💒🥲🖤 There's nothing like love AND a good time 🥳".
---
---
We have to admit, it does feel like he's just teasing us. That was until we saw that Travis's daughter Alabama also shared a snap from the day to her Instagram stories and added: "@travisbarker @kourtneykardash So happy for you guys" with two heart emojis. So, are they officially married?!
Eloping in Vegas feels very much like the kind of thing Kourtney and Travis would do, which proves once again why we can't get enough of them!
The My Imperfect Life team is all about helping you navigate your world. We bring you the latest on fashion, beauty, travel and wellness so you can live life on your terms.