Which Kardashian is the richest? This is how much the famous family are worth
They're all seriously wealthy, but which Kardashian is the richest—Kylie, Kim, Kris? We've got all the deets...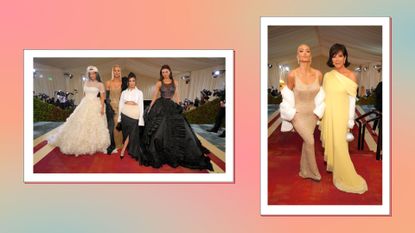 (Image credit: Getty Images/Kevin Mazur/MG22/Getty Images for The Met Museum/Vogue)
They're one of the wealthiest families in the world, but which Kardashian is the richest? We take a look at the net worths of the entire Kardashian-Jenner clan, to see which sister (or momager) has earnt the most over the years.
We're all well aware of the incredibly wealth the Kardashian family has. In fact, their immense pots of money are often considered pretty controversial. But it would be tough to argue with the Kardashian hustle, which has seen Kim, Khloe, Kourtney, Kris, Kendall and Kylie and their brother Rob amass huge amounts of cash via their reality TV shows, various businesses—be it SKIMS, Good American, Kylie Cosmetics, or Poosh—various other partnerships, and their enormous social media presences. Indeed, even leaving E! to launch their most recent series The Kardashians on Hulu boosted their bank balances by an unspecified, but hefty, sum. Dana Walden, Walt Disney Television's chairman of entertainment, said: "We stepped up to a great deal that they very much deserve."
So let's talk money—how much are the Kardashians worth, and who is the richest of the Kardashians? Here are our calculations if you're wondering who is the richest Kardashian; and we reckon you're *probably* not going to be all that surprised...
Which Kardashian is the richest?
We've all heard reports about the enviable earnings of the Kardashian-Jenners. Back in 2019, youngest sister Kylie Jenner, now 25, was crowned the youngest self-made billionaire by Forbes. However, the publication later backtracked and claimed that the star had lied about her finances.
Then, in 2021, the second-oldest (42)—and arguably most famous—sister in the family, Kim Kardashian, also reached billionaire status. So who's the richest Kardashian now, then? While no one but the ladies, (and possibly a few accountants and attorneys) knows their true financial worth, here is what is reported about the individual wealth of each sister—and who actually is the richest Kardashian.
1. Kim Kardashian
As mentioned, Kim reached billionaire status in 2021, according to Forbes—and at the latest count, the Kim Kardashian net worth is thought to be roughly between $1.4 billion and $1.8 billion. This makes her currently the richest Kardashian, and richest member of her family overall. Go Kimmy!
The star is the founder of two successful companies, KKW Beauty and SKIMS, which is where she has generated a large sum of her wealth. She also recently launched her skincare brand, SKKN by Kim, which features a nine-product collection worth $673/£695. She also, obvs, receives an income from the family's reality TV show, as well as cash from endorsements, brand deals (such as her recent campaign with Balenciaga) and other private investments.
Kim sold a 20 per cent stake of KKW Beauty to company Coty for $200 million in 2020. Her remaining stake in her cosmetics brand has an estimated value of $500 million, while her majority stake of SKIMS is estimated to be $225 million. That's a lot of shapewear and comfy loungewear!
Most recently, Kim also set up another income stream which we imagine will prove to be pretty lucrative. The businesswoman has teamed up with consumer investing expert Jay Sammons to set up SKKY Partners, a private equity firm which will invest in projects from across hospitality, consumer products, luxury, digital commerce and media.
So in answer to the question, which Kardashian is the richest? Kim K remains firmly at the top!
2. Kylie Jenner
Despite being the youngest sister, Kylie was at one point the richest member of the Kardashian-Jenner clan before her older sister Kim swooped in to claim the title. Since her billionaire status was announced in 2019, it's believed her wealth has diminished slightly, with the Kylie Jenner net worth said to sit at around $600 million, according to Forbes.
The Kylie and Kendall Jenner net worth was more closely linked when the two were much younger (they've been famous since they were in high school!), as the sisters used to work together on fashion lines and collaborations, including a collection with Topshop, as well as modelling jobs. But of course, since then, the two have veered off onto their individual career paths.
Kylie, for example, sold a 51 per cent majority stake of her company, Kylie Cosmetics in 2019 to Coty (like Kim) for $600 million dollars. According to Forbes, her stake in the company now has a value of $300 million and the remaining $400 million of her net worth reportedly comes from "cash, cars, real estate and other investments".
Kylie also earns a salary from The Kardashians on Hulu, which many fans have noted that she has starred in much more regularly than she did the family's original series, Keeping Up With The Kardashians. In other news, we now also know Kylie Jenner's son's name!
3. Kris Jenner
The devil works hard but Kris Jenner works harder! As of October 2020, Forbes estimated that the Kris Jenner net worth was estimated to be around $190 million. Since then, the momager's net worth is believed to have increased to about $230 million-plus, according to Parade—perhaps due to the new Kardashians/Hulu deal.
Where does her fortune come from? Not only does Kris get a cut of her children's earnings for negotiating their deals, but the family matriarch also has her own brand deals—including her own cleaning product company, Safely, which stocks at Walmart.
She was also an executive producer on former reality TV show Keeping Up With The Kardashians and all its related spin-off shows, making a reported $100,000 per episode. And she, like her daughters, also gets a large chunk of her earnings from their current reality show, The Kardashians.
4. Kourtney Kardashian
The eldest Kardashian sister (who recently became a Kardashian-Barker) is worth a whopping $65 million, according to Celebrity Net Worth.
Most of her fortune has been amassed from her role on the family reality TV shows (of which she has starred in both the main series, and multiple spin-off series with her sisters), combined with brand endorsement deals—such as her recent campaign with plant-based chicken brand Daring, alongside her husband Travis Barker.
And Kourtney has become a bit of a businesswoman of late too! She has been running her own lifestyle brand and e-commerce site, Poosh, which adds to her millions, since 2019. And in 2022, she launched vitamin and supplement line Lemme, with gummies and drops designed to elevate different areas of life; from sleep to bloating. The Kourtney Kardashian net worth only seems to be growing!
5. Khloé Kardashian
Last year, 38-year-old Khloe's net worth was estimated to be around $40-$50 million. However, Celebrity Net Worth now estimate Khloe Kardashian's net worth to be around $60 million—a significant boost!
Like her sisters, her wealth is largely thanks to the salaries from her reality TV shows, including a number of KUWTK spin-offs.
Additionally, her Good American denim company has proved incredibly lucrative, and is stocked in a range of high-end stores across the globe. When it comes to other income streams, her executive-producing gig for a true-crime series called Twisted Sisters has also proved financially fruitful—and she also gets a regular pay-check from endorsement deals with brands.
6. Kendall Jenner
According to Celebrity Net Worth, the Kendall Jenner net worth currently sits at around $45 million. This is mainly money earned from her career as a supermodel, with Forbes reporting in 2018 that she was the highest-paid model in the world for the second year in a row. So while she may not be the wealthiest Kardashian (or Jenner!), she's definitely doing more than okay finance-wise.
What's more, Kendall Jenner's tequila brand, 818, has been contributing to her financial success. The star has also boosted her balance by starring in Keeping Up With The Kardashians and The Kardashians.
And most recently, as seen in an episode of The Kardashians, Kenny has started investing in real estate with a plan to flip (renovate and sell) Los Angeles properties alongside her long-time friend Fai Khadra. Speaking about her new passion project, she said on the episode, "As a model, I still don't have much say in anything creative really. That has brought me to wanting to start this journey of house flipping. I found that I really do want to be my own boss and have my own ideas and execute them. I just feel like it's new me."
7. Rob Kardashian
For the last few years, Rob Kardashian has kept himself firmly out of the limelight, choosing not to appear in his family reality shows anymore, and avoiding the press pretty much at all times.
Despite this, the solo Kardashian brother has still amassed a very healthy fortune for himself, with Celebrity Net Worth reporting that he's worth around $10 million.
It's likely that his cash comes largely from his previous starring role on his family reality shows including Keeping up with the Kardashians, Rob & Chyna, and Khloe & Lamar, as well as various business ventures including his sock line Arthur George, and Rival Spot.
So who is the richest of the Kardashians? While Kim Kardashian takes the top spot, you can rest assured that the other members of the family are all doing very nicely for themselves, thank you very much!
Why are the Kardashians rich?
As explained above, the Kardashian-Jenner family have largely amassed their wealth via their multiple reality shows, their brand endorsements, partnerships, and their own businesses.
But of course, all of this became possible with the launch of their original reality show Keeping Up With The Kardashians in 2007—which was the jumping pad for all of the family's future careers.
Prior to the show, the family were already fairly wealthy (as fans of KUWTK will remember, their first Calabasas home was *pretty* nice). Though details of their finances back then aren't confirmed, Kim, Khloe and Kourtney's late father Robert Kardashian was a highly successful lawyer and businessman, who became famous after representing O.J Simpson in his highly publicized trial.
Kris Jenner's former husband Caitlyn Jenner (Bruce Jenner at that time), was also a very successful and famous Olympic gold medal-winning decathlete, who also did talks and seminars about their time as an athlete.
It's not clear whether Kris was working on anything else when KUWTK first hit our TV screens, but she quickly stepped into her now-famous role as momager for all the Kardashian kids. Prior to this, and her marriage to Robert Kardashian, she worked as an air hostess.
Amy Hunt is a lifestyle writer and editor, and was previously Lifestyle Channel Editor at womanandhome.com, having been with the brand since 2015. She is passionate about everything from entertainment to books, to homes, food and wellness. When she isn't editing, researching or writing articles, he's busy burying her nose in a gripping thriller, practising yoga, or buying new homeware.
With contributions from