Which Kardashian is the richest? Allow us to break down the math
They're all mega-wealthy, but which Kardashian is the richest? There's one leading lady who outshines the rest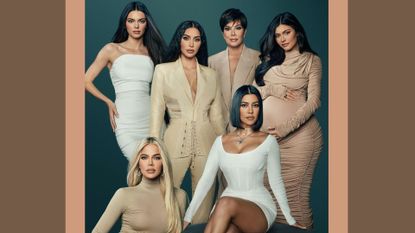 (Image credit: Hulu)
At one point or another, we've all wondered which Kardashian is the richest, though calculating totals that exorbitant isn't exactly easy. (*Whips out calculator*)
Now that The Kardashians season 2 has hit Hulu so shortly after the series debut—no doubt thanks to Momager Kris Jenner—we've been treated to a peak inside their lives once more—SKIMS drops, romances, breakups and of course plenty of drama. (Did you really suspect anything less?)
Along the way, we couldn't help but wonder how much reality TV's favorite family has earned, not only from their shows, but their multiple brands, partnerships and other business ventures, given their lavish lifestyle! (Hint: it's a lot.)
Plus, we've also learned that their transformation from E! to Hulu resulted in a pretty hefty raise. Walt Disney Television's chairman of entertainment, Dana Walden, said, "We stepped up to a great deal that they very much deserve."
So, where does that leave each Kar-Jenner, exactly?
Which Kardashian is the richest?
We've all heard reports about their enviable earnings: Kylie Jenner was crowned the youngest self-made billionaire by Forbes back in 2019, though the outlet later backtracked and claimed she had lied about her finances. More recently, Kim and Kanye, though now divorced, took the cake as the family's breadwinner. (Of course, everyone is doing quite nicely.)
Though no one but the ladies themselves—and perhaps a few bankers and attorneys—know their true worth, here's what research suggests:
1. Kim Kardashian
At the top of the list is, of course, none other than Kim Kardashian.
The second eldest sister is currently the wealthiest member of the family with an estimated net worth of $1 billion, according to Forbes (opens in new tab) in 2021. Since the last reports, her wealth has actually believed to increase to roughly $1.8 billion. Nothing like a modest raise!
Kim is the founder of two successful companies, KKW Beauty and SKIMS, which is where she has generated a large sum of her wealth. She also receives an income from the family's reality TV show, endorsements, brand deals and smaller investments.
Kim sold 20% stake of KKW Beauty to Coty for $200 million in 2020. Her remaining stake in her cosmetics brand has an estimated value of $500 million, while her majority stake of SKIMS is estimated at $225 million.
But more importantly, when are we going to get restocks on those SKIMS cotton fleece numbers?
2. Kylie Jenner
Despite being the youngest, Kylie was at one point the richest member of the Kardashian-Jenner clan before her older sister Kim swooped in to claim the title. Since her billionaire status announcement in 2019, it's believed her wealth diminished to around $700 million, which isn't terribly far off, per Parade (opens in new tab).
Kylie sold a 51% majority stake of her company, Kylie Cosmetics—which she previously owned 100% stake at—in January 2019 to Coty Inc. for $600 million dollars. According to Forbes, her stake in the company now has a value of $300 million and the remaining $400 million of her net-worth reportedly comes from "cash, cars, real estate and other investments."
Although we have a good idea about her spending habits, we still don't know Kylie Jenner's son's name. Go figure!
3. Kris Jenner
The devil works hard but Kris Jenner works harder, that much we know. So how lucrative is the momager's 24/7 on-call lifestyle? Well, the answer is VERY.
As of October 2020, Forbes estimated that Kris's net worth is $190 million. Since then, it's believed to have increased to about $200 million plus, per Parade.
Not only does Kris get a cut of her kids' earnings for negotiating their deals, but she also has her own brand deals including cleaning product company, Safely. Kris was also an executive producer on the family's former reality show Keeping Up With The Kardashians. The publication reports that Kris made around $100,000 per episode of the iconic reality TV show.
4. Kendall Jenner
Celebrity Net Worth reports that Kendall's net worth is currently $45 million. (opens in new tab) This is mainly money earned from her career as a supermodel as well as starring in Keeping Up With The Kardashians.
In 2018, Forbes reported that she was the highest-paid model in the world (opens in new tab) for the second year in a row. Plus, Kendall Jenner's tequila brand, 818, is also getting its time in the spotlight, which will undoubtedly contribute to her financial success.
5. Kourtney Kardashian
Celebrity Net Worth (opens in new tab) reported that as of recently, the eldest Kardashian (or should we say Kardashian-Barker?) is worth a whopping $65 million.
Most of her fortune has been amassed from her role on the longstanding family reality TV show, combined with brand endorsement deals. She also runs her own lifestyle brand and e-commerce site, Poosh, which adds to her millions.
6. Khloé Kardashian
Khloe may be at the bottom of this list but she is by no means short on cash. According to Money (opens in new tab) her net worth is estimated to be around $40 million. Parade's predictions differ slightly and believe she's nestled closer to $50 million.
This is made up of her KUWTK's salary combined with her role in the spin-offs, her popular Good American denim company and executive-producing gig for a true-crime series called Twisted Sisters, plus an abundance of endorsement deals with brands.
The My Imperfect Life team is all about helping you navigate your world. We bring you the latest on fashion, beauty, travel and wellness so you can live life on your terms.
With contributions from