When is 'Emily in Paris season' 3 coming out?
Can we expect 'Emily in Paris' season 3? What does Lily Collins have to say about it?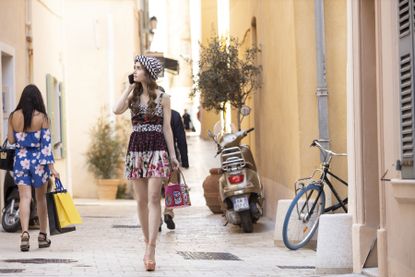 (Image credit: Carole Bethuel/Netflix)
Patiently waiting for Emily in Paris season 3? Oh chère, we certainly cannot be the only ones.
After quickly gobbling up Emily in Paris season 2, and falling for the irresistible Lucien Laviscount, we were left on a cliffhanger. Subsequently, fans are dying to know Ms. Cooper's fate.
What's the deal Netflix?! When will you take us back to the City of Lights?
*WARNING: SPOILERS AHEAD*
---
---
Is 'Emily in Paris' season 3 coming?
On January 10, 2022, Netflix gave fans the news they've been waiting for: confirmation of Emily in Paris season 3 and, yes, even season 4! Looks like Emily isn't going anywhere any time soon—well, at least when it comes to streaming platforms.
Emily in Paris has been renewed for Season 3 — and Season 4! 🍾 pic.twitter.com/3zqj36vmnOJanuary 10, 2022
See more
Several months ago, Lily Collins dropped a subtle hint on Instagram that made us all question the fate of the series. Upon wrapping up production, she wrote: "I'm leaving here filled with so many amazing memories, special moments with my family, endless appreciation to our incredibly dedicated and talented crew, and another season officially wrapped!
She concluded, "Very excited to share it with you all soon. We're heading home, but keeping a little piece of us here until the next time."
Please note the "next time!"
Lily Collins speaks out on 'Emily in Paris' season 3
Our leading lady is just as excited about Emily's forthcoming adventures as her fanbase. But when it comes to the future of the series, Lily Collins is a bit unsure how it will all unfold, though she's dying to find out, just like the rest of us.
While speaking to People (opens in new tab) several days before the Netflix confirmation, she said: "I would love the opportunity to get to do a season 3. I myself don't know her [Emily's] choice yet. I keep asking. But whatever choice it is, you know it will be filled with drama, fashion and a lot of fun and romance."
One thing that's clear? None of us are ready to say au revoir.
Who will be in the 'Emily in Paris' season 3?
It's safe to assume that Lily Collins will be back as Emily Cooper, as the show wouldn't really be possible without the titular lead...even if we briefly escape Paris for a short amount of time.
The rest of the crew—including Ashley Park, who plays Emily's friend Mindy, and Camille Razat who plays Camille—will most likely also return.
What will 'Emily in Paris' season 3 be about?
Emily is facing big decisions in the career department—which could potentially change the narrative of the show—and we're definitely anxious to see how it all unfolds.
Then, we have the super-creative who seem to think an Emily in Paris-You crossover is in the works. That would certainly take things in a whole new direction.
When will 'Emily in Paris' season 3 air?
We will most likely have to wait until the end of 2022 at the earliest before it hits Netflix. The first and second seasons were over a year apart so realistically, we could be expecting the same when looking at season 3.
It's a while away, we know. But as long as the story continues, we're très happy! In the meantime, shows like Emily in Paris will keep you entertained until we learn more.
Sagal is a journalist, specialising in lifestyle, pop culture, fashion and beauty. She has written for a number of publications including Vogue, Glamour, Stylist, Evening Standard, Bustle, You Magazine, Dazed and Wonderland to name a few.