Everything you need to know about The CROWN Act - and which States have passed it
Help end hair discrimination once and for all.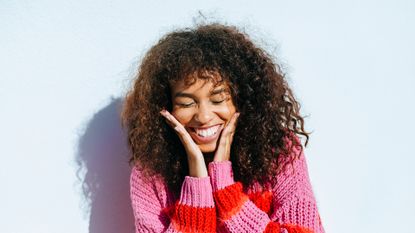 (Image credit: Westend61/Getty Images)
The CROWN Act, much like The Halo Code in the UK, aims to protect Black people against hair discrimination. Sadly, race-based hair discrimination still runs rife with coils, afros and braids often deemed "unkempt" in offices and classrooms.
Similarly, it's like the hair industry only recently received the memo that it needs to cater for all hair types, from styling products that respect each curl pattern to conditioners that nourish even the tightest coils and the best brushes for curly hair.
In an effort to eliminate hair discrimination once and for all, many states have begun passing legislation that addresses this issue.
In June 2019, California made headlines by becoming the first state to outlaw the racial discrimination of individuals based on their natural hairstyles. The law, also known as the CROWN Act (Create a Respectful and Open Workplace for Natural Hair), states, "In a society in which hair has historically been one of many determining factors of a person's race, and whether they were a second class citizen, hair today remains a proxy for race.Therefore, hair discrimination targeting hairstyles associated with race is racial discrimination."
The measure notes that while Title VII of the Civil Rights Act of 1964 prohibited discrimination based on race, it only protected against discrimination against afros. California's ban unequivocally protects all presentations of natural hair—including braids, twists, locs, and knots—from discrimination in the workplace and K-12 public schools.
Want to do more to make sure that every state passes The CROWN Act? Join The Crown Coalition via The CROWN Act's website. Or sign a petition here to help end hair discrimination.
The states where The Crown Act is law
California
New York
Colorado
Washington
Virginia
Maryland
New Jersey
States where The Crown Act has been filed or pre-filed
Oregon
Utah
Arizona
New Mexico (*The CROWN Act is law in Albuquerque)
Texas
Oklahoma
Kansas
South Dakota,
Missouri (*The CROWN Act is law in Kansas City)
Tennessee
Kentucky (*The CROWN Act is law in Covington)
Indiana
Georgia (*The CROWN Act is law in Clayton County and Stockbridge)
South Carolina
Florida (*The CROWN Act is law in Broward County)
Connecticut
Vermont
New Hampshire
Massachusetts
Deleware
States where The Crown Act has not been filed or passed
Fiona Embleton is a multi-award-winning beauty editor who has tested over 10,000 products in her 10 years + of writing and shooting beauty stories. For the past four years, she was the Senior Beauty Editor at Marie Claire, having previously worked in the role of Beauty Editor at both Stylist and Cosmopolitan. She has recently gone freelance and alongside My Imperfect Life, she has written for titles including ELLE UK, ELLE Canada, Buro 247, Harper's Bazaar Arabia, Vogue Scandinavia, and ES Magazine. Beauty journalism allowed her to marry up her first-class degree in English Literature and Language (she's a stickler for grammar and a self-confessed ingredients geek) with a passion for make-up and skincare, photography, and catwalk trends. She loves jumping on the latest internet-breaking beauty news, dissecting the best red carpet looks, and having the crème de la crème of dermatologists, make-up artists, and hairstylists on speed dial so she can tap them for the best advice. She's a discerning beauty shopper and knows it can be confusing trying to navigate what's hype and what really works. So if she really likes something, you can trust that she has reached that opinion by vetting it against everything else she's ever tried. Her career highs? Interviewing Cate Blanchett and winning a Jasmine Award for the deeply personal feature Cancer Stole My Mother's Scent.