You might want to give eye cream for the face a go if you have sensitive skin
Here's everything you need to know about using eye cream for the face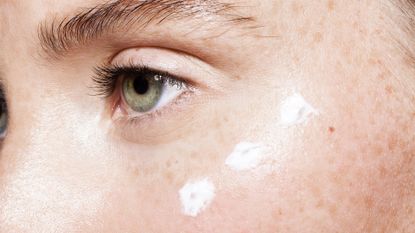 (Image credit: Denis Komarov/Getty Images)
An eye cream for the face hasn't probably entered your beauty lexicon yet. But it's the fastest-selling beauty product right now and the timing is ideal, given our fixation with our skincare routines.
We know, we know - at first glance, this sounds like a crazy beauty hack to turn accepted moisturizing practices on their head. But hybrid full-face eye creams aren't new in Asian culture. In fact, it's A THING.
The concept is this. Eye creams traditionally contain hydrating ingredients like hyaluronic acid, protective antioxidants, firming peptides and brighteners like vitamin C. But all in lower concentrations than your average moisturizer as the eye area is extremely fragile and more susceptible to irritation and dryness.
Consequently, eye creams walk the tight rope of being supremely gentle yet effective at smoothing the signs of ageing, which tend to show up here first. Most also steer clear of actives such as exfoliating acids or retinol, which rile sensitive skin.
So it follows that if your skin is a finicky beast, an eye cream for the face isn't such a woo-woo idea.
The only stumbling block is the price of smearing these teeny pots of cream all over the face. We're literally talking the beauty equivalent of your boyfriend using your Creme de la Mer as shaving cream.
Why is L'Oreal Revitalift Filler Eye Cream For Face So Good?
Enter L'Oreal Paris' Revitalift Filler + Hyaluronic Acid Eye Cream for Face, the brand's biggest skincare launch to date, selling one every 10 seconds globally.
It's easy on the wallet and packed with science-driven ingredients, boasting two types of hyaluronic acid to plump skin at different layers; kombucha to buff away dead cells; antioxidant vitamin E plus a synthetic, non-irritating form of vitamin C.
Yet it manages to shrug off the reputation of eye creams as rich in texture by being infinitely more spreadable over the whole face.
Sure, if pigmentation, breakouts or wrinkles are an issue then it's right that you are drawn to the charms of a separate eye cream and serum.
'You want the ingredients in your serum to target your skin concern at a high enough concentration and potency,' says dermatologist Dr Justine Hextall. 'Good examples are salicylic acid for oily skin and retinol and glycolic acid for anti-ageing.'
But there's also a strong case for using this lightweight cream over the whole face, and around the eyes, if you want to simplify your routine with one product that over delivers.
Fiona Embleton is a multi-award-winning beauty editor who has tested over 10,000 products in her 10 years + of writing and shooting beauty stories. For the past four years, she was the Senior Beauty Editor at Marie Claire, having previously worked in the role of Beauty Editor at both Stylist and Cosmopolitan. She has recently gone freelance and alongside My Imperfect Life, she has written for titles including ELLE UK, ELLE Canada, Buro 247, Harper's Bazaar Arabia, Vogue Scandinavia, and ES Magazine. Beauty journalism allowed her to marry up her first-class degree in English Literature and Language (she's a stickler for grammar and a self-confessed ingredients geek) with a passion for make-up and skincare, photography, and catwalk trends. She loves jumping on the latest internet-breaking beauty news, dissecting the best red carpet looks, and having the crème de la crème of dermatologists, make-up artists, and hairstylists on speed dial so she can tap them for the best advice. She's a discerning beauty shopper and knows it can be confusing trying to navigate what's hype and what really works. So if she really likes something, you can trust that she has reached that opinion by vetting it against everything else she's ever tried. Her career highs? Interviewing Cate Blanchett and winning a Jasmine Award for the deeply personal feature Cancer Stole My Mother's Scent.