Skincare fan Hailey Bieber loves this new glow-boosting vitamin C serum
Prepare to get your glow on.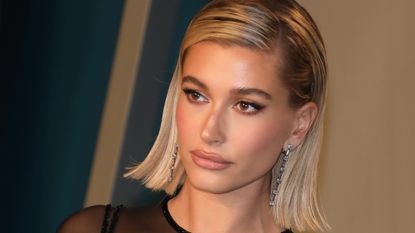 (Image credit: Toni Anne Barson /Getty Images)
It's no secret that Hailey Bieber is somewhat of a skincare buff. She also regularly waxes lyrical about the skin-soothing powers of Dr Barbara Sturm's skincare line. So it perhaps comes as no surprise that the latest addition to her skincare routine is Sturm's latest The Good C Vitamin C Serum.
Hailey spread the word with a photo on Instagram Stories, accompanied by a heart-eye emoji. Consequently, it's storming up the charts for the best vitamin C serum.
The serum in question takes a different approach to many other vitamin C products on the market. Rather than flood skin with a high concentration of vitamin C, Dr Sturm believes that 5% is the sweet spot to brighten, improve the look of hyper pigmentation and boost collagen production - all without potentially impairing the protective skin barrier and leading to inflammation.
"I developed The Good C Vitamin C Serum in response to clients who wanted the radiance- boosting effects of Vitamin C in an optimum concentration, without damaging skin barrier function or causing sensitivity," explains Dr Sturm. "My formulation combines the right chemistry of Vitamin C with surrounding ingredient science to boost the skin and provides antioxidant properties that protect from free radicals and daily environmental stress while combatting pigmentation. Regular usage results in a complexion that's healthy-looking, fresh and radiant."
To that end, Hailey's new vitamin C go-to contains three different forms of vitamin C - including Kakadu plum, a potent fruit source of plant-based vitamin C. The serum also contains zinc, which possibly explains why even those with typically finicky skin are reporting zero reactions, as well as hydrating hyaluronic acid.
This will, no doubt, have appealed to Hailey who also swears by the Clarifying Mask for taking down irritation and spots when her perioral dermatitis flares up.
At $145 The Good C Vitamin C Serum isn't cheap but, as they say, you get what you pay for. And if that's well-behaved skin and Hailey's perennial glow, we're in.
Fiona Embleton is a multi-award-winning beauty editor who has tested over 10,000 products in her 10 years + of writing and shooting beauty stories. For the past four years, she was the Senior Beauty Editor at Marie Claire, having previously worked in the role of Beauty Editor at both Stylist and Cosmopolitan. She has recently gone freelance and alongside My Imperfect Life, she has written for titles including ELLE UK, ELLE Canada, Buro 247, Harper's Bazaar Arabia, Vogue Scandinavia, and ES Magazine. Beauty journalism allowed her to marry up her first-class degree in English Literature and Language (she's a stickler for grammar and a self-confessed ingredients geek) with a passion for make-up and skincare, photography, and catwalk trends. She loves jumping on the latest internet-breaking beauty news, dissecting the best red carpet looks, and having the crème de la crème of dermatologists, make-up artists, and hairstylists on speed dial so she can tap them for the best advice. She's a discerning beauty shopper and knows it can be confusing trying to navigate what's hype and what really works. So if she really likes something, you can trust that she has reached that opinion by vetting it against everything else she's ever tried. Her career highs? Interviewing Cate Blanchett and winning a Jasmine Award for the deeply personal feature Cancer Stole My Mother's Scent.