This is how to get Hailey Bieber's viral sun-kissed blush look
Flushed but make it cute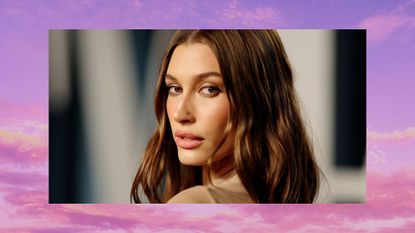 (Image credit: Getty Images / Rich Fury/VF22/Getty Images for Vanity Fair)
Beauty-tokers are clambering to recreate Hailey Bieber's blush look, and luckily for us, they're sharing tutorials on how to do it—just like they did with Hailey's Coachella braids!
Blush has really been having a moment this year, we're now armed with several life-changing blush hacks, along with all the other TikTok beauty hacks that we now can't live without—but this look from Hailey B is something special.
Her latest blushy look, brought to us by celeb makeup artist, Mary Phillips (opens in new tab) has us all in a chokehold. It's giving 'been on the beach all day slightly sunburnt,' mixed with a bit of post-sex flushed—because who doesn't want that?
We're totally obsessed with it and thankfully we're not the only ones! Here's how to recreate it and yes, it's surprisingly easy...
It's all about the placement of your blush, as user @suziebonaldi show's us. You need to place your blush in the middle of your cheeks and nose bridge—and then blended out towards your ears.
Suzie explains that Hailey's blush is quite straight, so try to blend outwards in a line and then blend a little bit of the blush upwards to your undereye. While Hailey's skin is super glowy, her undereye is matte, so apply some powder in this area.
Other beauty lovers have mimicked this method, starting their blush in the center of their cheeks and blending out—if you have a similar face shape to Hailey's you can also get away with blending downwards.
The frequently used blush in most of these tutorials is, of course, the viral Charlotte Tilbury Pinkgasm blush.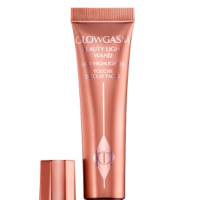 (opens in new tab)
Charlotte Tilbury, Beauty Light Wand in 'Pinkgasm'
RRP: $40/£29
This highlighter/blush combo went viral on TikTok for creating the perfect, dewy, soft-focused rosy glow. It's a cream blush that seamlessly blends into the skin but still packs a shimmering punch. It's the perfect blush to use for this look! Snap it up while you can!
---
Hailey has also recently shared her own go-to blush, the Olio E Osso tinted balm, which will also work perfectly for this summery look!
---
There truly is nothing better than looking sunkissed but this beauty look means there's no risk of sun damage and no excuse to ever forgo your Sunscreen!