Harry Styles secretly features on this new Little Mix new song - and we can't stop listening
It has recently been revealed that Harry Styles has secretly featured on this new Little Mix new song...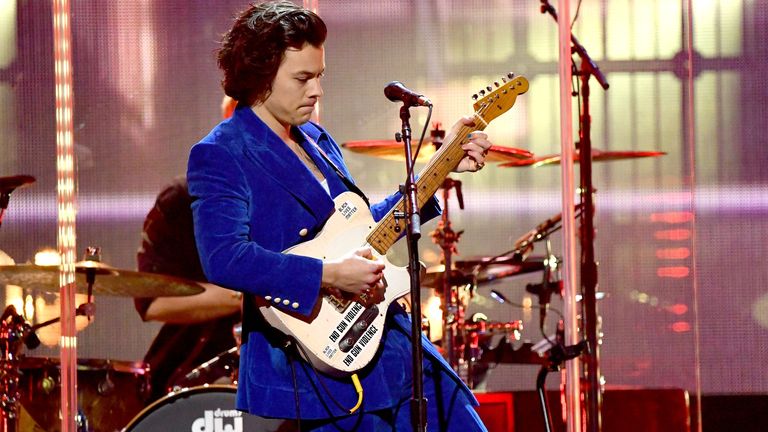 (Image credit: Photo by Mike Coppola/WireImage/Getty Images)
Singer Harry Styles has definitely come a long way since his breakout success with band One Direction. Now a solo artist with huge success in his own right, Harry isn't afraid to collaborate. From narrating a sleep story for one of the best meditation apps, Calm, to joining Kacey Musgraves on stage singing Space Cowboy in 2019, he knows what's the right partnership for him. 
And it seems like the former One Direction member has taken this approach when it comes to music too. It has recently been revealed that Harry has secretly featured on Little Mix's new song Breathe. 
How haven't we noticed this before?
Pop girl group Little Mix released their sixth album Confetti on Friday, but it took a little while for fans to notice the addition of Harry Styles' vocals on the song Breathe. 
Subtle it may be, but if you listen closely, you'll just be able to make out Harry's distinctive voice yelling "hey" at a concert.
The Little Mix girls - Perrie, Jesy, Leigh-Anne and Jade - covered Harry's song, Falling, earlier this year.
Now the revelation that his vocals appeared on their brand new album suggests they are just as big fans as us.
Is it definitely Harry Styles?
While some fans were certain, others turned to social media for confirmation that it was in fact Harry's voice.
Songwriter Cass Lowe helped produce as well as write some of Little Mix's new album and after he posted about the new release on Instagram, several fans commented asking for answers.
One wrote: "Can you confirm who the 'hey!' At the beginning of BREATHE belongs to? Pretty sure I hear Harry Styles."
Whilst another responded excitedly: "Omg is it actually Harry at the beginning of breathe!!!!"
Although Cass didn't respond to the quizzing with a specific confirmation, he did post a sneaky side-eyes emoji. 
This has got fans almost certain that it is the former One Direction star at the beginning of the track. 
Whilst we wait for Harry to team up with Little Mix for a full song, be it breakup song, make-up song or something a little different, we'll just have to enjoy Breathe all over again.