Did you spot the risque accessory Harry Styles wore to the Grammys?
You might want to ask your mom to avert her eyes.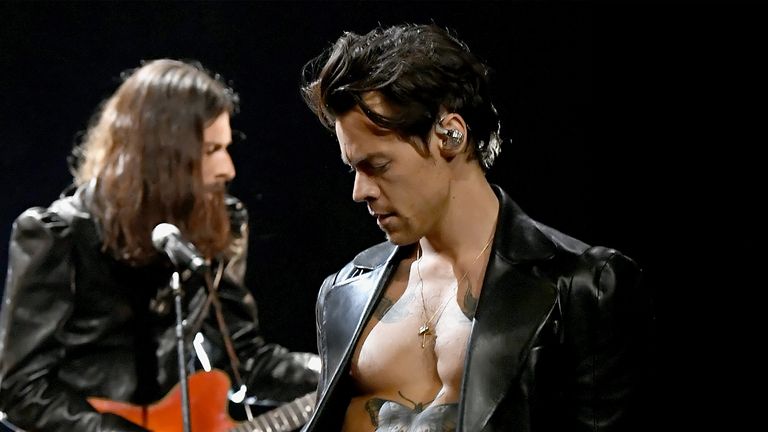 (Image credit: Kevin Winter/ Getty Images)
If you thought a tweed jacket, purple flares and feather boa was a controversial fashion choice, then you clearly missed Harry Style's phallic 'banana' necklace at the 2021 Grammy Awards in Los Angeles on Sunday.
Posing shirtless in a leather suit during his performance of hit single Watermelon Sugar, eagle-eyed viewers - who were undistracted by his tanned and toned torso -  spotted a very suggestive piece of jewellery dangling from his neck. 
Ever the Gucci fan boy, Harry wore a Gucci banana necklace, teamed with his signature gold cross chain (sadly not one of the best sustainable jewellery buys).
The 'banana' in question is actually a penis coming out of a banana skin, instead of , well, a banana, which is described on the brand's website as: "A message about leaving behind fashion's old rules" and "portraying this uninhibited freedom of expression." The sterling silver pendant necklace has interlocking G details, and a small yellow enamel banana, and is priced at $450 (£324).
While the necklace itself isn't available to buy on the brand's website, the bracelet version, which is rather innocently described as the 'interlocking G bracelet with banana', is still on sale in store for $395 (£310).
Harry, who picked up the Grammy for Best Pop Solo Performance, was also nominated for Best Music Video and Best Pop Vocal Album for Fine Line.
As he picked up the award at the Los Angeles Convention Center, he said: 'This was the first song we wrote after my first album came out, during a day off in Nashville. I feel very grateful to be here, thank you.'
Anyone in the mood for banana bread after reading this? Just asking...