This hair serum is so good I went through four of them in lockdown
Even better, it costs just $13 a bottle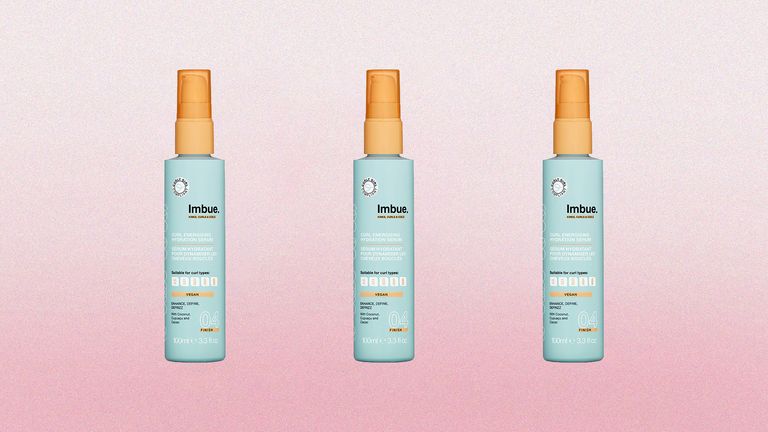 (Image credit: Imbue Curls)
Like many of us, I used this year's lockdown as an opportunity to improve my hair health and care for my curls, discovering my desert island hair product in the process.
While I looked after my hair and rarely straightened it in "normal" times, I didn't properly embrace my texture, blow drying it after each wash so that it sat flatter and smoother. 
So when we were all told to stay home for the foreseeable, after a couple of weeks I needed a project, and looking after my curl pattern was it. It was pretty perfect timing when this new, affordable curly hair product landed on my doorstep.
Launched earlier this year, Imbue is all about "curl liberation" and making the most of curly, coily and kinky hair. One of the genius brains behind the brand is hairstylist and textured hair expert Michelle Sultan, who is responsible for styling the likes of Jennifer Hudson, Jordyn Woods and Alesha Dixon. A pretty cool roster, I think you'll agree.
Just to illustrate how deep my love for this brand goes, I now swear by the Curl Hydration Serum – to the point that I went through four or five of them in lockdown. Once I got halfway through my press sample, I ordered another three online because I knew my hair couldn't be without this magical elixir. It really was love at first use!
Imbue Curl Energizing Hydration Serum, $13, Lookfantastic (UK was £7.99 now £4)View Deal
A bit more about my hair: it's low porosity with 'S' shaped curls at the looser end of the scale – but the great thing about this brand is that it really is universal and works well on all types of textured hair. Everyone from hairdressers to beauty influencers to my neighbour raves about the products.
The key hydrating and defining ingredients here are a cocktail of coconut, cacao and cupuaçu (try saying that five times fast). After washing, I apply the serum to soaking wet hair as soon as I shut off the water. When I refresh my curls in the morning, I mist water through my hair and add a little more of the serum if I'm lacking definition.
The entire range complies with the curly girl method, containing no sulfates, silicones or mineral oil. Even better, the products don't have eye-watering price tags, with all but one of the products costing $16 or less.
Imbue Curl Restoring Intensive Mask Sachet, $6.50, Lookfantastic (UK was £3.49 now £1.75)View Deal
Imbue Curl Inspiring Leave-In Spray, $13, Lookfantastic (UK was £7.99 now £4.79)View Deal
For more advice on managing your curls if you're new to embracing your texture, be sure to read our curly hair tips next. Your hair will thank you for it!
Lucy is a beauty journalist who has written for titles including Marie Claire, Cosmopolitan, Women's Health, InStyle and Woman & Home, and regularly contributes to My Imperfect Life. Most recently she was Junior Beauty Editor at Marie Claire. Covering skincare, haircare, make-up and wellbeing, her job involves anything from picking the brains of the world's top dermatologists to swatching the latest and greatest foundations. When she's not got beauty on the brain, you're most likely to find her spending time with dogs (her sister owns one very sassy cockapoo), reading or sleeping. She's also a big fan of RuPaul's Drag Race, rosé and and house plants that stay alive.