Lizzo is officially in a relationship and we love it for her
Is Lizzo in a relationship? Here's what we know about her latest revelation...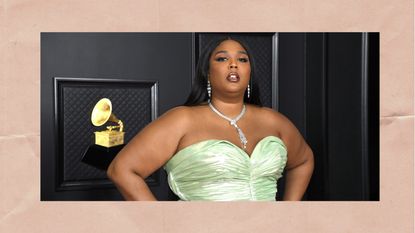 (Image credit: Photo by Kevin Mazur/Getty Images for The Recording Academ)
It's official: Lizzo is in a relationship. After months and months of questioning, are Lizzo and Chris Evans dating? We've come to find that the 'Truth Hurts' singer was in fact forming a bond with another man, who is now her boyfriend.
The Grammy-winner broke the news herself during an interview with Andy Cohen on his SiriusXM Radio show this week, confirming that she is loved up with a new partner. However, she chose not to disclose his identity.
Cohen then asked if it was difficult to date in the public eye as a global star, to which she responded: "If you have the right person, no. Not at all. It's not even a factor." Excuse us while our hearts melt!
Who is Lizzo in a relationship with?
Lizzo has kept quiet about the identity of her beau, however the two have been spotted out and about together on multiple occasions—though the interview with Cohen is the first time she has spoken directly about her relationship in public.
Alluding to her mystery man's supportive nature, she added: "Because it should be mutually supportive, no matter what that person does."
Always one to ask the burning questions (the Kardashian reunion show was proof), Cohen went onto quiz Lizzo on whether her boyfriend was cheering her on from the audience as she hosted Saturday Night Live this past weekend. "Damn, you're really good at this shit. You get the scoop, don't you?" she joked, before admitting "Yeah."
This isn't the first time Lizzo has mentioned a potential love interest this year. Back in February, she told Variety that she was "a little bit" in love. But that was all she revealed at the time, telling the publication: "I ain't talking about this. We're talking about Big Grrrls [Lizzo's Amazon Prime reality show] and how we're changing the world, goddamnit."
During her SNL monologue over the weekend, Lizzo addressed the longstanding online rumours about her relationship with Chris Evans, poking fun at the flirtation between them and the fan reactions.
"I've read a lot of gossip online that I'm dating every little white boy in Hollywood," she said. "They think I'm collecting members of One Direction like Infinity Stones. I even heard a rumor that I'm pregnant with Chris Evans's baby. I have no idea where that one started. It could be the TikTok I did where I said, 'I am pregnant with Chris Evans's baby.' It's called manifesting."
Well, it looks like Chris Evans will have to find himself another baby mama now that Lizzo is off the dating market!
Sagal is a journalist, specialising in lifestyle, pop culture, fashion and beauty. She has written for a number of publications including Vogue, Glamour, Stylist, Evening Standard, Bustle, You Magazine, Dazed and Wonderland to name a few.