'Lip wings' is the newest makeup trend for your biggest pout yet
The 'lip wings' look will give you real-life Bratz dolls vibes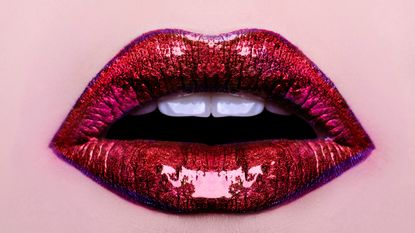 (Image credit: Getty Images)
From the Kardashians' plumped-up pouts to the filler-filled puckers on the reality stars of Bling Empire and The Real Housewives franchise, over-lined lips have been one of the most recognizable beauty trends of the past decade. Once Kylie Jenner debuted her bombshell lip liner, it cemented filled-to-the-brim lips as the go-to look for beauty influencers and celebrities the world over, with people searching far and wide for pout-boosting products and hacks for bigger lips.
But now the beauty trick has evolved once more, with "lip wings" becoming the latest craze to take off. The new trend takes the pillowy, full lip shape of yesteryear—complete with the exaggerated overline and emphasis on the Cupid's bow—and gives it a little 2021 update.

With the lip wings look, the overline extends to the outer corners of the lips, flicking the line upwards to create a lifted "wing" effect, kind of like a gentler version of The Joker. (Seriously!) The lip wings give an overall wider, upturned and more youthful appearance to the mouth—all without the pain and price tag of dermal fillers.
As seen in one lip wings tutorial by creator Wah Meko, you can use a brown lip pencil (or even a mouth-safe eyebrow pencil) to trace your Cupid's bow. Once she gets to the edges of her top lip, however, Meko draws a line up and away from her natural lip border, and then rejoins the line to her natural lip. To finish the look, she blends out the brown line with a slightly lighter pencil, and then caps it all off with gloss.
We'll admit that we've been glued to TikTok and Instagram for the past few weeks watching influencers created the new lip look, but we're not 100-percent sold just yet. It looks like a whole lot of effort for just a few millimeters of extra lip, plus imagine the clean-up after eating?!
Since December 2020, Kudzai has worked as a trainee journalist at FUTURE, writing about fashion, entertainment and beauty content for My Imperfect Life.

Kudzai previously worked as a freelance fashion wardrobe stylist, directing magazine photoshoots and coordinating the fashion direction of recording artists.

A fully qualified Journalism and Media graduate from De Mont Fort University, Kudzai graduated in the summer of 2020.