Are Ekin-Su and Davide getting back together? Here's the DL on their split and rumored reconciliation
After breaking the hearts of 'Love Island' fans everywhere with their split, are Ekin-Su and Davide back on?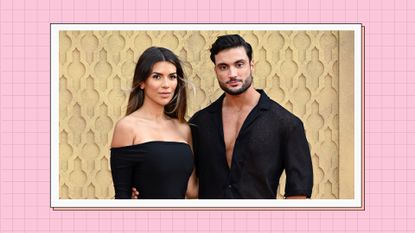 (Image credit: Getty Images: Karwai Tang/WireImage)
After Davide Sanclimenti confirmed their split in June 2023, a year after the pair were crowned Love Island 2022's winners, do we now have an Ekin-Su and Davide reunion on our hands?
We're convinced that more than a few of us screamed: "You're a liar, an actress," (one of the most iconic Love Island phrases ever) at the various news outlets that first reported their split. But alas, our fears swiftly came to fruition as we read Davide's Instagram statement, revealing that he and Ekin-Su had parted ways—despite having moved in together and appearing in their own TV show, Homecomings.

Now, only two couples from season 8 (Indiyah and Dami and Tasha and Andrew) remain on the fabled list of Love Island couples still together but wait, hold up...are Ekin-Su and Davide actually getting back together?
Are Ekin-Su and Davide back together? The latest intel
Now, before we dig into the rumors that Ekin-Su and Davide might be giving their whirlwind romance another go, let's recap on their split.
As mentioned, Davide broke the news to fans back on Thursday, June 29, 2023, as he posted a statement to his IG story (seemingly out of the blue) which read: "Ekin-Su and I are no longer together. I am grateful for the memories and opportunities we shared together and I wish her nothing but the best. I would like for everybody to respect this decision during this difficult time. I will continue to support Ekin in any way possible."

This was then followed by radio silence from Ekin-Su initially, before she returned to social media two weeks later, sharing her own statement: "Hi everyone, I thought it was time to come back online to thank you so much for all of your messages over the past 2-weeks."
She added, "It has shown me what a kind, supportive, strong community I have behind me. I took some much-needed time away with my family which has been really special but now it's time to realign & get back to work. I have such an exciting year ahead & I want to fully focus on that. I really appreciate your ongoing support. Thank you for cheering me on." *cry*
It might be time to dry our tears though, because as of August 2023, rumors are swirling that the pair have rekindled things.
The speculation comes after Davide seemingly 'soft launched' their relationship 2.0 by sharing a snap to his IG story, of the pair enjoying a rather intimate-looking dinner at a restaurant in Bodrum, Turkey on Monday, August 21 (as per Digital Spy).
He also captioned the picture saying: "Despite all the storms, I wanted to make this day special for you…Enjoy the moment, make a wish, and blow hard☺️ Happy birthday @ekinsuofficial." Before also sharing a picture of himself at the table...
Ekin then reshared his birthday tribute to her own story and wrote: "Surprising me like always, thank you for a good birthday." They both also went on to share separate Instagram carousels of their outfits from what appears to be the same night and restaurant—they definitely took each other's pics, right?!

Now, as of yet, neither Ekin-Su nor Davide have confirmed that they're indeed back together but this latest getaway to Turkey seems pretty telling...
Before their sudden split and these new reconciliation rumors, the Love Island winner's relationship, post-villa was not without its ups and downs. In fact, Davide was involved in a few 'cheating' dramas.
In fact, On Saturday, April 8, 2023, The Sun reported a huge argument between the couple, after Ekin-Su supposedly found messages from two women on Davide's phone. A source told the publication: "It all exploded last Sunday after she found messages on Davide's phone discussing their time together. He had been messaging both of the girls and she suspected they had all met up one night."
They even claimed that Ekin-Su actually messaged one of the girls he'd been in contact with. The source adds: "Ekin-Su contacted one of the girls to tell them she knew about things. She was furious and really upset."
The pair didn't address the claims and seemingly worked things through (that is if anything actually happened to begin with) but announced their split two months later. Now, until we get some official confirmation on where Love Island's iconic enemies-to-lovers couple stands now, let's recap their relationship inside and outside of the villa...
'Love Island's Davide and Ekin-Su post-villa relationship timeline
Since returning to civilization, Ekin-Su and Davide seemed to be the perfect winning couple, enjoying cozy movie nights, glam parties with their fellow islanders and classic gym seshes—Davide even splashed out for her birthday and treated her to some seriously impressive gifts.
Speaking of Ekin-Su's birthday, Davide also posted a super cute tribute to her on Instagram, dubbing her his 'soulmate' and 'best friend'.
Their long-distance relationship also doesn't seem to be a hindrance at first(with Davide in Manchester and Ekin-Su in London) as the pair managed to jet off on numerous trips together and even announced their plans to move in together. Though their house hunting was momentarily put on hold as Ekin-Su jetted to LA to shoot her first clothing collection with Oh Polly.
Clearly pining for her self-proclaimed 'Italian Stallion' during her trip though, the actress took to her Insta story to tell him she missed him and wished he was there with her—before adding "see you soon baby."
Then, after the couple reunited they embarked on their first holiday (that doesn't feature ten other islanders) to New York. While taking in the sights, the pair celebrated some big moments, with Davide sharing his first billboard with BoohooMan and Ekin's with Oh Polly in Times Square.
As part of her new collection, Ekin-Su also walked her first catwalk, debuting her new collection and Davide's reaction is EVERYTHING.
Fans very accurately pointed out that it was giving Kris Jenner, momager vibes—we love a supportive boyfriend!
After this adorable moment, the pair gave us another update to swoon over as Ekin-Su marked the end of the NYC trip with a picture of her and Davide in a sleepy cuddle, with the caption "How our New York trip ended."
over & out NYC 🗽❤️ #ekinde #loveisland pic.twitter.com/nHC6etSK9DSeptember 14, 2022
See more
Did Ekin-Su and Davide move in together?
After announcing the news on Instagram, Ekin-Su and Davide moved in together in November 2022.
Ekin-Su took to her Insta story to post the exact moment Davide asked her to move in, and you guessed it— there was a tiramisu involved. The video saw the pair sitting together in a restaurant, looking loved up, as per, before a waiter brought over a piece of Davide's famous tiramisu with 'Moving in?' written in chocolate sauce.
Alongside her story, Ekin wrote: "We are moving in eeekk!" While Davide shared the same video saying: "The beginning of a new beautiful chapter."
The couple has been hinting at their plans, since pretty much the moment they left the villa. Appearing on Lorraine Ekin-Su teased that she and Davide were definitely planning to move in together.
The Love Island icon said, "So, basically, we've decided that we are moving in together, it's confirmed. It's official and we are thinking to move at the end of September, possibly to Essex, which is where I'm from.
"Davide's not been to Essex and I feel like it's so nice because it's near London, it's easy to travel to, a bit of countryside, but then also a bit of that edginess to it as well. But I'm very, very excited for that."
What happened with those Davide taxi rumors?
Alas, before these latest Davide rumors, the self-proclaimed 'Italian stallion' found himself in hot water once again, after videos showing him leaving a club with two girls surfaced online...
For those who don't know, on August 28, 2022—while Ekin-Su was in LA—the Sun obtained a video of Davide exiting a club and getting into a taxi with a friend and two girls. While there is no evidence of any funny business, the internet did what the internet does best and made the video go viral—sending Love Island fans into a frenzy.
Rumors then began swirling around the fate of 'Ekin-De' but thankfully Ekin-Su responded saying: "The truth behind that is it wasn't just him—it was a big group and it just happened to be two girls in a taxi with him and his friend and it just looked wrong. That's all it was, and you know I trust him, he didn't cheat, and he's my man."
Lauren is a freelance writer and editor with more than six years of digital and magazine experience. Most recently, she has been the Acting Commissioning Editor of Women's Health—where she co-produced the Going For Goal podcast—and has previously also written news and features for titles including The Telegraph, Grazia, Stylist, Dazed, The Sun's Fabulous, Yahoo Style UK and Get The Gloss. She covers all aspects of lifestyle, specializing in health, beauty, and travel. Can't live without: oat milk lattes, new podcast episodes, long walks, and great skincare.