Love Island fans reckon the 'Heart Rate Challenge' is going to cause major beef between Gemma and Luca
Love Island's 'Heart Rate Challenge' could make or break them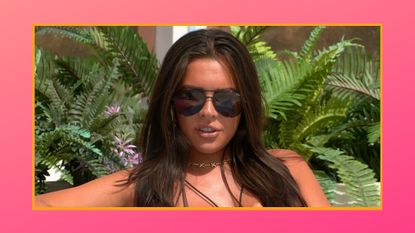 (Image credit: ITV Picture Desk)
It's that time of year again when heads start turning and pulses get pumping—yep, the 'Heart Rate Challenge' returns on Love Island 2022 and fans think they've spotted a very bold move from Gemma Owen…
Just as we thought all the relationship drama had been resolved—the 'Heart Rate Challenge' is definitely a sure-fire way to stir up trouble!
For those who may be new to the 'OG' dating show, this challenge has been responsible for some of the most memorable Love Island moments ever. This is because it involves the boys and the girls taking turns to try and raise each other's heart rates.
They achieve this by wearing costumes and basically doing lap dances—all the while with their subjects wearing—you guessed it—heart monitors. At the end, it's then revealed which girl got which boy's heart racing and vice versa. As you can imagine, things can get awkward fast.
Last season, for example, Millie Court raised the most heartbeats and we also saw Mary Bedford wear that infamous mermaid costume…
Now the heartbeat challenge is coming at the perfect time in season eight, as our couples are pretty tenuous—and fans think they know who's going to end up in the doghouse.
In the Love Island First Look, fans are convinced that they've spotted Gemma licking Jay's ear during her attempt, which will likely not go down well with a certain fish flop fanatic.
One fan tweeted: "Is that Gemma???? Luca is gonna faint 😂"
Is that Gemma???? Luca is gonna faint 😂 #LoveIsland pic.twitter.com/SB0901F7rVJune 27, 2022
See more
With another remarking (opens in new tab): "Oh it's Gemma licking Jay not Paige. Luca is going to be fuming".

And a third fan tweeted (opens in new tab): "when jacques' heart rate is highest for gemma and vice versa…I can't wait to watch luca's reaction as his world implodes"—eek!
More fans have also shared their Dami-esque predictions for the challenge's results. One viewer posted (opens in new tab): "What we all want to see: Paige's heart rate increasing most for Jay, Ekin-Su's heart rate increasing most for Davide and vice versa and Gemma's heart rate increasing most for anyone other than Luca." They're definitely onto something there…
Guess we'll just have to watch and see—grab your popcorn folks, it's going to be first-class TV.
Best Love Island gifts and merch to shop now
Brand
Colour
Price
Refine ☵
Sort By