The definitive list of the most memorable Love Island moments of all time
With the winter 2023 series providing us with more TV gold, we look back at the most memorable Love Island moments in the history of the show...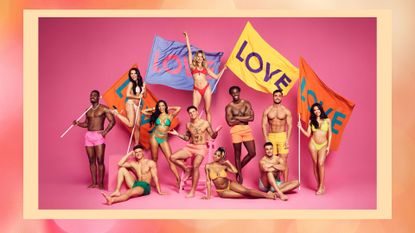 (Image credit: ITV)
With the 2023 winter series underway, we thought it was about time to cast our minds back to some of the most memorable Love Island moments of all time—because there have been plenty! The dating show of all dating shows has seen some crazy scenes, after all—from explosive arguments, to sweet reunions, and stunningly 'muggy' betrayals.
If you're caught up on how to watch Love Island UK, you'll know that the winter Love Island 2023 cast are having plenty of their own drama this year. So we wanted to reflect on that, and some of our favorite moments in the ITV show's history. Not only has the show taught us a whole new language in the form of the different Love Island quotes but over the years, we've also witnessed some total TV gold—from Liam Reardon's awkward return from Casa Amor in 2021, to Amber Gill and Michael Griffith's savage bust-up, and Amy Hart's heartbreaking declaration of love for Curtis Pritchard in season five.
From heart-warming romances—some of whom have gone the distance, considering the amount of Love Island UK couples still together—to hilarious moments and awkward conversations (many of which have left us wondering is Love Island live?!), we've had our fair share of laughs and cries whilst watching. Here are just a few of the most memorable Love Island moments to date, all the way back to season one of the show back in 2015...
The most memorable Love Island moments ever
There have been some seriously amazing moments throughout Love Island history—from confrontations to emotional break-ups. Here, we've listed all of the best moments from each season; so prepare to take a serious trip down memory lane!
Season nine
Shaq calls out Ron
This year's winter Love Island may have only been on for a few weeks (and this is how long Love Island will be on for this year), but we've already enjoyed a host of funny and dramatic moments from this batch of Islanders. And most recently, Shaq won over us viewers with his defence of Lana against Ron.
When Lana went out on a date with new contestant Casey, Ron—who has been talking to plenty of girls himself—started to get a little defensive. And Shaq wasn't exactly happy to hear what he had to say. After Ron's own dalliances with other girls, he asked Ron whether he thought he'd done anything wrong with Lana, before confessing his thoughts on the situation. He said, "What you've done with that girl, I feel like it's out of order. You've said one thing and you've done another. You've taken complete advantage of her because you know she's such a nice girl, and she's gonna be there."
It's not too often that a Love Island lad stands up to defend one of the girls—so go Shaq!
Season eight
When Andrew 'licked her t*t, or whatever'
Perhaps one of the most cringeworthy moments of season eight (the season of Ekin-Su and Davide, Andrew and Tasha, and Dami and Indiyah), was when Coco Lodge returned from Casa Amor with Andrew, only for Andrew and Tasha to reunite—but not before Coco shared some *ahem* intimate details about the pair's time together.
In a moment that had viewers holding their breath, Coco confessed to some of her fellow Islanders that she Andrew had had some sexual contact, and that he wasn't being honest with Tasha about it. She quickly informed Andrew that she had spilled the beans to the other contestants, forcing him to tell his beau what had happened. Then came the oh-so-iconic line that he "licked her t*t, or whatever", leaving Tasha shocked by the revelation. Awks!
When Adam Collard re-entered the villa
Jaws across the nation dropped when season four villain Adam Collard returned to the villa mid-way through season eight—and for good reason!
The ladies man rocked the villa in 2018, leaving a trail of broken hearts in the form of Rosie and Zara. And he certainly stirred things up on his second go around, winning the affection of Paige Thorne, who was originally coupled up with Jacques. The pair continued their romance outside of the villa, but eventually called things off, after it seemed like Adam had returned to his bad boy ways, with rumors that he had cheated on Paige. *Sigh*....
Season seven
When Lillie exposed Liam's Casa Amor antics
Ahh Liam. Like every year, Casa Amor is the time where all hell breaks loose on the show as the girls and the guys are separated into two villas and joined by six new bombshells each. Well, in season seven, Liam got a bit too friendly with new girl Lillie during his time away from partner Millie. And when he returned to the main villa single, she assumed he had stayed faithful—and he went along with it.
However, *insert dramatic music* Lillie wasn't going to let him get away with it. Around the fire pit, she told all the Islanders what had happened between her and Liam, and it was safe to say the girls were shook. Millie broke things off with Liam for a while (in villa time) before the two got back on track and ended up winning the show. Who would have thought?!
The end of Liberty and Jake's relationship
It wasn't one of the most dramatic moments of season seven, but perhaps one of the most heartbreaking. Liberty and Jake had had an up and down relationship throughout the show, but largely stayed together throughout, even reuniting after the drama of Casa Amor. However, things came to a head one day by the pool, when Liberty finally shared her true feelings, telling Jake, "I just don't feel like you love me for me". Though he appeared sad, Jake didn't disagree, saying, "Maybe it's best we go our separate ways."
Following the conversation, Liberty was emotional, but proud of herself for realizing that she deserved better. And we couldn't agree more! The former couple eventually decided to leave the villa together, after recognizing that they wouldn't be finding love with anyone else anytime soon.
Season six
Luke T asks Siânnise to be his girlfriend
This moment truly melted all of our hearts. Season six runners-up Luke T and Siânnise are hands down among the cutest couples to ever come out of the show (despite the fact that the pair have now split).
Pulling out all the stops to make the moment he asked her to be his girlfriend special, Luke planned an adorable Disney-inspired treasure hunt around the villa for Disney-fanatic Siânnise to find her Prince Charming (him), with the help of some their fellow Islanders—there wasn't a dry eye in front rooms across the nation.
Season five
The aftermath of Michael recoupling with Joanna at Casa Amor
"You didn't open up girl" is a sentence that still haunts season five winner Amber Rose Gill, according to one of her recent tweets. Her heated argument with love interest Michael "Childish" Griffiths following his return from Casa Amor—where he chose to recouple with new girl Joanna, whilst Amber stayed loyal to him—is one of the most intense and most memorable Love Island moments in history.
Not only was Michael's recoupling speech excruciating to watch, but his argument with Amber's bestie, Anna, caused a huge group row. We've all seen the memes of Michael swinging his drink around while calling Amber "childish (chaldish)"; the irony of it all! The episode was definitely giving us all the drama we want and expect from Love Island. More, please!
When Tom ruined it all with Maura
Tom was very much put in his place by Maura after making THAT comment... #LoveIsland pic.twitter.com/7ROHSlzBp8June 24, 2019
See more
If you want a class A example of how to shoot yourself in the foot, season five's Tom Walker has you covered. In one of the most awkward TV moments ever, the Islander, who was coupled up with Maura Higgins at the time, got incredibly cocky during a chat with the boys, telling them that it would be "interesting to see if she's all mouth or not" when the two were given a night in the hideaway.
Little did he know Maura was right behind him, and heard everything and it's safe to say she wasn't happy, as you can expect. After overhearing him, she confronted Tom, saying "What did you just say? Are you f***ing joking? That's a d***head comment. F*** off." Well deserved, we say!
When Amy confronted Curtis
This was heartbreaking to watch, as it's never nice to see someone hurt. But of course, the internet did its thing and it wasn't long before Amy's tearful love confession to Curtis after his head had turned at Casa Amor, was a viral meme. Poor Amy!
Anna vs Jordan
Season five really was the season that kept on giving, wasn't it? The drama never stopped in the 2019 villa (making it one of the best Love Island seasons ever), with the boys and girls constantly clashing over betrayals and bad behaviour. In one of the most (if not the most) fiery argument on the show, Anna lashed out at Jordan (and rightly so) after he 'stuck it on' new girl India, just days after asking Anna to be his girlfriend. Their fall out divided the entire villa and things were pretty awkward for a while afterwards.
Season four
When Wes told Laura he was recoupling with Megan
Season four's Wes found himself on the wrong side of his partner Laura when he told her he was recoupling with new girl, Megan Barton Hanson. Not to anyone's surprise, it went terribly, leaving Laura furious at both Wes and Megan, who she later called a "slag", whilst the rest of the Islanders eagerly watched the showdown from the fire pit. Yikes!
When Josh left 'loyal' Georgia for Kaz
Casa Amor always throws a spanner in the works, even for the strongest of couples. However, this season four recoupling is up there with the best to date for all the wrong reasons. Following their time in Casa Amor, the boys returned to the villa, with Josh leaving his former partner Georgia (who we all know prides herself on being loyal) for new girl Kaz. Watching them walk back into the villa hand-in-hand as a shocked Georgia watched was painful, to say the least! But ever the boss b**ch, Georgia stood up tall and defended herself.
Season three
When Stormzy made an appearance in the villa
Back in season three (yes, before his ex Maya Jama became host of the show), Stormzy made a surprise cameo on the show when he paid the contestants a visit via Skype (before pandemic-favorite Zoom was a thing). He offered some some much needed advice to Marcel, Kem and Chris—who were all major fans—ahead of their villa talent show performance. It was iconic!
However, the moment was made even better when Chris' partner Olivia—who had seen in a previous villa task that Stormzy had tweeted that Chris was "too good" for her—came to confront the grime star.
Theo vs Johnny
Now, this was tense. Season three's Theo is one of the most memorable new arrivals purely for the fact that he caused such havoc in the villa, and didn't even care. He certainly wasn't afraid to step on anyone's toes, and when he attempted to sway Tyla away from Johnny by picking her during the recoupling ceremony, all hell broke loose. One of the most memorable Love Island moments, for sure!
The Chris and Kem bromance
Though Chris Hughes and Olivia Atwood, and Kem Cetinay and Amber Davies were *actually* coupled up in the Love Island season 3 villa, perhaps one of the best love stories to come out of that series was the Chris and Kem bromance.
The pair showered together, spooned, and often shared a bed together, as well as share some hilarious conversations for our viewing pleasure. Perhaps the highlight of the Chris and Kem friendship though was their 'best bits' rap alongside Marcel, named 'Little Bit Leave It'. The pair recreated the moment in Casa Amor too, with a 'that's not me' rendition. The two were without doubt one of the funniest contestants to ever grace the Island.
Season two
When Malin returned to confront Terry
Cast your mind back to season two. Couple Malin and Terry were loved up from the beginning, appearing to be one of the strongest couples in the villa—until Malin was dumped from the island, leaving Terry devastated... at least for a few hours.
It didn't take long for him to forget all about her though, and crack on with new girl Emma Jane, despite promising to wait for Malin. So, in classic, messy Love Island style, the producers brought Malin back to confront Terry and it was explosive, to say the least.
When Rykard left the villa for Rachel
Back in season two, Rykard made the ultimate romantic gesture that no one has done in such a way since. When his partner Rachel was dumped from the villa in an unexpected twist, he chose to leave the Island with her right there and then. It was dramatic, especially since they hadn't been coupled up for long, but cute nonetheless. Plus, it worked out well, as the couple stayed together for 18 months after leaving the villa before sadly calling it quits.
Kady and Malia's explosive argument
Kady was arguably one of the most entertaining season two contestants, but thing went up a notch when she came up against new contestant Malia.
Malia came into the villa honest about the fact that she was after Kady's partner Scott Thomas. Soon after her entrance, Kady and Malia sat down with the other girls to catch up on her date with Scott—which is when the drama really began. Whilst sitting around the fire pit, Kady appears to accidentally spill her drink over her competition, Malia—but Malia isn't convinced that she didn't do it on purpose.
The pair came to blows in a huge argument which eventually got physical, with security getting involved and having to pull the pair apart. As a result, Malia was removed from the villa.
Season one
Hannah and Jon's engagement
Season one might seem like a lifetime away now, but it involved some of the most memorable Love Island moments of all time. And one such moment was when Jonathan Clark took the ultimate leap with Hannah Elizabeth at the end of the season, during final vows—and actually proposed!
Jon is the only contestant to ever propose on Love Island, so we can definitely count this as one of the wildest moments of the show ever. The OG contestants didn't last long outside the villa sadly, calling their engagement off nine months after the show ended. Since then though, the pair have reunited for an ITV show, alongside their fellow contestants (and season one winners) Max Morley and Jessica Hayes.
Best Love Island gifts and merch to shop now
Price
shopRefineShow ☵
comparisonSortLabel
Sagal is a journalist, specialising in lifestyle, pop culture, fashion and beauty. She has written for a number of publications including Vogue, Glamour, Stylist, Evening Standard, Bustle, You Magazine, Dazed and Wonderland to name a few.
With contributions from