'Love Island UK' fans spotted a very unexpected link to Harry Styles during the first episode
Love Island viewers couldn't help but notice something rather familiar about contestant Luca Bish...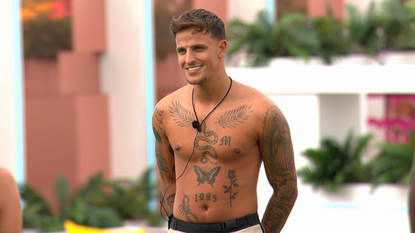 (Image credit: ITV)
It's the moment we've all been waiting for: Love Island 2022. In a whirl of sunshine, string bikinis and awkward attempts at flirting the new series has got off to a strong start, and viewers at home (Wondering where to watch Love Island? You've got options) have already found much to talk about.
For starters, there was the big twist introduced by host Laura Whitmore early on in the episode when she explained that the public had played cupid and decided which of the new Love Island line-up should couple up with one another. And it's fair to say that not all the male and female Islanders looked too thrilled with their pairings.
However, sparking possibly an even bigger reaction was the topless arrival of hunky contestant Luca Bish. The fishmonger, 23, from Brighton confidently entered the villa sporting a huge array of tattoos. These included feathers on his bulging pecs and a butterfly on his toned upper abs.
Now, those tuning in to the first episode of Love Island season eight couldn't help but share that his inkings felt a little familiar. Observant Twitter users pointed out that the designs—and spacing between them—were very reminiscent of those sported by Harry Styles. The singer, 28, notably has two swallows and a butterfly in strikingly similar places on his body.
Social media users were quick to point out the likeness. "Why do I feel like his tattoos are based off Harry Styles' ones?" wrote one person. Another posted: "Luca having half of Harry Styles' tattoos is absolutely SENDING ME." A third shared: "Not Luca basically having the exact same tattoos as Harry Styles." And a fourth joked: "BREAKING NEWS! Harry Styles has entered the villa."
Why do I feel like his tattoos are based off Harry Styles' ones #loveisland pic.twitter.com/cqGplJBpcvJune 6, 2022
See more
luca having half of harry styles' tattoos is absolutely SENDING ME #loveisland pic.twitter.com/652qe6jg4dJune 6, 2022
See more
not luca basically having tbe exact same tattoos as harry styles #loveisland pic.twitter.com/bsF4ek7R7iJune 6, 2022
See more
BREAKING NEWS! Harry styles has entered the villa #Loveisland pic.twitter.com/1lw8lMRKjdJune 6, 2022
See more
But back to the romance—in the launch episode, we saw Luca put together with Paige Thorne, a 24-year-old paramedic from Swansea. We will have to wait and see exactly how she feels about his numerous tattoos, which also include a serpent and a rose.
During the first installment of the fresh season, we saw them get more intimately acquainted with one another during an evening of fooling around beside the iconic firepit—along with the four other couples. These include Dami Hope and Amber Beckford, as well as Andrew Page and Natasha Ghouri. Then there's Liam Llewellyn and Gemma Owen, while Ikenna Ekwonna was placed with Indiyah Polack.
However, just as the episode drew to a close, we were introduced to Davide Sanclimenti—not yet in a couple—who is certain to get the drama rolling...
Lauren is a freelance writer and editor with more than six years of digital and magazine experience. Most recently, she has been the Acting Commissioning Editor of Women's Health—where she co-produced the Going For Goal podcast—and has previously also written news and features for titles including The Telegraph, Grazia, Stylist, Dazed, The Sun's Fabulous, Yahoo Style UK and Get The Gloss. She covers all aspects of lifestyle, specializing in health, beauty, and travel. Can't live without: oat milk lattes, new podcast episodes, long walks, and great skincare.