The Love Island 2022 lineup has landed in the villa—including two new bombshells
Get acquainted with the new Love Island 2022 cast who are on the hunt for love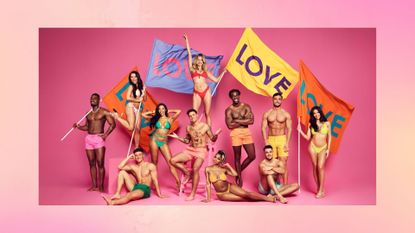 (Image credit: ITV Picture Desk)
The new islanders have officially landed in the villa to kick off Love Island season eight and now we've even got two bombshells on the way! Our new host of islanders are settling in and gearing up to give us weeks of sun, grafting and drama—So without further ado, get to know the full Love Island 2022 lineup!
The original lineup has landed in Mallorca, where the famous dating show is filmed and the couples have been chosen—but their hunt for love won't be so easy as two new bombshells are already headed in to stir things up!
Love Island has quite the success rate, a number of fan-favorite Love Island couples are still together, and there's even been a few weddings and a number of babies—and now we've got 13 fresh faces hoping to make it onto the fabled list of long-standing couples.
Here's everything you need to know about our 2022 singles…
The official Love Island 2022 lineup
Paige Thorne
Paige Throne was the first islander to be confirmed as one of 2022's romantic hopefuls. She's a Welsh paramedic, with over two thousand followers on Instagram (opens in new tab).
The 24-year-old Swansea local says she's looking for 'Mr Right' and describes herself as bubbly and full of positive energy—we've definitely seen evidence of this in her first few days in the villa!
She's currently coupled up with Luca Bish and already seems to be falling fast!
Dami Hope
Dami Hope has brought the Irish charm to the island and if season five's Greg O'Shea's time in the villa is anything to go by, the luck of the Irish is real!
The 26-year-old is a microbiologist with a serious eye for style, with over three thousand Insta (opens in new tab) followers already.
An insider told the Mirror (opens in new tab): "If his tasty appearance doesn't woo the ladies, he'll certainly impress them with his knowledge of food hygiene and germ control."—the real way to a woman's heart...we're yet to see delve into this with his other half, Amber Beckford.
Indiyah Polack
Indiyah was our third confirmed islander! She's a hotel waitress, model and London local with an impressive 12 thousand Insta (opens in new tab) followers already under her belt.
The 23-year-old has already modeled for the likes of Boohoo and Lounge, so we can already see great things in her future post-Love Island.
Right now she's coupled up with Ikenna Ekwonna but we're not sure she's feeling. We'll soon see if they're meant to be with a recoupling on the horizon...
Liam Llewellyn
Islander number four come on down!
Liam (opens in new tab) is a student from Wales, who has recently graduated from studying 'Strength and Conditioning' but is clearly looking for some schooling in love.
Sadly he's already been served his first lesson, as the first bombshell, Davide Sanclimenti has already recoupled with Gemma Owen—Liam's original couple, leaving him single.
Though we think his luck might be on the turn and he could still be this year's troublemaker as the 22-year-old admits he still has years ahead of him to find his love match but is looking to have fun with someone special in the villa...
Could he be this year's Casa Amor heartbreaker?
Tasha Ghouri
Tasha is a model and dancer with a whopping 18 thousand followers on Instagram (opens in new tab)! She's also Love Island's first-ever deaf contestant.
Tasha has already had a taste for fame, as she went viral last year on Twitter for her modeling shots with ASOS that showed her cochlear implant.
She looks set to be the villa's resident funny girl, as she describes herself as 'goofy' and is looking for a guy to go traveling with. So far she's already caught the eye of both Luca and Andrew...
Davide Sanclimenti
Davide is, as Love Island bosses described him, an 'Italian Stallion' currently based in Manchester. He has an impressive two thousand Insta (opens in new tab) followers and isn't shy about his physique.
The 27-year-old has entered the villa to find his 'soul-mate'—n'aww! He describes himself as having a good heart and is a romantic through and through, especially when it comes to big displays of affection—so if he finds what he's looking for in the villa, expect a dramatic girlfriend proposal to rival Luke Trotman and Siânnise Fudge's in season six.
He's fulfilled the 'bombshell' assignment, arriving late on the first day and turning the heads of several of the girls. Especially Gemma Owen who he has now coupled up with!
Gemma Owen
Gemma is a 19-year-old dressage rider and daughter of former England footballer Michael Owen.

She already has an incredible 40 thousand followers on Instagram (opens in new tab) and is hoping to find a 'strapping lad' in the villa—which she may very well have found in Davide Sanclimenti.
Gemma describes herself as very competitive, no surprise there since she's competed in dressage all across Europe. Clearly, she gets her love of sport from her dad but so far is yet to drop his name to the villa's football fans...
Ikenna Ekwonna
Ikenna (opens in new tab) is a pharmaceutical sales specialist on the hunt for love! The 23-year-old is six foot five and describes himself as a 'slow burner.'
He's only been in one relationship prior to jetting off to Mallorca but feels he is ready to find someone. He likes chatty people and describes his only 'ick' as bad breath—so let's hope the villa is stocked up with breath mints!
Right now he's coupled up with Indiyah Polack, but so far sparks aren't really flying...
Andrew Le Page
Our ninth Islander is 27-year-old international real estate agent Andrew (opens in new tab), who recently come out of a long-distance relationship after making a big move to Dubai. Despite this though, Andrew doesn't want to play the field, stating that his dating days are over and he's looking for a special someone.
Andrew cites bad and overdramatic personalities as his biggest ick and is looking for a girl with a 'great personality.' Right now he's coupled up with Tasha Ghouri and things seem to be going well.
Andrew describes himself as laid back and is not a lover of drama...we hope he knows what he's in for in the villa though...
Amber Beckford
Hello Amber (opens in new tab)! The 24-year-old is a nanny who is described by pals as a bit of a 'wild child' herself, which if you ask us can only mean great things in the villa.
Amber is looking for something serious and wants a guy she can cuddle up to! She likes people with big personalities, who can have a laugh—but don't go being too flashy around her, as that won't win you any brownies.
She's currently paired with Dami Hope but so far their relationship is a slow burner! Time will tell!
Luca Bish
Our 11th Islander is none other than Luca Bish, a fishmonger from Brighton looking for love.
After coming out of a long-term relationship he's putting that saying of 'plenty more fish in the sea' to the test and trying his luck in the villa!
He describes himself as a laugh and doesn't take himself too seriously. However, though he's not a 'homewrecker' he's also no push-over and isn't afraid of stepping on some toes...
So far he's claiming the title of 'cheeky chap' in the villa, charming the girls with his humor and Harry Styles-esque tattoos. Right now he's coupled up with Paige Thorne, but also has his eye on Tasha Ghouri.
Love Island 2022's bombshells:
After self-proclaimed 'Italian Stallion' Davide Sanclimenti sauntered into the villa and recoupled with Gemma Owen—leaving Liam Llewellyn single—it was announced that two new girls are headed into the villa for Love Island Episode three...
Meet this season's first bombshells:
Ekin-Su Cülcüloğlu
Ekin-Su is an actress from Essex with quite an impressive social media presence! She already has over 350 thousand followers and will no doubt turn a few heads in the villa.
The 27-year-old admits she's 'quite picky' and says she's "looking for someone with intelligence, someone who can have good chats."
She's not coming into the villa for fun and games—she's after a serious relationship, which is ideal since she's headed straight on a date, thanks to the public vote!
We've got out fingers crossed for her that she finds Mr. Right!
Afia Tonkmor
Afia is a 25-year-old lounge host at a private members-only club in London, who admits to falling in love fast.
Unlike Ekin-Su, Afia is hoping for fun in the villa and obviously a little summer romance, but with her main focus on enjoying the experience to the fullest.
Explaining her reasoning behind applying for the show, she said the villa "seems like a once in a lifetime opportunity to meet someone... and have an amazing summer." We're already a fan and can see her getting along with the likes of Liam and Luca!
Best Love Island gifts and merch to shop now
Brand
Colour
Price
Refine ☵
Sort By