M&S launches its most inclusive nude lingerie collection ever
M&S has responded to customer demand for more diversity and inclusivity in its nude lingerie lines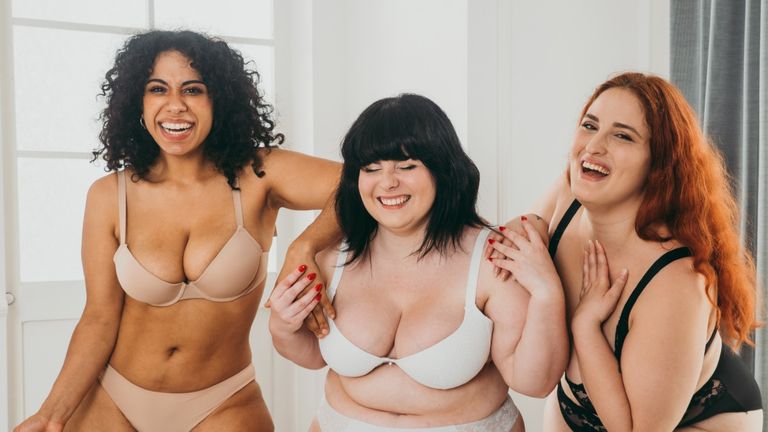 (Image credit: Getty Images / Fabio Formaggio / EyeEm)
The world of lingerie can be a bit of a minefield. Searching for the best bralettes and the comfiest pants can feel like a never-ending mission, especially when it comes to nude shades. Until now that is. M&S has launched a new size-inclusive nude collection, featuring bras, pants, slips and shorts that give us Kim K Skims vibes.
Renowned for its bras and underwear, M&S has dropped a new campaign "Nothing neutral about it" which is designed to create a new definition of the word neutral.
Nude pieces that actually match your skin tone and aren't just the peachy pink we've become accustomed to are hard to find in all lingerie brands, but in a world where we can now buy period underwear why can't we find our perfect nude match bra?
According to Campaign, the company created this line after customers and colleagues called for M&S to do more to be diverse and inclusive with its underwear.
As a result, it teamed up with the Culture and Heritage Network and launched its "Nothing neutral about it" campaign, which introduces five new gorgeous colors—Rose Quartz, Topaz, Rich Amber, Opaline and Rich Quartz.
The bras go from sizes AA to H and the pants come in sizes 6 to 28. The shorts are also available in sizes 6 to 22 and you can choose your perfect length of slip.
In a press release, M&S wrote: "We set to work on creating a new definition of neutral with a truly inclusive range. So every woman—of whatever shape and color—has got a real choice and can look and feel fabulous."

Laura Charles, M&S Lingerie Director said: "We listened when our customers and colleagues told us we hadn't got it right when it came to color; both in the choices available and the way we talked about the neutral shades,"
She said it's "an underwear range that provides more colors, more sizes and more choice so that all of our customers have the freedom to complement or contrast with their individual skin tone in a way that suits their own personal style."
Shop the collection below:
M&S, Silk & Lace Underwired Full Cup Bra A-E, $49.99 | £28
This bra is part of model Rosie Huntington Whiteley's collection with M&S. It comes in Rich Quartz, Topaz, Rose Quartz and Rich Amber. It features underwiring, full-cups, soft padding and a French lace design.View Deal
M&S, Wild Blooms Underwired Full Cup Bra A-E, $28 | £16
Available in all the new shades, plus black, white, and pink. This bra has underwiring, added stretch, and a floral lace design. It's also unpadded.View Deal
M&S, Flexifit™ Non-Wired Crop Top, $35 | £20
The non-wired crop top is designed with comfort in mind. It's described as a "second skin" and uses Flexifit™ technology for incredible stretch. You can also remove the pads.View Deal
M&S, Cool Comfort™ Anti-Chafe Shorts, $21 | £12
The anti-chafe shorts use cool Comfort™ technology to give you a cool supportive and comfortable base layer. There is no seam on the outer leg, giving a subtle and discreet look.
M&S, Cool Comfort™ Full Slip, $35 | £20
This slip is smoothing, flattering, and cling-resistant. It's made with sweat-wicking Comfort™ technology to keep you cool and fresh and, more importantly, it's non-static.
View Deal
M&S, 3pk No VPL High Rise Knicker Shorts, $24.50 | £14
The first great thing about these knickers is they come in a pack of three. They're also high rise and give full bum coverage and there's no VPL (visible panty line!)View Deal
Naomi is trainee news writer who writes for My Imperfect life, Woman & Home and Goodto. Naomi writes articles from fashion trends and skincare to entertainment news.