The hidden messages you may have missed in Meghan Markle's outfit for the Oprah interview
And there are plenty...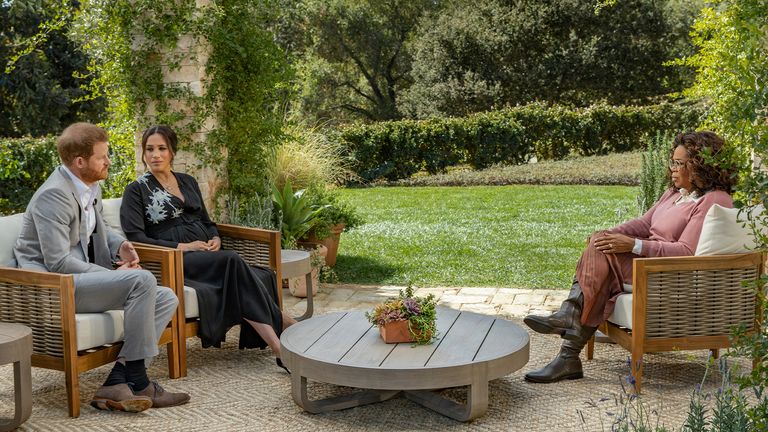 (Image credit: Handout/Getty Images)
There was hidden symbolism aplenty in Meghan Markle's outfit for the Oprah interview. 
As Jill Biden and Vice President Kamala Harris demonstrated with aplomb on Inauguration Day, it's possible to use clothing to send out a much more powerful message than merely an appreciation for chic designer fashion. The First Lady shone a spotlight on the best sustainable fashion brands while Kamala promoted two black designers, namely Christopher John Rogers and Sergio Hudson. So it comes as no surprise that Meghan was mindful about choosing just the right details for her two-hour CBS interview with Oprah Winfrey.
As the shocking revelations stacked up - from the color of her then unborn child's skin being called into question to a lack of protection against racist tabloid coverage - the meaning behind that Giorgio Armani white lotus print dress became more and more apparent.
According to Eastern tradition, the lotus flower signifies regeneration, enlightenment  and rebirth. According to the Binghamton University Institute of Asia and Asian Diasporas, the lotus flower's "characteristics are a perfect analogy for the human condition: even when its roots are in the dirtiest waters, the Lotus produces the most beautiful flower."   
Then there are the accessories - most notably, the diamond Cartier tennis bracelet that once belonged to Princess Diana, who gave a similarly explosive interview to the BBC in 1995 where she uttered the infamous line "there were three of us in this marriage".  Alongside this bracelet was a Cartier Love bangle, which is "an iconic symbol of love that transgresses convention", according to the brand and nod perhaps to her relationship with Harry defying conventional restraints.
Meghan also chose to wear a $2,491 Aquamarine Triple Collete Set Pendant from Pippa Small, one of the best sustainable jewelry brands, around her neck. In an interview with The Telegraph, Small explained that the aquamarine stones on the necklace symbolize freedom and hope.
Pippa said: "Aquamarine is a very serene, positive stone. It's the color of the sky or the sea - it's very freeing. It's a hopeful stone, there's something very pure about it. Aesthetically, the necklace and our jewelry in general is quite simple and natural feeling. It's more subtle and less showy than traditional jewelry; it becomes more personal, like an amulet."
Perhaps a protective amulet was precisely what Meghan felt she needed to make her heart-breaking claims.