This is the most popular Oscars speech
Which winning actor took top prize for the most popular Oscars speech of the 21st century? You might be surprised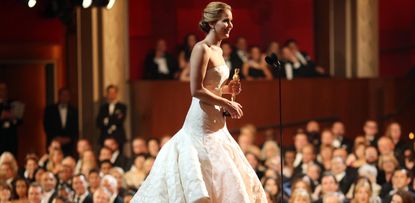 (Image credit: Christopher Polk / Getty)
Awards show season is upon us and with that comes the Oscars speech—those "you like me, you really like me" orations full of shock and awe and plenty of tears.
But while there have been many a famous acceptance speech across the Academy's 92 years, which is the most popular Oscars speech of the modern-day? Compiling YouTube views and search data, the linguistics experts over at Babbel have unearthed the top 10 most popular Academy Awards speeches of the 21st century and why said speeches have connected with people over the years.
We all have our favorites, but did your pick make the top 10? Let's find out!
---
---
The 10 most popular Oscars speech of the 2000s:
10. Lupita Nyong'o winning Best Supporting Actress
Looking like a real-life Cinderella, Lupita Nyong'o took the gold for her supporting turn as Patsey in 12 Years a Slave and delivered a rousing speech. "When I look down at this golden statue, may it remind me and every little child that no matter where you're from your dreams are valid," she memorably said.
9. Natalie Portman winning Best Actress
A pregnant Natalie Portman took home the statuette for Best Actress for her sinister Black Swan performance in 2011. The actress, who has been performing in film since 1994's The Professional, thanked "everyone who's ever hired me: Luc Besson, who gave me my first job when I was eleven years old; Mike Nichols, who has been my hero and my champion for the past decade; and now Darren Aronofsky."
8. Sandra Bullock Winning Best Actress
Sandra Bullock's acceptance speech for her The Blind Side win was a tear-jerker. After lovingly paying tribute to her fellow nominees ("Carey, your grace and your elegance and your beauty and your talent makes me sick"), the rom-com queen dedicated her speech to another special lady, her mom.
"If I can take this moment to thank Helga B. for not letting me ride in cars with boys till I was eighteen, 'cause she was right; I would've done what she said I was gonna do. For making me practice every day when I got home, piano, ballet, whatever it is I wanted to be. She said to be an artist you had to practice every day. And for reminding her daughters that there's no race, no religion, no class system, no color, nothing, no sexual orientation, that makes us better than anyone else." Amen!
7. Eddie Redmayne winning Best Actor
Winning for his role as the late, great English theoretical physicist Stephen Hawking in 2014's The Theory of Everything, Eddie Redmayne fittingly dedicated his award to "to all of those people around the world battling ALS. It belongs to one exceptional family: Stephen, Jane, Jonathan and the Hawking children. I will be its custodian and I will promise you I will look after him."
6. Kate Winslet winning Best Actress
After six nominations, Kate Winslet finally took up that long-awaited Best Actress statuette for her turn in 2008's The Reader. "I'd be lying if I haven't made a version of this speech before. I think I was probably eight years old and staring into the bathroom mirror and this [holding up her statuette] would've been a shampoo bottle. Well, it's not a shampoo bottle now!" An extra sweet moment was when she was able to locate her dad in the crowded ballroom by his whistle alone.
5. Heath Ledger Winning Best Supporting Actor
One of the most heart-wrenching Oscar speeches in modern memory, Heath Ledger's posthumous 2009 win for his role as The Joker in The Dark Knight came just a little over a year after his tragic death.
Accepting the award on his behalf were his father Kim Ledger, mother Sally Bell, and sister Kate Ledger, who said: "This award tonight would've humbly validated Heath's quiet determination to be truly accepted by you all here, his peers, within an industry he so loved."
4. Joaquin Phoenix winning Best Actor
Joaquin Phoenix paid tribute to his brother, the late River Phoenix, in his own acceptance speech for playing The Joker in 2019's Joker. "When he was 17, my brother wrote this lyric. He said, 'Run to the rescue with love and peace will follow.'
Phoenix also discussed animal rights and racial and gender equality throughout his speech, saying: "This form of expression has given me the most extraordinary life. I don't know where I'd be without it. But I think the greatest gift that it's given me, and many people in [this industry] is the opportunity to use our voice for the voiceless."
3. Jennifer Lawrence Winning Best Actress
Jennifer Lawrence's acceptance speech for her performance in 2012's Silver Linings Playbook was infamous before she even started speaking. That's because the actress memorably slipped on the stairs on her way to the stage. (That might be why it's been watched more than 14 million times.) She handled it humorously and gracefully, saying: "Thank you. You guys are just standing up because you feel bad that I fell and that's really embarrassing, but thank you. This is nuts."
2. Matthew McConaughey winning Best Actor
Capping off his McConaissance, Matthew McConaughey took home the big prize for his work in 2013's Dallas Buyers Club. The actor dedicated his award to several special people in his life, including his mother and wife, but his tribute to his late dad was particularly funny and touching.
"To my father who I know is up there right now with a big pot of gumbo, he has a big lemon meringue pie over there. He's probably in his underwear and has a big can of Miller Lite and he's dancing right now. To you dad, you taught me how to be a man."
1. Leonardo DiCaprio winning Best Actor
Amassing over 43 million YouTube views, Leonardo DiCaprio's much-anticipated acceptance speech for 2015's The Revenant takes the top honor of the most popular Oscars speech of the 21st century. The actor and climate-change activist highlighted our relationship to the natural world throughout his speech, saying: "Climate change is real, it is happening right now, it is the most urgent threat facing our entire species, and we need to work collectively together and stop procrastinating."
"Let us not take this planet for granted; I do not take this night for granted," he ended.
Christina Izzo is the Deputy Editor of My Imperfect Life.
More generally, she is a writer-editor covering food and drink, travel, lifestyle and culture in New York City. She was previously the Features Editor at Rachael Ray In Season and Reveal, as well as the Food & Drink Editor and chief restaurant critic at Time Out New York.
When she's not doing all that, she can probably be found eating cheese somewhere.