Naomi Osaka makes a case for prioritizing mental health as she announces withdrawal from the French Open
The Tennis champion broke the news on Twitter, taking the brave step to focus on her mental health...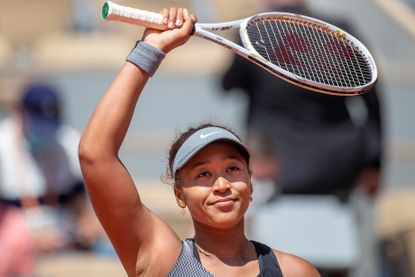 (Image credit: Photo by Tim Clayton/Corbis via Getty Images)
Naomi Osaka has withdrawn from the French Open, explaining her decision to quit in a statement on Monday.
The Tennis Champion announced the news a day after she was fined $15,000 for not taking part in a mandatory press conference—a decision she made consciously to protect her mental health.
On Wednesday, May 26, Osaka said that she would not be talking to the press during the French Tennis tournament, Roland Garros, due to the effects the reporters' questions would have on her mental health.
"I've often felt that people have no regard for athletes' mental health and this rings very true whenever I see a press conference and partake in one. We're often sat there answering questions we've been asked multiple times before or asked questions that bring doubt into our minds and I'm just not going to subject myself to people that doubt me," she explained in the post. "I've watched many clips of athletes breaking down after a loss in the press room... I believe that the whole thing is kicking a person while they're down and I don't understand the reasoning behind it."
Having already stated this, Osaka proceeded to refuse to attend a press conference on Sunday, after winning her opening match against Romania's Patricia Maria Tig which led to her fine. The whole thing blew up into a media spectacle and tennis officials warned that she could face more severe penalties like being expelled and future suspensions. Before any further action, however, Osaka chose to withdraw from the tournament.
Sharing a new post on Twitter, the 23-year-old athlete wrote: "This isn't a situation I ever imagined or intended when I posted a few days ago. I think now the best thing for the tournament, the other players and my well-being is that I withdraw so that everyone can get back to focusing on the tennis going on in Paris.
She continued: "I never wanted to be a distraction and I accept my timing was not ideal and my message could have been clearer. More importantly, I would never trivialize mental health or use the term lightly. The truth is I have suffered long bouts of depression since the US Open in 2018 and I have had a really hard time coping with that.
"Anyone that knows me knows I am introverted, and anyone that has seen me at tournaments will notice that I'm often wearing headphones as that helps dull my social anxiety."
I am so sad about Naomi Osaka.I truly hope she will be ok. As athletes we are taught to take care of our body, and perhaps the mental & emotional aspect gets short shrift. This is about more than doing or not doing a press conference. Good luck Naomi- we are all pulling for you!May 31, 2021
See more
Naomi Osaka being pushed to divulge her mental health struggles and pull out of a professional crowning event to shut these idiots up is exactly why this conversation is so overdue https://t.co/jnu5lBNfX3May 31, 2021
See more
Osaka's decision to protect her mental health is a refreshing one that will hopefully inspire others to do the same, no matter what level of elite sports they participate in. The situation has sparked a number of conversations around the lack of mental health support for athletes, especially for women who—according to numerous studies—suffer from depression at roughly twice the rate of men.
Similarly, the same research also shows that elite athletes are consistently reported as having inflated rates of anxiety and depression (ranging from 15.6% to 21%) due to the unique stress factors they face—including performance expectations, overtraining, injury, and involuntary career termination.
Fellow sports stars including Serena Williams, showed their support for Osaka, explaining that they could relate. "I feel for Naomi," Williams told Associated Press. "Not everyone is the same. I'm thick. Other people are thin. Everyone is different and everyone handles things differently.
"You just have to let her handle it the way she wants to and the best way she thinks she can. That's the only thing I can say: I think she is doing the best she can."
Similarly, 18-time Grand Slam singles champion Martina Navratilova said: "I am so sad about Naomi Osaka. I truly hope she will be ok. As athletes, we are taught to take care of our body, and perhaps the mental & emotional aspect gets short shrift. This is about more than doing or not doing a press conference. Good luck Naomi—we are all pulling for you!"
Fans on Twitter also praised Osaka for taking the brave stance, with one person tweeting: "Naomi Osaka may not know it yet but she's just set a precedent for future athletes and these corporations. Mental health and well-being first. There can't be sports tournaments without athletes. And for the other tennis players who spoke out against her, shame on you."
We should all take a leaf out of Naomi's book and prioritize our mental health—learning how to relax is key to developing resilience in the face of stressful periods...
Sagal is a journalist, specialising in lifestyle, pop culture, fashion and beauty. She has written for a number of publications including Vogue, Glamour, Stylist, Evening Standard, Bustle, You Magazine, Dazed and Wonderland to name a few.