How Meghan Markle and Prince Harry surprised Oprah during their interview
Oprah Winfrey has finally spoken out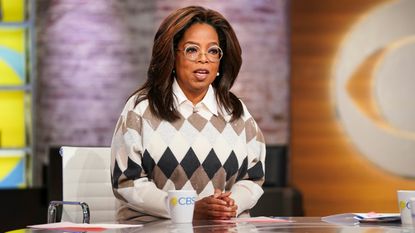 (Image credit: Getty/ CBS Photo Archive )
Oprah Winfrey has finally spoken out about the Royal Family's reaction to her interview with Meghan Markle and Prince Harry.
The sit-down with the Duke and Duchess of Sussex, which aired last month, sparked a flood of public interest following the exposure of palace practices and claims of racial discrimination.
During the interview, Meghan Markle took the opportunity to open up about the couple's struggles with senior members of the Royal Family, as well as allegations of racial prejudice within the organization, which have been firmly denied by the palace since. The Duke of Sussex joined the interview later for a smaller segment.
And since the tell-all first aired in the UK on March 8th, there have been many interview reactions—Ofcom has received more than 6,000 complaints about the discussion.
Oprah Winfrey spoke about Meghan Markle and Prince Harry's transparency during an interview with Nancy O'Dell on TalkShopLive, stating she was shocked by it.
Following the relentless attacks on Markle's character, Winfrey used the opportunity to defend her, describing her as "honest."
Winfrey told O'Dell: "I had no idea that it would have the reverberating impact that it has had and continues to have."
Winfrey went on to explain that she was "surprised" that Meghan Markle, who is soon expecting her second child, went "all the way there" with her claims against the Royal Family.
She clarified that she had texted Markle and Prince Harry ahead of the interview to "align their goal."
Before signing off, Winfrey explained: "Whenever I'm doing interviews with anybody for anything that is significant, I have a conversation with them before."
She continued: "I didn't see Harry and Meghan before but I did text them and say the intention is very important to me, tell me what your intention is so that we can be aligned in our goal."
"Our shared intention was the truth," Winfrey stated. "They wanted to be able to tell their story and tell it in such a way that allowed them to be as truthful as possible."
Since December 2020, Kudzai has worked as a trainee journalist at FUTURE, writing about fashion, entertainment and beauty content for My Imperfect Life.

Kudzai previously worked as a freelance fashion wardrobe stylist, directing magazine photoshoots and coordinating the fashion direction of recording artists.

A fully qualified Journalism and Media graduate from De Mont Fort University, Kudzai graduated in the summer of 2020.