Now you can buy a croissant candle to channel Emily In Paris
Seriously, it smells of warm croissants.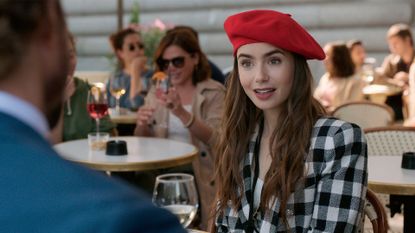 (Image credit: PictureLux / The Hollywood Archive / Alamy Stock Photo)
If anything is going to have certifiable French girl appeal, it's going to be a croissant candle. We thought the best yankee candles had some pretty far out scents (Cream Colored Ponies anyone?) but Overose Croissant Scented Candle takes that warm, comforting patisserie scent and floods your home with it.
To be clear, this is not the type of gimmicky scent that comes with a cute name but smells of chemical air freshener. Overose is seriously chic with a sleek lilac aesthetic, which is why we've quickly added it to our crib sheet of best scented candles.
The scent itself is strangely addictive - and definitely more buttery than sweet (precisely how we like our croissants, too). On the one hand it grounds you; on the other it whisks you away to the backstreets of Paris, where you can indulge in the fantasy of breakfast alfresco Emily style.
So if you need to inject a little French flair into your evening rituals, or you want all the benefits of that gold puff pastry minus the calories, then this cruelty-free, vegan candle could be just the thing. And priced at just $58 [£46] it will keep your bank manager sweet, too.
The candle went back on sale today but sold out in just 15 minutes, such is its appeal. Mon dieu.
More stock will be available soon, so bookmark overose.com for updates.
Fiona Embleton is a multi-award-winning beauty editor who has tested over 10,000 products in her 10 years + of writing and shooting beauty stories. For the past four years, she was the Senior Beauty Editor at Marie Claire, having previously worked in the role of Beauty Editor at both Stylist and Cosmopolitan. She has recently gone freelance and alongside My Imperfect Life, she has written for titles including ELLE UK, ELLE Canada, Buro 247, Harper's Bazaar Arabia, Vogue Scandinavia, and ES Magazine. Beauty journalism allowed her to marry up her first-class degree in English Literature and Language (she's a stickler for grammar and a self-confessed ingredients geek) with a passion for make-up and skincare, photography, and catwalk trends. She loves jumping on the latest internet-breaking beauty news, dissecting the best red carpet looks, and having the crème de la crème of dermatologists, make-up artists, and hairstylists on speed dial so she can tap them for the best advice. She's a discerning beauty shopper and knows it can be confusing trying to navigate what's hype and what really works. So if she really likes something, you can trust that she has reached that opinion by vetting it against everything else she's ever tried. Her career highs? Interviewing Cate Blanchett and winning a Jasmine Award for the deeply personal feature Cancer Stole My Mother's Scent.