The best Yankee Candle scents to add to your candle collection
These best Yankee Candle scents will add some always-welcome warmth to your home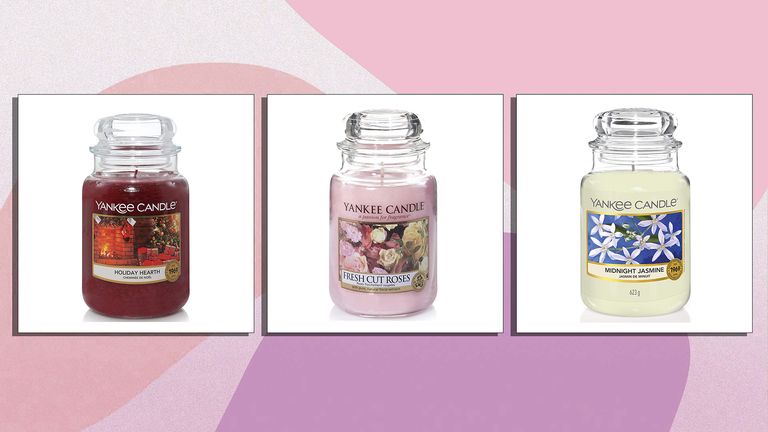 (Image credit: Yankee Candle)
With so many best Yankee Candle scents on offer, it can be hard to pick a favorite. But that doesn't mean there aren't some clear-cut winners in the scent popularity contest. 
You won't be surprised to hear that the past year saw a major surge in the candle industry, with many of us focusing our attention on making our homes as cozy as possible now that we're spending a lot more time in them. 
While some of us were sent into full-on interior design mode during the lockdown, others have realized that it's the small details that make all the difference—the best scented candles being one of them. For example, picking the right scent for your individual home can change your entire ambiance, and what's better than the comforting glow of a flickering candle on a dark winter evening? 
A warm candle can instantly make us forget our troubles, whether paired with a lovely glass of wine or one of the best meditation apps around. So to help you bring that inviting, hygge home vibe to your own abode, we've listed some of the best Yankee candle scents to shop for your home.
The best Yankee Candle scents to add to your home
1. Yankee Candle Midnight Jasmine
Best Yankee Candle scents for warm weather
Yankee Candle's Midnight Jasmine scent is one of the brand's most popular candles, with a five-star customer rating. The lush scent is made with tones of water jasmine, sweet honeysuckle, neroli, and mandarin blossom. You're going to want to learn how to make candles last longer after getting a whiff of this gorgeous scent.

One customer wrote: "The fragrance is just beautiful, it has a good throw but it's not too overpowering." Another added: "The Midnight Jasmine scent is beautiful and flowery great for Spring and Summer months." 
2. Yankee Candle Angel's Wings
Best Yankee Candle scents for the holidays
Perfect for Christmas and the holiday season, this soft scent smells like sweet spun sugar, sheer flower petals, and deliciously smooth vanilla. Other fragrance notes in the candle include sheer Muguet, sugared marshmallow, sweet jasmine petals, white musk, and creamy amber.
3. Yankee Candle Pink Sands
Best Yankee Candle scents for vacation vibes
Transport yourself to an exotic island with this fresh scent, mixing bright citrus, sweet florals, and spicy vanilla. No wonder it has a five-star rating! 
One happy customer wrote: "Pink Sands is so dreamy, romantic and brings beauty into my spirit & my home! I just breathe in the fragrance and feel renewed!" Another concurred: "This candle fragrance smells like what I'd imagine the outdoors of Heaven smells like. It's absolutely refreshing and near impossible to be in a bad mood while enjoying it."
4. Yankee Candle Black Cherry
Best Yankee Candle scents for the kitchen
The fruit-forward candle is made with top notes of rich, ripe black cherry and almond, but also contains secondary notes of cinnamon, making it even sweeter as well as adding a festive scent. 
"If you are looking for a cherry-scented, fruity candle with good throw, this is it!" reviewed one Yankee Candle customer. "If I burn it in the kitchen, I can smell it in the next room, it is warm and inviting."
5. Yankee Candle Calm & Quiet Place
Best Yankee Candle scents for meditation
If you've ever fretted, "Are candles bad for you?" rest assured—the majority are perfectly safe. In fact, some psychologists have said that certain candle trends can actually be good for your health, from boosting productivity to aiding relaxation. 
Just like the name suggests, this candle is designed to create a calm aroma and relaxing atmosphere in any room it is lit in. One of the best Yankee Candle scents, it's described as "balanced and centered" with jasmine, patchouli, and warm amber musk. One reviewer wrote: "The aroma is lightly scented, not at all overpowering. It makes me feel at peace and calms me after a busy day." 
6. Yankee Candle Lemon Lavender
Best Yankee Candle scents for that "freshly cleaned" smell
If there's one thing we've been focused on this year, it's leveling up our cleanliness. The Yankee Candle Lemon Lavender candle brings the scent of a freshly cleaned home with hints of tangy citrus and sweet lavender flowers. 
One customer wrote: "It is the perfect combination of Lemon and Lavender. The Lemon is energizing while the Lavender is relaxing. This is one of those scents that you never want to be discontinued." Another agreed: "Always my go-to candle. Amazing scent and throw. Always have one in the house."
7. Yankee Candle Clean Cotton
Best Yankee Candle scents for the bathroom
The classic Clean Cotton candle is perfect for those who love the gorgeous scent of white flowers: think tulips, lilies, and white roses. It's also mixed with a fresh hint of lemon and warm wooden notes for extra comfort.

Yankee Candle reviewers say that the freshly laundered scent fills any room, but one savvy customer uses it in the powder room: "Perfect for the bathroom odor you want to eliminate."
8. Yankee Candle Afternoon Escape
Best Yankee Candle scents for outdoorsy types
Our new working from home lifestyles can often invite an afternoon slump. This Yankee Candle scent will reignite your motivation by whisking you away to what feels like a lovely, woodsy escape with notes of cypress, jasmine, lemon, and cedar. You'll feel like you're in the outdoors, even if you haven't left your couch in hours!
9. Yankee Discovery
Best Yankee Candle scents for travel lovers
Officially crowned Yankee Candle's 2021 scent of the year, the Discovery candle mixes a fresh blend of fruit notes made up of starfruit, mango, and passionfruit,  complemented by warm aromas like ginger and vanilla spice.

As well as its delicious scent, it comes in gorgeous packaging that features a Moroccan-inspired pattern and summery pastels.  
10. Yankee Almond Cookie
Best Yankee Candle scents for sweet tooths
If the image on the packaging of this candle alone is enough to lure you in, then wait until you smell it. If sweet scents are for you, then this is your dream candle. A blend of rich almonds and buttery vanilla, it'll make your home smell like freshly baked cookies. Yum!
Sagal is a journalist, specialising in lifestyle, pop culture, fashion and beauty.  She has written for a number of publications including Vogue, Glamour, Stylist, Evening Standard, Bustle, You Magazine, Dazed and Wonderland to name a few.