Why wearing perfume to bed is the next big thing
Perfumes for bed tap into the current trend for self-care, self-love and relaxation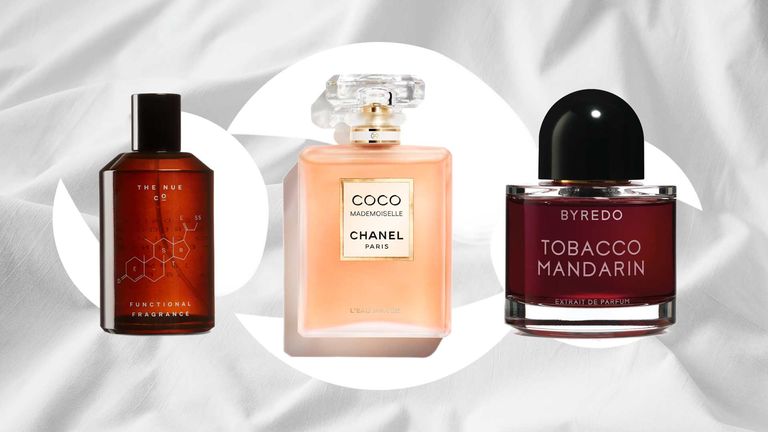 (Image credit: Getty Images / marrakeshh )
It's virtually impossible to think of Marilyn Monroe and not remember her provacative claim that she only wore Chanel No5 to bed. Now it seems perfumes for bed and basking in an eau's afterglow are the next big things in the world of fragrance.
To be clear, what we're not talking about here are perfumes that remind you of 'hot dirty sex' sex. Even if it seems that social distancing has just reduced us to being animals with an appetite for Netflix, gin and complex skincare routines. 
According to Mintel, there's another reason for nighttime scents storming up the popularity ratings. "Wearing fragrance at night connects with notions of sensual intimacy and offers a complement to pampering rituals when we have fewer occasions to go out," says Margaux Caron, global beauty analyst. 
Arguably, Chanel is the forerunner of nighttime scents that you spritz for the sake of personal indulgence and it recently added Coco Mademoiselle L'Eau Priveé to the stable.
20 years since it first launched in 2001, L'Eau Priveé is a low-lit scent that wraps itself around you like the tail of a cat while releasing soft wafts of mandarin, jasmine and rose. It's both relaxing and sexy,  the ideal combination for spraying on sheets - and bare skin.
Byredo has also made its mark with Tobacco Mandarin, the fourth installment of Byredo's range of extrait de parfums (the most concentrated, hence pricier, form of perfume), Night Veils. Mandarin, coriander, cumin, leather, tobacco, oud, sandalwood and frankincense - all these notes conjure up Morocco in a dark, enveloping fug. 
If improved sleep is the end game, the last thing you want is to flood your bedroom with a walloping boozy, floral fragrance that will leave the neurons in your brain giddy until the early hours.
A quiet scent that can rewire said brain with the power of aromatherapy is a much better call.
Dubbed 'functional fragrances', a new raft of clean natural perfumes have emerged that are in tune with the self-care minimalism Instagram and other platforms are eating up right now.
Meditation app usage, for example, has spiked during the coronavirus pandemic (downloads for 'mindfulness' apps hit 750,000 during the week of March 29 alone) and the aptly named Functional Fragrance by The Nue Co, sums up this mood perfectly.
Designed to stave off stress, it's brimming with green cardamom, iris, palo santo, and cilantro. Despite dousing yourself in essential oils, it still smells like a delicate unisex scent.
The power of aromatherapy is such that you can reset your intentions for the day, going from stress to relaxed, from feeling sluggish to energised. Just don't expect to reap the same benefits from you regular perfume as synthetic perfume oils are not the same as essential oils, which are extracted from plants.
"Each essential oil has its own signature and triggers its own emotional and physiological response when we smell it," says aromatherapy expert Annee De Mamiel. "That's why aromatherapy can be used to engage the parasympathetic nervous system to slow the effects of stress." 
Now, more than ever, how and when we wear fragrance is ballpark. It's all about how a scent makes us feel. For those wondering whether a fragrance - synthetic or aromatherapy-based - can really inject the missing feel-good factor into our lives, studies show a massive 75 per cent of emotions are triggered by smell.
"If you connect to the aroma because it reminds you of a time when you felt happy and well, your brain releases mood-enhancing chemicals including serotonin and endorphins," says Professor Tim Jacob, neurologist from the School of Biosciences at Cardiff University.
So if you want to slither between silk sheets, wearing nothing but pearls and a fragrance you imagine rich people smell of, then that's your call.