The Princess Switch 2 trailer is here and it's just as magical as we hoped
The Princess Switch 2 trailer suggests that the Netflix film will be a Christmas viewing essential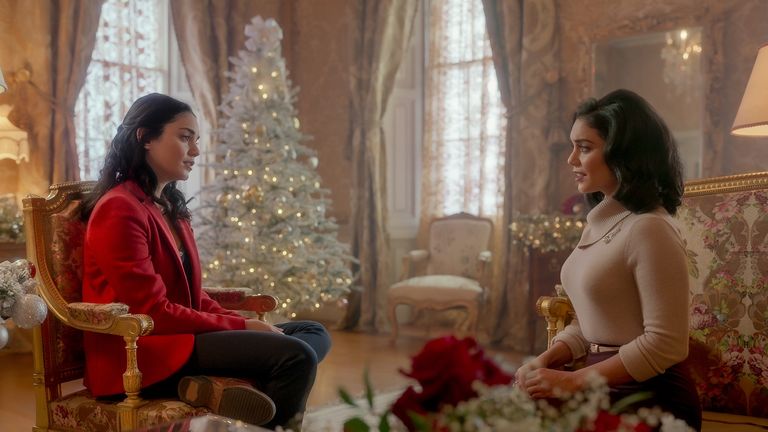 (Image credit: Mark Mainz/NETFLIX)
The Princess Switch 2 promises to be a magical Christmas experience. The first film arrived on Netflix in 2018 and took the rom-com world by storm with its fairytale romance and festive setting. So it's no surprise that as soon as the platform announced that a sequel was in the works, excitement has been building. 
Now it seems the time for constantly checking what's coming to Netflix or re-watching Holidate and Dash & Lily instead will soon be over. 
Netflix has just released the trailer for The Princess Switch 2: Switched Again and it's just what we hoped. 
WHAT IS THE PRINCESS SWITCH ABOUT?
The original film was a classic story of switching identities as elegant Princess Margaret and girl-next-door Stacey from Chicago, both played by High School Musical star Vanessa Hudgens, meet.
After discovering they are virtually identical, the two women decide to switch places as the festive season arrives. From there it's not long before Margaret and Stacey end up falling for each other's love interests. 
WHAT HAVE WE LEARNT FROM THE NEW TRAILER?
The magical new film, The Princess Switch 2: Switched Again, sees the return of Vanessa Hugdens to the lead roles. The trailer shows that in an unusual twist, the sequel will pick up just where the first left off.
Whilst Prince Edward and the now-Princess Stacey are just as much in love as when we last saw them, Princess Margaret and Kevin are not so fortunate. The two have never really managed to make their relationship work long-distance. 
But Stacey isn't prepared to give up on true love and brings Kevin to Margaret's coronation, hoping that quality time together will resolve everything. 
Except that all Margaret's obligations seem to keep getting in the way. To help get things on track for good there seems to only be one solution: another princess switch. 
And if two princesses weren't enough, Vanessa Hudgens now plays a third character. Margaret's feisty cousin Princess Flora is sure to add a little bit more drama. 
What has Vanessa Hudgens said about her new character?
Speaking to Entertainment Weekly about the sequel earlier this year, Vanessa spoke of the challenges that came with playing three characters at once.
"After I read it I thought, 'Ooh man, this is going to be a lot of work," the actor explained. However she seemingly couldn't wait to get stuck in, adding: "I was very excited to create yet another character and had such a blast doing so."
It seems the new character Princess Flora is even better than she expected. Vanessa revealed: "I was told they wrote in a new character but I had no idea how much fun it would actually be."
We may have only caught the briefest glimpse of what to expect from The Princess Switch 2, but it's clear it will be a Christmas viewing essential.
The Princess Switch 2: Switched Again will be released 19 November on Netflix.