Rihanna's new layered bangs are so on trend
Constantly staying ahead of the curve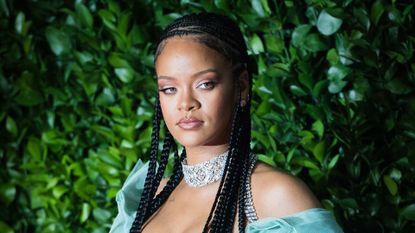 (Image credit: Getty Images / Samir Hussein)
It's no secret that Rihanna is THE style icon we all want to emulate. Whether it's her always on-trend make-up or her fashion sense, the pop icon always gets it just right.
We've already fallen in love with her 70's inspired mullet and quite frankly, no other celeb can pull off a wine glass as an accessory with such aplomb. Now her heavier bangs not only look amazing but also really suit her face shape.
With hair salons closed in many places and our DIY efforts definitely not up to scratch, the singer's new look is making us want to book an appointment pronto.
Hair can always be a tough one to get right – knowing how often to have it trimmed to keep it healthy, which styles suit your face shape, or even what products to use to keep your hair shiny. Questions that we mortals may stumble over but not our Queen Riri who always looks good, no matter the haircut.
She showcased her new look in an Instagram post for her Savage X Fenty range, wearing a flower-print bikini from the collection.
The bangs, which were long and layered, fell over her eyes and had a soft parting in the middle. The rest of her hair was also worn long and straight, complementing her new bangs. J'adore.
Of course, the singer is no stranger to different hairstyles, wearing it in braids, bobbed and even changing the color to purple and red. Late last year the star even tried out a mullet.
We think this is one of her best looks but, as always, we can't wait to see what her next style will be. And, look, we know we're pressing but seriously, when is THE album coming?
Freelance lifestyle journalist for @BBCBusiness @Womanandhome @ESlifeandStyle @TheIndyBest / co-host of @getajobpodcast and founder of PR secrets. I specialise in health and wellbeing, travel, business, human interest, beauty, and in-depth features.