The new Sabyasachi H&M collection is a pattern extravaganza
If you need us, we'll be on line for the Sabyasachi H&M collection, a collab between the fast-fashion retailer and the iconic Indian brand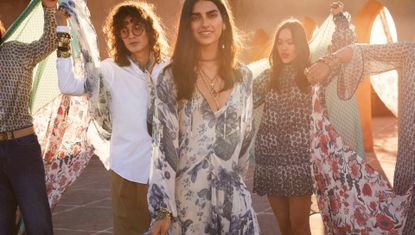 (Image credit: H&M)
A shopping spree is on the horizon! The new Sabyasachi H&M collection will hit physical and virtual shelves on August 12th, and closets everywhere can benefit from the Indian designer's vibrant aesthetic. If you were toying with the idea of expanding that capsule wardrobe, there are a few flowy dresses and trousers that are definitely worth bookmarking.
The collection, titled "Wanderlust," includes pieces for both men and women and utilizes Sabyasachi's signature prints and silhouettes. Though elegant and chic, the garments are also perfect for those who are still conducting a large part of their day from home.
"At a time like this, we believe people value the use of homegrown crafts and textiles more than ever and that's something no one can do better than Sabyasachi," Maria Gemzell, H&M's head of new development, said in a press release.
Expect kaftans, dresses, high-waisted pants, and chunky jewelry to accentuate your look—just a few of our favorite things. Plus, the collab brings Indian textile and print traditions to life via the Sabyasachi Art Foundation.
"[It's a] ready-to-wear collection that will bring relaxed sophistication to everyday life in an understated yet glamorous style," Sabyasachi said in a press release.
After a delay due to COVID-19, the joint effort is finally ready to dazzle fashionistas across the globe.
---
---
Take a look at the Sabyasachi H&M collection
Image 1 of 10
Considering the success of H&M's past collaborations with notable designers— including Karl Lagerfeld (2004), Stella McCartney (2005), Isabel Marant (2013) and Moschino (2018)—shoppers will certainly be delighted to take a look at all that the Sabyasachi H&M collection has to offer. (We've already created a wishlist!)
Be sure to check out the launch on the 12th both in stores and online. What are you adding to your checkout basket? (Everything? We are, too.)