17 inspirational female founded fashion brands to get to know
These female founded fashion brands are here to make long-lasting change. Shop in the name of sisterhood…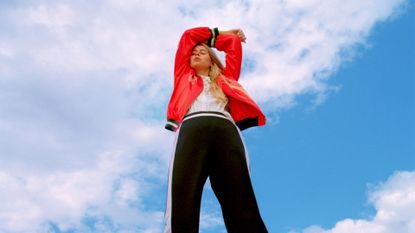 (Image credit: Getty Images / Andriy Onufriyenko)
From gorgeous clothes and next-level workout gear to luxury handbags and the most diverse lingerie on the planet—on paper, these brands might appear very different but they're bound by an empowering common thread: they were founded by pretty amazing women, all of whom are at the top of their professional game. These female founded fashion brands are proof that when us females support each other, incredible things happen.
These are the brands that will form the basis of your capsule wardrobe, whether you're looking for the best bralettes or the best sustainable fashion brands, consider this list your starting point.
1. Cambridge Satchel Co
Born: 2008
Founded by: Julie Deane, OBE
Gap in the market: Julie Deane started the brand with her mother in 2008 and wanted to focus on British manufacturing with timeless style
USP: The brand, which is committed to British manufacturing, shot to fame with its iconic satchel which took the internet by storm and has been seen on the arms of the style set.
Where to shop: cambridgesatchel.com
Top tip: Their latest product The Bowls bag ($250 / £195) with its cylindrical shape was inspired by the bags used in Crown Green Bowls, comes in a rather impressive six colors from Oxblood, to Black and Gambol Pink, and is the perfect addition to your capsule wardrobe.
2. Hill & Friends
Born: 2015
Founded by: Emma Hill and Georgia Fendley
Gap in the market: Emma and Georgia used their combined experience in luxury fashion and accessories to create fresh, fashion-forward bags that are injected with fun.
USP: Eclectic arm candy with a playful spin. Look out for their empowering collaborations with up-and-coming designers like Elizabeth Ilsley.
Where to shop: hillandfriends.com
Top tip: Georgia says: "I launched Hill & Friends as a busy mum of three, so time management was key. Set yourself deadlines and take them seriously, as if you would do a regular job."
3. Kitri
Born: 2017
Founded by: Haeni Kim
Gap in the market: A frustration at poorly-made pieces and a lack of distinctive designs (that didn't break the bank) drove Haeni to launch her own label, creating premium designs with not-so premium prices – a total win-win!
USP: Each piece is produced in limited quantities, eliminating the worry of bumping into someone in the exact same outfit.
Where to shop: kitristudio.com
Top tip: "There's no shame in asking for help A lot of women in professional settings feel uncomfortable asking for help, but you'll receive incredible support if you ask for it, and build lasting relationships. Also, hire a good accountant."
4. Nubian Skin
Born: 2013
Founded by: Ade Hassan
Gap in the market: Skin-tone hosiery are the basics in every woman's wardrobe but, for women of color this hasn't been an option—until Ade and Nubian Skin stepped in. It now counts Beyonce as a fan.
USP: Nude lingerie, hosiery, and intimates for women of all skin tones.
Where to shop: Nubianskin.com
Top tip: "Really believe in the idea – if you're up at 4 am working on this, then you want to believe in it, because trust me, you will be up at 4 am jotting down notes."
5. Katie Loxton
Born: 2015
Founded by: Katie and Geoff Loxton
Gap in the market: Completely self-taught Katie spotted a gap for personalized pieces: gifts bespoke to you or, with sentimental hidden messages.
USP: Luxury for less.
Where to shop: Katieloxton.com
Top tip: "Jump in, it can be so scary and daunting to stop and think about every possible negative outcome so many people don't even get started for this reason, and although it's important to plan and have a very clear idea of what you're wanting to deliver."
6. Missoma
Born: 2007
Founded by: Marisa Horden
Gap in the market: Beyond covetable, Missoma leads the way in demi-fine contemporary jewels that you'll recognize from all your fave influencers to Meghan Markle and Margot Robbie.
USP: Chic, oh-so layerable jewels with precious stones which won't break the bank.
Where to shop: Missoma.com
Top tip: "Think what your customer truly wants and really focus upon that. Perseverance is key, don't get disheartened—it can be a really bumpy road—invest in your team: you're only as good as those you surround yourself with."
7. Charlotte Elizabeth
Born: 2014
Founded by: Charlotte Jones
Gap in the market: Classic and effortlessly chic. Charlotte was inspired by a timeless shape that came into her head when she was bed-bound in hospital. The Bloomsbury is a sell-out style. Completely British-made this is a business to watch.
USP: Handcrafted designs made in Britain and proudly supported by The Prince's Trust. Meghan Markle's a big fan.
Where to shop: Charlottelizabeth.com
Top Tip: "There will be points when you or others doubt yourself, your abilities, your worth, your strength—as a creative, this is even more prominent. But what I have learned through creating Charlotte Elizabeth is that you can prove yourself and others wrong, you can truly succeed in your dream and make that dream as big as you want it to be. For anyone sitting on an idea, or considering not going after an idea despite believing in it fully, keep going, all of the hard work and commitment that you put in now will be the best commitment you can make to your life. Believe in yourself and you will go far."
8. Finery
Born: 2014
Founded by: Emma Farrow-Marshall
Gap in the market: Tired of seeing the same designs over and over, Emma used her previous experience as design director at Topshop to create a collection that puts the excitement back into shopping. Making modern and sophisticated styling accessible and lust-worthy again.
USP: Modern clothing with a focus on silhouette and form. Premium but affordable.
Where to shop: Finerylondon.com
Top tip: "Surround yourself with like-minded people. Finery wouldn't be what it is without amazing people—especially women—that inspire me."
9. Hunza G
Born: 2015
Founded by: Georgiana Huddart and Peter Meadows
Gap in the market: We wanted to create high-quality swimwear that truly makes the most of every woman's figure. With a one-size-fits-all philosophy, Hunza G is the hottest swimwear brand season after season.
USP: Bright, playful designs which make you want to book a holiday and hit the beach, stat.
Where to shop: Selfridges, Browns, Net-A-Porter.com
Top tip: Georgiana says: "Don't be afraid to ask questions—even if they might seem silly. I'm naturally very shy and it took me a while to trust my gut instincts and speak up when I didn't things were right. The secret to our success is transparency and honesty."
10. Stella & Dot
Born: 2003
Founded by: Jessica Herrin
Gap in the market: As co-founder of weddingchannel.com, Jessica used her tech-savvy know-how to solve the modern woman's dilemma: achieving success and balance through a career you love.
USP: Style powered by women. It's all about social selling, creating flexible entrepreneurial opportunities for women.
Where to shop: Stelladot.co.uk and local Stella & Dot stylists.
Top tip: "I started the company on my own with a rough idea. Meeting the right partners made it grow. I ran my own parties for five years (and still host them now) to ensure I understood and could engage with our sales consultants and customers. Don't listen to the voices saying it won't work. Just keep evaluating, improving, and applying effort."
11. Sézane
Born: 2013
Founded by: Morange Sézalory
Gap in the market: After graduating, Morgane worked part-time jobs in Paris while running an eBay business, selling hand-picked vintage finds. After tiring of never-ending post office queues she launched her own platform, 'Les Composantes.' Each month she'd host online 'rendezvous' where 100 customized vintage pieces would go live online at the same time – inevitably selling out within minutes. This gave her the push she needed to launch her own line, 'Sézane'.
USP: The one-stop-shop for covetable French-girl cool.
Top tip: "I learned and now live by these five things that every businesswoman should know: 1, Always follow your instincts; 2, Love more; 3, Be independent; 4, Give back; 5, Don't stress over the little things."
12. Sweaty Betty
Born: 1998
Founded by: Tamara Hill-Norton
Gap in the market: After graduating Tamara worked as a buyer and spotted a hue gap in the market for bright and fun workout wear. After being made redundant she decided to launch her own company, filling this gap.
USP: Reinvented activewear, making clothing and kit to empower women, on the move, to feel powerful and amazing.
Where to shop: Sweatybetty.com
Top tip: "Be passionate about others and keep you and them motivated."
13. Pampelone
Born: 2015
Founded by: Holly Anna Scarsella
Gap in the market: After working in fashion pr for five years, Holly noticed a gap for luxurious, yet accessible, resort wear.
USP: Luxurious resort wear that's so dreamy you'll have booked a holiday by the time you've placed your order.
Where to shop: Pampelone.com
Top tip: "Stop talking, planning, making plans, and just get out there and do it. Things will never come to you – you have to go get them yourself."
14. Cushnie
Born: 2008
Founded by: Carly Cushnie
Gap in the market: Unimpressed by the lack of modern occasionwear with chic designs and flattering fits, Carly launched a collection that refines a sense of cosmopolitan minimalism and femininity
USP: The brand serves the modern woman and is artfully tailored to achieve the perfect fit, clean cuts, and sculptural lines that sit beautifully on any female form.
Where to shop: https://www.cushnie.com/
Top tip: "As a woman, I understand what my customer wants from her clothes. I've grown and evolved alongside her over the past 10 years, and I strive to present her with timeless silhouettes that make her feel sexy, sophisticated, and powerful—and all at once."
15. Fenty
Born: 2019
Founded by: Robyn 'Rihanna' Fenty
Gap in the market: Following the success of her global beauty empire, Rihanna saw an opportunity to enter the world of luxury fashion as the first black woman to take the helm of a major fashion house, launching her chic streetwear-inspired pieces under LVMH - the group that owns Louis Vuitton and Dior amongst other major brands.
USP: Drop-led luxury fashion inspired by Rihanna's own style and using her platform to launch see now, buy now retail.
Where to shop: https://www.fenty.com/us/en/home
Top tip: "I'm black… I'm young, I'm new to the family. I'm a woman. Those factors do come into play but I will not apologies for them… I'm running a company and that's exactly what I came here to do. I don't know if it makes people uncomfortable or not, but that's not my business."
16. Titi Adesa
Born: 2019
Founded by: Titi Adesanya
Gap in the market: Adesanya who splits her time between London and Lagos, found that there was something missing in the world of luxury footwear—a brand that reflected her culture and catered to her people. "I wanted to cater to women like me, Nigerian and African women, who tend to have a little bit wider feet than European sizes," she says.
USP: The brand has a clear ethos, "to celebrate women, with a distinctive, specially designed 'tilted diamond' logo."
Where to shop: https://www.titiadesa.com/
Top tip: "In Nigeria, if you're bringing in business, you have the upper hand to negotiate. But I realized that that's not how it works in Italy, it's based on the weight and volume of your business."
17. Lisou
Born: 2018
Founded by: Rene Macdonald
Gap in the market: As a self-confessed bold dresser, Rene always struggled to find British brands that reflected her style and therefore saw an opportunity to launch her own brand with a unique way of combining unexpected colors and creating vibrant prints.
USP: A womenswear brand that specializes in silks and unique prints with vibrant colors.
Where to shop: https://lisou.co.uk/
Top tip: "I work on prints all the time and save the ones that aren't quite right, but I know they'll all get used eventually. I always have a notebook on me so I can jot down ideas, and if for some reason I don't, then any scrap of paper will do."
Sagal is a journalist, specialising in lifestyle, pop culture, fashion and beauty. She has written for a number of publications including Vogue, Glamour, Stylist, Evening Standard, Bustle, You Magazine, Dazed and Wonderland to name a few.