Sweaty Betty has introduced a new activewear hijab for fitness enthusiasts
Sweaty Betty is on a mission to use fitness for empowering women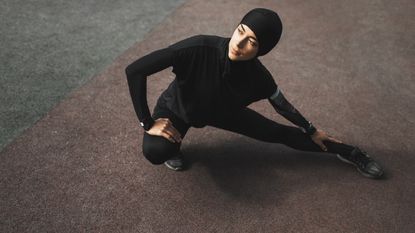 (Image credit: Getty/Oleg Breslavtsev)
Activewear brand Sweaty Betty has just launched its first-ever performance hijab, which took more than a year of manufacturing, trial, error, and feedback, according to the company.
Sweaty Betty says it has created: "A sophisticated hijab that stays healthy during activities —from training sessions to professional sport."
After the exciting new launch, the company has stated that it is on a mission to empower women through exercise, as the brand is committed to removing all obstacles that prevent women from participating in fitness.
The brand goes on to say that the hijab is "simple yet highly functional", and that it is made of "sweat-wicking, lightweight, and breathable fabric". Made from recycled plastic, if you'd like to add a piece of the best sustainable activewear to your wardrobe, then look no further, the Training Hijab comes in two sizes and costs $34.
The performance hijab is the perfect mix and match option and goes perfectly with any of your workout clothes as it comes in black.
Take a closer look at Sweaty Betty Training Hijab:
Sweaty Betty's chief product officer, Jemma Cassidy, commented on the new release, saying: "We hope that this will allow an under-represented group of women to compete at their peak level of success."
"No matter your size, age, skin color, or religion," Cassidy continued, "we want to empower every woman to lead a healthy lifestyle."
The brand's plans to widen the fitness category aren't over, as it intends to "minimize the logistical difficulties of becoming a hijabi athlete, and make fitness a more inclusive place" for all later this year.
If you're on the hunt for other sustainable activewear brands then look to companies like Girlfriend Collective and Everlane, both of which are producing activewear that is kind to the environment.
So what are you waiting for, add to basket and get exercising.
Since December 2020, Kudzai has worked as a trainee journalist at FUTURE, writing about fashion, entertainment and beauty content for My Imperfect Life.

Kudzai previously worked as a freelance fashion wardrobe stylist, directing magazine photoshoots and coordinating the fashion direction of recording artists.

A fully qualified Journalism and Media graduate from De Mont Fort University, Kudzai graduated in the summer of 2020.